Budget deal close, legislative leaders say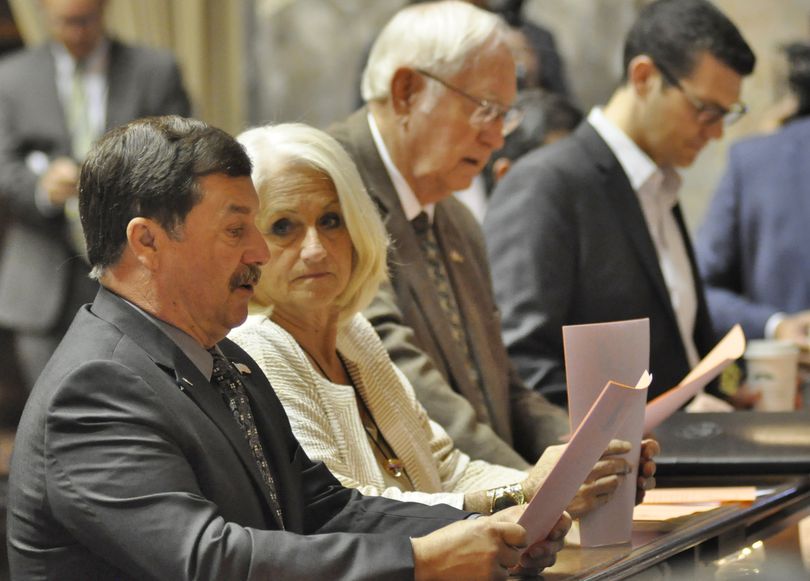 OLYMPIA -- Legislative leaders said they are close to an agreement on the 2017-19 operating budget and could release it Wednesday, putting them on a track to avoid a partial government shutdown this weekend.
Senate Majority Leader Mark Schoesler, R-Ritzville, described an agreement on the spending plan as "incredibly close" Tuesday morning, saying negotiators were "getting into the minutiae of making the budget work."
A few minutes later, Appropriations Committee Chairman Timm Ormsby, who serves as the House Democrats' negotiator on the budget, said lawmakers could have a "hand-shake deal" before noon.
"We have a path to success," Ormsby told reporters in the hallway just off the House floor. Negotiators have not, however, agreed on all the sources of revenue to cover the costs of everything in the budget, he added.
"Resources are flexible," he added.
Asked whether extra revenue -- which is to say new or higher taxes -- would be needed for this budget, Schoesler replied: "We just have to wait and see."
Tuesday marked the 172nd day the Legislature has been in session, struggling to complete what Gov. Jay Inslee has described as it's main legal obligation, passing a budget that will keep state government operating from July 1 through June 30, 2019. Schoesler said the extra time was needed to revamp the state's public schools, not for some minor dispute.
"This is a generational problem we're solving in K-12," Schoesler said.
Ormsby said it's also a function of divided government in the state. Democrats have a two-seat majority in the House and a Republican-led coalition has a one-seat majority in the Senate.
After an agreement between negotiators, a budget proposal must still be printed and reviewed line-by-line by staff, introduced in one chamber, pass and be sent to the other chamber. That process typically takes two to three days, and legislative leaders have said they would need a deal no later than Wednesday morning to pass a budget that can be signed by Gov. Jay Inslee before midnight Friday, which is the end of the current fiscal year.
Without the budget, the state would go into a partial shutdown starting Saturday.
Asked when the public might see the budget, or the changes to education policy, Schoesler replied "hopefully really soon."
---
---