Wed., March 8, 2017
House passes Equal Pay changes on Women's Day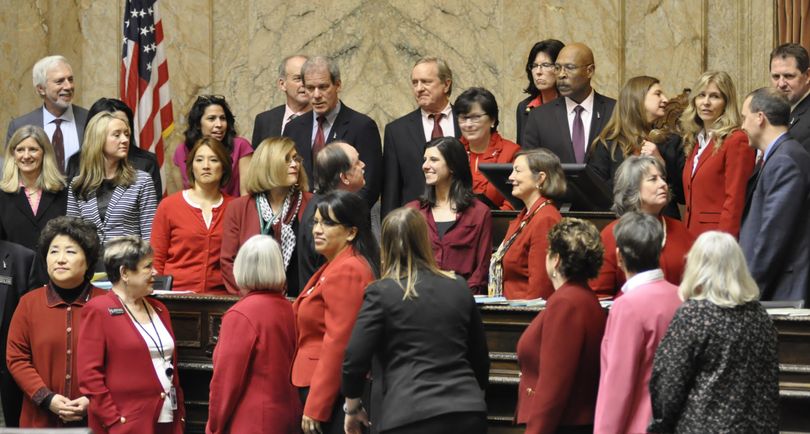 OLYMPIA – Washington employers would have to pay men and women who do similar jobs and have comparable skills the same wages under a bill approved Wednesday by the House.
With many women in the chamber sporting red for International Women's Day, the House approved changes to the state's Equal Pay Act that supporters said would fight discrimination on wages for all ages.
"It's not just about women, it's about their families," Rep. Jessyn Farrell, D-Seattle, said.
They rejected suggestions the bill could generate a flood of frivolous lawsuits and complaints which businesses would be forced to defend.
"Experts are going to be paid a lot. Lawyers are going to make a killing," Rep. Paul Graves, R-Fall City, said. The disparity in pay isn't as great as some advocates claim, "but there is still some sexism left, and that is flat-out wrong," added Graves, who eventually voted yes.
Under the bill, an employer would be required to pay people who are "similarly employed" the same amount if the jobs require comparable skills, effort and responsibility, and they are performed under similar conditions. A different job title alone isn't a reason for different pay, but an employer could pay different wages based on seniority or merit systems, the quantity or quality of production, or education or training that's necessary for the job.
They would have to be working for the same employer, and a large company might be able to pay a worker in a large city less than one in a similar job in a rural area if the economic conditions of the two areas are different.
"The time for baby steps are over," Rep. Tana Senn, D-Mercer Island, said. "It's time to take big steps – mama steps, if you will."
Rep. Liz Pike, R-Camas, argued the law wasn't needed and some provisions were so vague that almost any starting worker could file a complaint if she wasn't told how to get to the top of a company job or agency. She could sue because no one explained to her the way to become speaker of the House, she said.
"It is an insult to women to imply we are not strong enough to fight for ourselves to advance in our workplaces ... without some government intervention," Pike said.
But Rep. Larry Springer, D-Kirkland, said the Legislature wouldn't need to change to comply with the law.
"Everybody on the floor is paid the same," Springer said. "I don't see why that shouldn't be true for every employee in Washington."
House Bill 1506, which makes changes to the state's Equal Pay Act, was sent to the Senate on a 61-36 vote. Among Spokane-area representatives Democrats Timm Ormsby and Marcus Riccelli voted yes; Republicans Mary Dye, Jeff Holy, Joel Kretz, Jacquelin Maycumber, Bob McCaslin, Joe Schmick, Matt Shea and Mike Volz voted no.
---
---