Car tab taxes in Seattle go through the roof, some Washington lawmakers follow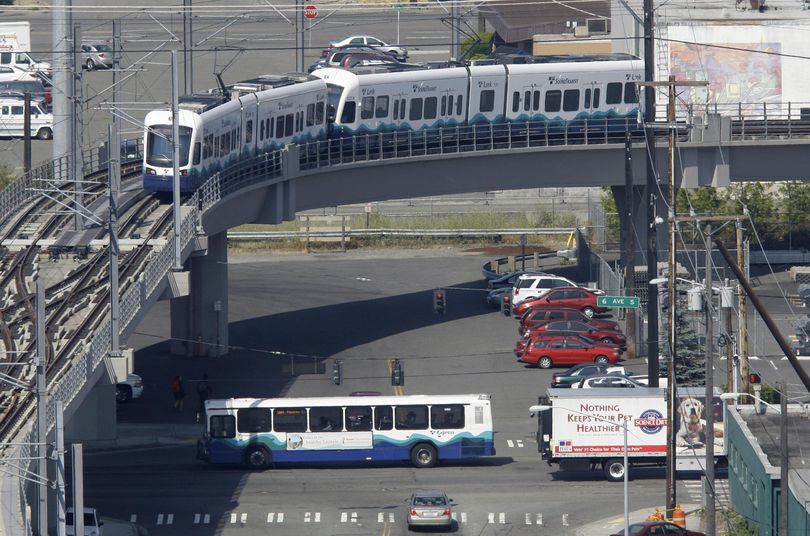 As the western-most outpost of the Spokane newspaper, it's sometimes my duty to take some vicarious but guiltless pleasure in an ongoing fight in the Legislature that matters hardly at all to Eastern Washington readers.
That is the huge, and if some are to be believed, completely unexpected increase for license plate tabs now being visited on car owners in King, Pierce and Snohomish counties.
The money will be used to pay for various projects by the Sound Transit Authority, including the light rail system pushing its way north from downtown Seattle at a pace that might only be admired by a glacier.
The light rail is very nice, Spokane readers who haven't ridden it can be assured Try it the next time you have to get from SeaTac to downtown or even the University of Washington campus, to avoid renting a car that must eventually be parked in a tiny space for an exorbitant fee.
But many Seattleites seem to regard mass transit as something others should use to clear the highways for them, and thus have a love-hate relationship with Sound Transit. For many this turned to hate-loathing after opening this year's bills for car tabs and discovered the fees for that little colored sticker with an 18 are double, or in some cases treble, last year.
This prompted calls to their legislators, some of whom were so incensed they rushed to eager television cameras to denounce the higher fees and the way they are calculated. So who had the audacity to give Sound Transit the authority to do this?
The Legislature and the voters.
In 2015, as part of a humongous transportation package many lawmakers hail as an historic bipartisan feat, they gave the agency the ability to collect money several ways to pay off projects. One was by convincing voters to approve a Motor Vehicle Excise Tax, which is a certain amount based on the value of a car.
Readers might recall the MVET as a four-letter word state voters did away with in 1999 because many thought they were being charged too much for the old jalopy they were driving, and because the money was being squandered by government bureaucrats who could get along just fine with less. Surprise, surprise. The resurrected MVET is prompting the same complaints from the denizens of greater Pugetopolis.
Apparently legislators who voted for that 2015 transportation bill weren't concerned that they were giving the loaded MVET gun to Sound Transit, which reached back to 1996 for a formula that starts with the manufacturer's suggested retail price when the car was new and drops a bit every year. Critics say that creates unreasonably high assessments on used cars, especially those just a few years old, and it should be replaced with something like the Kelly Blue Book value.
Unfortunately, the best time to do that might've been 2015, when crafting the humongous transpo bill, or at leat before voters approved a tax package that included the MVET last November to pay for some $54 billion in bonds. Voters may not have read the fine print in election pamphlet, but it probably didn't say anywhere, "Hey, if you own a shiny new car, next year's tab will cost you more than a month's loan payment."
There is outrage on talk radio, exposés on Seattle television, requests for an attorney general's opinion that the 1996 formula Sound Transit is using is illegal and a flurry of bills to at least reduce the pain.
But no clear path out before 2028, when the current bonds will be paid off. In the meantime, the next time you pay for your car tab might be a reason to dash a note off to The Guardian newspaper in London and say you have another reason to be happy in Spokane, other than a college basketball team that wins a bunch of games.
---
---