Holiday tree goes up in Rotunda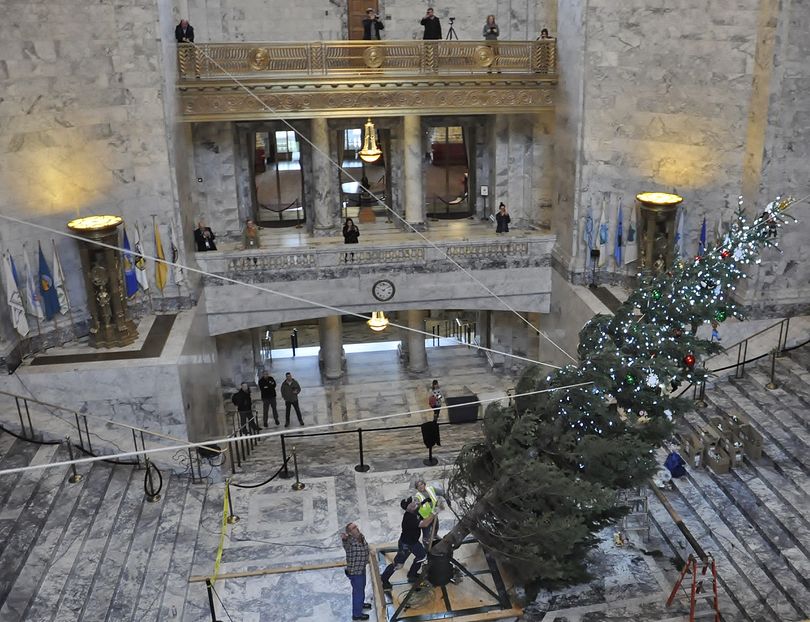 OLYMPIA -- This year's Holiday Kids Tree, a Noble fir about 30 feet tall, was hoisted into its stand in the Rotunda under the dome of the Legislative Building Tuesday, filling the inside atmosphere with a fresh woodsy scent and, temporarily, the shouts of people on the floor to people in the upper balconies to move the tannenbaum a little more one way or a little less the other.
The raising of the tree is an annual ritual for denizens of the Capitol Campus the week after Thanksgiving. Trucked in this year from a Weyerhaeuser tree farm in Rainier, the fir was carried up the north steps by about a dozen volunteers who supported it by 4-by-4s under the massive trunk. Inching the base through the doors requires a certain amount of choreography because the planks are longer than the doors are wide. This year Gov. Jay Inslee helped carry tree up the final flight of interior stairs and maneuver it onto the marble floor so the top half could be decorated before it was moved upright in the stand.
Holiday tip from the folks who have handled the giant trees for decades: Drill holes in the bottom of your tree stump to help it soak up water. It could keep your tree green and fragrant an extra week.
Righting the tree requires four ropes -- one dropped from each of the balconies surrounding the rotunda, and directions on when to pull tight and when to go slack. It will be fully decorated later in the week, with an official lighting ceremony Friday evening.
There was a time when the tree, sponsored by the Association of Washington Business, was a small skirmish in the "War Against Christmas" ginned up by some professional bloviators. They were incensed that it was not called the Christmas Tree, and saw it as an affront to the sanctity of the season. One legislator from Spokane asked Inslee's predecessor, Gov. Chris Gregoire, to rename the tree. She pointed out that it wasn't hers to name or rename, considering AWB was responsible for the tree and the gift drive for needy kids that goes with it.
It had also been the Holiday Kids Tree since about 1990 as a way of being inclusive for all the state's youngsters. That was back in those simpler times, long before anyone took umbrage at being wished "Happy Holidays" instead of "Merry Christmas."
No one's complained about the name of the tree for years, and one can only hope it stays that way.
---
---