Today's highlights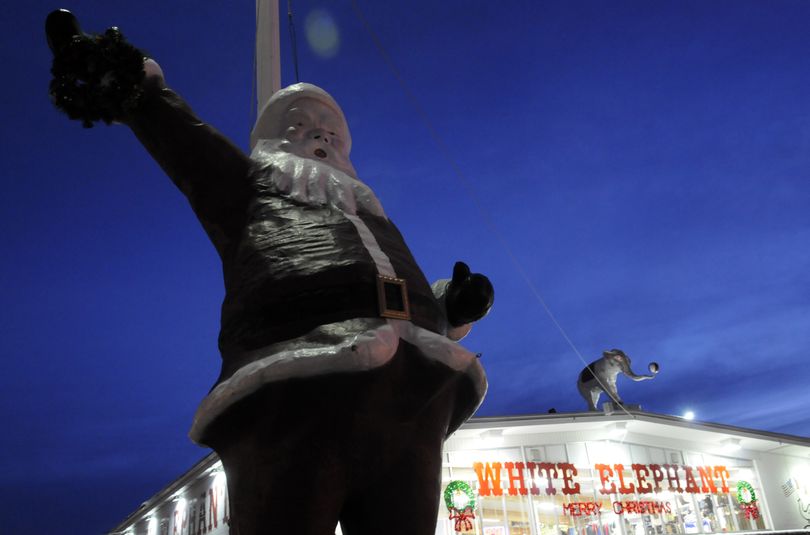 For 22 years, Santa has stood proudly in the parking lot at the White Elephant store on East Sprague Avenue in the Spokane Valley waving at passerby. The 13-foot tall statue once graced the windows of The Crescent department store in downtown Spokane. SR photo/Bart Rayniak.
There is a lot of Valley news to read today in the paper, so here's the lineup. Budget discussions in Liberty Lake have been so contentious that a council member walked out of this week's council meeting in frustration. One of the candidates for two vacant Spokane Valley Planning Commission seats is the half-brother of Mayor Tom Towey, but neither think his involvement is a conflict of interest. The mayor has recused himself from the appointment process, which will be handled by Deputy Mayor Gary Schimmels.
Students at Otis Orchards Elementary are being exposed to art, theater, sports and martial arts thanks to a new after school program known as the Orchard Project. Correspondent Stefanie Pettit has a regular Landmarks feature that examines various local historic and iconic sites. This week she writes about the Santa at the White Elephant store that used to be on display at The Crescent department store.
In other Spokane Valley news, a Montana fugitive was arrested by police late Tuesday night. He led police on a chase before hitting a snow berm.
---
---