Today's highlights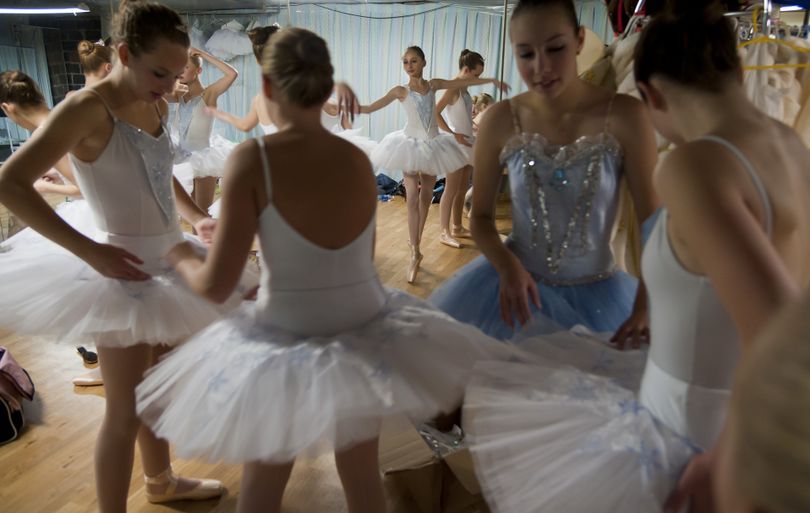 Company Ballet School dancers get into costume before rehearsal for "The Nutcracker" on Nov. 7 in Millwood. SR phto/Colin Mulvaney
We've got a lot of news for you in today's Valley Voice. Correspondent Valerie Putnam checked in with the dancers with the Millwood Ballet Theatre and Company Ballet School who are putting on performances of the holiday classic "The Nutcracker."
The Spokane Valley City Council did not allocate the community festival Valleyfest any lodging tax money for the first time since 2004. In 2011 the $36,000 the city gave to the festival accounted for 27 percent of its budget. Putnam also has a second story on the discussion at the Millwood City Council's special budget workshop. The city is facing a budget shortfall and is reportedly considering a 2 percent utility tax on Avista natural gas customers.
A group of members of St. Mary's Catholic Church have put together a petition calling for the dismisal of the parish priest, the Rev. Victor Blazovich. They have presented the Bishop with a six page document outlining their complaints against Blazovich.
In a story that reaches much further than Spokane Valley, reporter Pia Hallenberg writes that Camp Fire USA Inland Northwest Council has decided not to run Camp Dart-Lo as a day camp in 2012 because of a budget shortfall.
---
---