Mon., Nov. 21, 2011
Saturday's highlights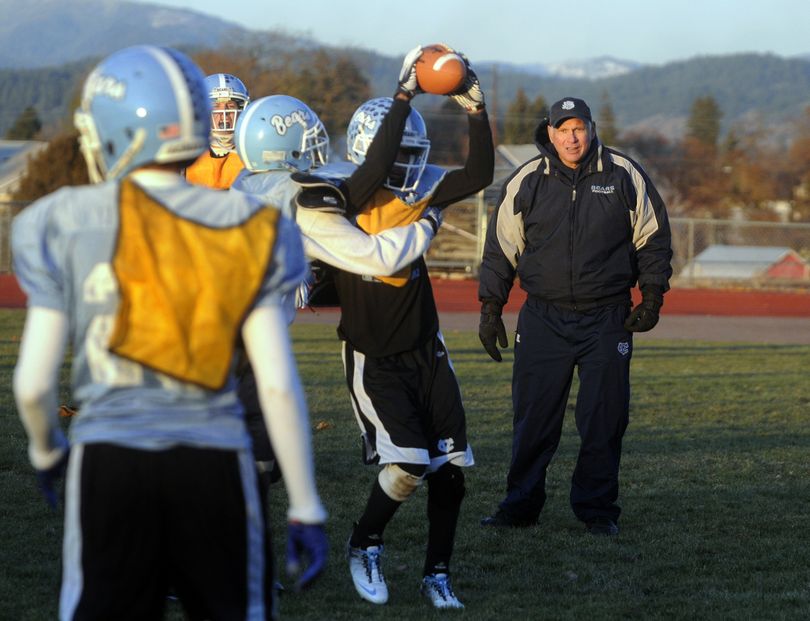 Central Valley defensive coordinator Steve Kent's intense energy and enthusiasm has sparked his Bears in holding their opponents to just 12 points in their last three games, including two playoff wins. SR photo/J. Bart Rayniak
Saturday's Valley Voice is packed to the gills with news from the Spokane Valley area. Correspondent Steve Christilaw checked in with the Central Valley High School football team, which has had a successful season. Spokane Valley City Council candidate Ben Wick has clinched a win over competitor Marilyn Cline to take a seat on the council. Wick was ahead by only 20 votes on election night, but he drew further ahead as the vote counting continued.
Reporter Lisa Leinberger has a story on last week's Liberty Lake City Council meeting, which operated without a quorum for a while. The Spokane Valley City Council, after much discussion and a close vote, agreed to allow city staff to apply for a grant to build a decant facility to process the waste removed from the city's drywells. The council also unanimously approved the 2012 budget.
Fire District 8, Fire District 13 and the town of Rockford are regrouping after fire levies and bonds failed at the November polls. Each is considering how to move forward after voters rejected their request for money. Commissioners from the Spokane Valley Fire Department heard a presentation on their 2012 budget last week, which includes the construction of a new Station 6.
---
---