Thu., Sept. 29, 2011
Today's highlights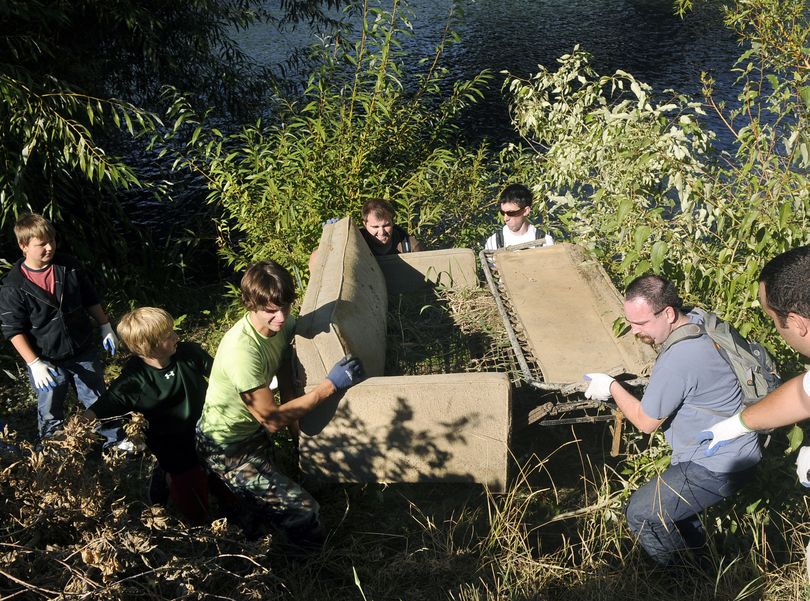 Bubba Ferguson, Tyler Zandhuisen, Chris Lewis, Kaleb Allen, Aaron Danneker and Loren Vanden Berg muscle up a hide-a-bed couch from the banks of the Spokane River near South Riverton and Desmet during the Seventh Annual Spokane River Clean-Up in 2009. SR file photo.
It has been a busy week in Spokane Valley and we've got the news for you in today's Valley Voice. If you are looking for a volunteer opportunity this weekend, check out the ninth annual Spokane River Clean-Up, This year several sites in the Valley have been selected to be a part of the clean up day, which is organized by the Friends of the Falls. You could also choose to help restore the hillside at the Mirabeau Park trailhead in a project organized by the Spokane River Forum.
Spokane Valley city councilman Dean Grafos paid a visit to the Spokane Valley Fire Department commissioners meeting this week to talk about response time delays at Station 1 caused by the one-way segment of Sprague Avenue.
During this week's City Council meeting, the council members had a long discussion before voting on how much funding to allocate to social service and economic development agencies that applied for grants.
Reporter Lisa Leinberger stopped by Adams Elementary last week when the school was visited by Ronald McDonald. The elementary schools in the Central Valley School District collected 1,150 pounds of pop tops, which will provide 30 night at the Ronald McDonald House. The house provides housing for families of children undergoing medical treatment.
---
---