Today's highlights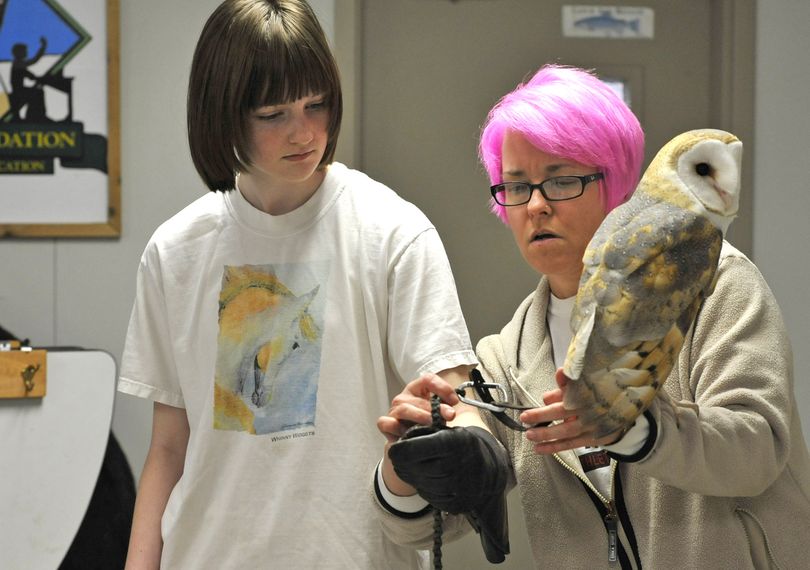 Rina Clark, right, a West Valley Outdoor Learning Center raptor volunteer, introduces Ava McLeod to Willie the barn owl, Friday. SR photo/Dan Pelle
We start today look's at the Valley Voice with two great stories by reporter Lisa Leinberger. She visited with an autistic volunteer, Ava McLeod, who works with the birds at the West Valley Outdoor Learning Center. McLeod knows several bird calls now and has handled some of the birds.
Lisa's second story on the Central Valley School District will impact the entire Spokane Valley area. The Central Valley board has agreed to purchase the morner Rite Aid building at Sprague and University to expnd the Skills Center program. The West Valley Contract Based Education currently fills half the building and will remain there. The Skills Center classes offered there would also be open to students in the West Valley, East Valley and Freeman school districts.
The Spokane Valley City Council had another discussion on the gateway sign proposed at Appleway and Thierman as they fine tuned the plan for the site. The Spokane Valley Fire Department is mulling over their options after construction bids for a new Station 6 came in over the estimated cost of $1.3 million. The lowest bid was $1.5 million and others went as high as $1.8 million.
---
---