Thu., July 19, 2012
Today's highlights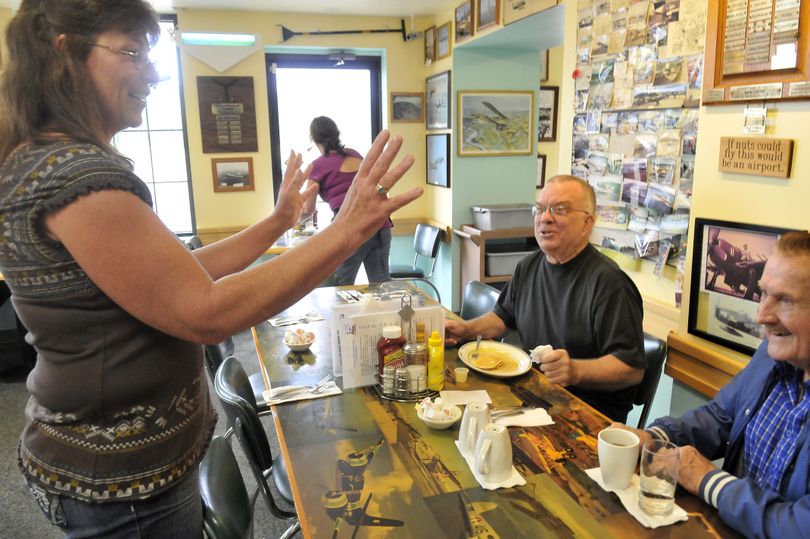 Skyway Cafe owner Sandy Melter, left, talks with Jerry Martin, center, and Ron Webber, right, at the "pilots table," Tuesday. Located at Felts Field, the Skyway is 63 years old and filled with aviation memorabilia. SR photo/Jesse Tinsley
Welcome to another hot and sunny day in Spokane. To celebrate we have a tour of today's Valley Voice. Reporter Lisa Leinberger is continuing her tour of places to see in the Spokane Valley area and this week she visited the Skyway Cafe at Felts Field. The cafe is known for its good food and prime location that allows diners to watch planes taking off and landing at the airport.
The Spokane Valley Fire Department and Spokane County Fire District 9, both of which serve residents in the Spokane Valley area, have replacement maintenance and operations levies on the August ballot. Both districts get a significant amount of their annual budget from the levies. The ballots should begin arriving in the mail this week and must be returned by Aug. 7.
The Spokane Valley City Council got its first look this week at draft goals and policies for the shoreline plan that have been recommended for approval by the city's planning commission. There will be a lot more dicussion on this at future meetings.
Lisa also wrote about new West Valley School District assistant superintendent Jean Marczynski, who most recently worked for the Central Valley School District for many years.
---
---