Mon., June 11, 2012
Saturday's highlights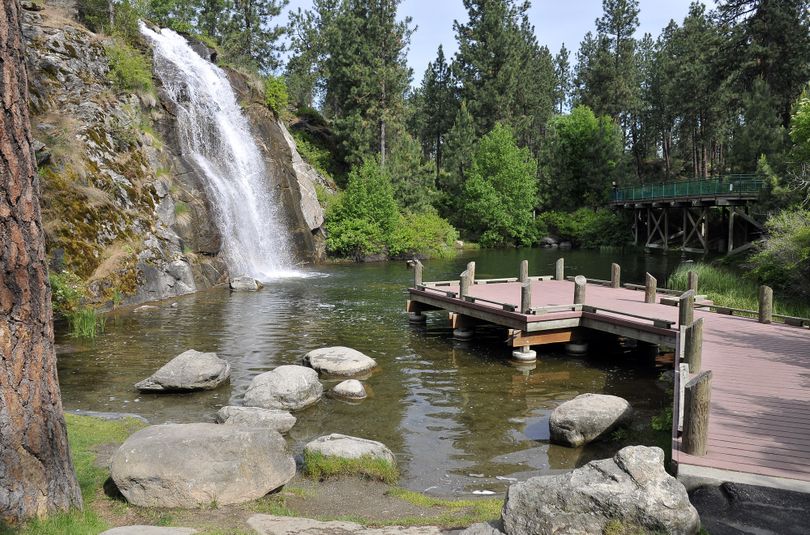 The pond and landscaped area known as Mirabeau Springs in Mirabeau Point Park was once the tiger enclosure at Walk in the Wild Zoo, which closed in the 1990s. The area was reclaimed as the park, which sits behind the YMCA and CenterPlace in Spokane Valley. SR photo/Jesse Tinsley
Welcome back, everyone. I'm back from vacation and ready to go, so let's check out some highlights from Saturday's Valley Voice. The Spokane Valley Parks and Recreation Department has put out a new brochure highlighting the history of the site that now includes Mirabeau Park, Mirabeau Springs and CenterPlace. The land was the former site of the Walk in the Wild Zoo. The brochure includes a map that locates each of the old animal enclosures so people can find them as they walk the trails in the wooded area. What is now Mirabeau Springs was the old home of two Bengal tigers named Lilly and Kasey.
Reporter Lisa Leinberger has a story on Barker High School, an alternative school that just graduated its largest class ever. She looked into what makes the school so successful. She also has a story on Sarah Matlack, who is the fourth generation of her family to graduate from Central Valley High School.
Correspondent Steve Christilaw has a story on Central Valley High School junior Katie Wardsworth, who won the recent Washington State Hammer Championships. She comes from a family of hammer throwers and is expecting a lot of interest from college track and field coaches.
---
---