Shock player arrested for arson, suspended from team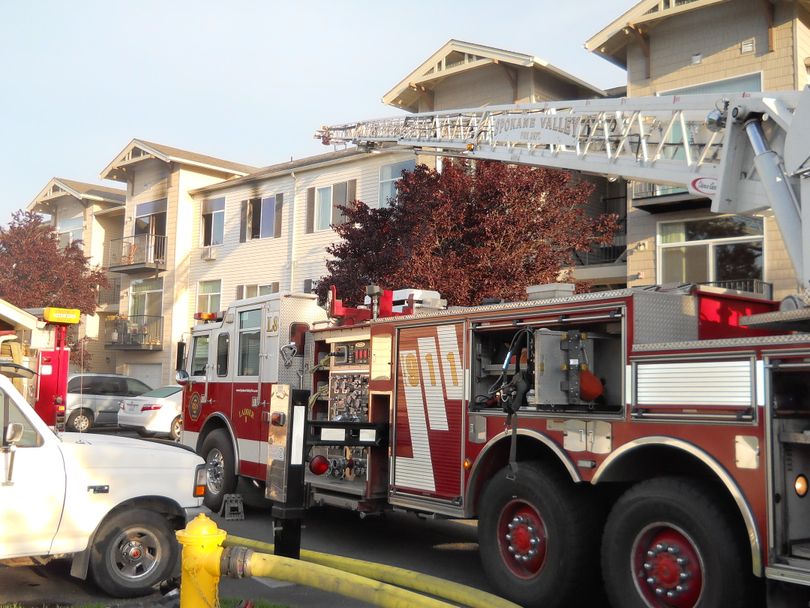 Photo courtesy the Spokane Valley Fire Department.
Third update: Shock player Kevin Ellison has been arrested on an arson charge for allegedly starting the fire that began in his bedroom. He has been suspended from the team. Check the updated story here.
Second update: Representatives of the Spokane Shock arena football team have confirmed that player Kevin Ellison is the resident who jumped from the burning building. The story is here.
Update: Fire investigators have determined that this was an arson fire, said Fire Marshal Kevin Miller. Investigators have not yet been able to interview the resident, who is still in the hospital. The fire began in the bedroom.
------------------------
A man jumped from his burning third story apartment at Big Trout Lodge in Liberty Lake early this morning and managed to escape serious injury. He was taken to the hospital to be treated for smoke inhilation.
Spokane Valley Fire Department's Engine 3 was on its way to another call at 5:30 a.m. today when firefighters spotted a column of smoke coming from the apartment building, according to a press release from Capt. Pat Schaffer. They called it in and diverted to the building, where they saw flames coming from the third floor unit. Liberty Lake Police officers helped evacuate the building.
Firefighters were able to stop the fire from spreading from the apartment where it began. Two other apartments had some smoke damage. The damage is estimated at $50,000 and the cause is still under investigation.
---
---