Mon., June 18, 2012
Saturday's highlights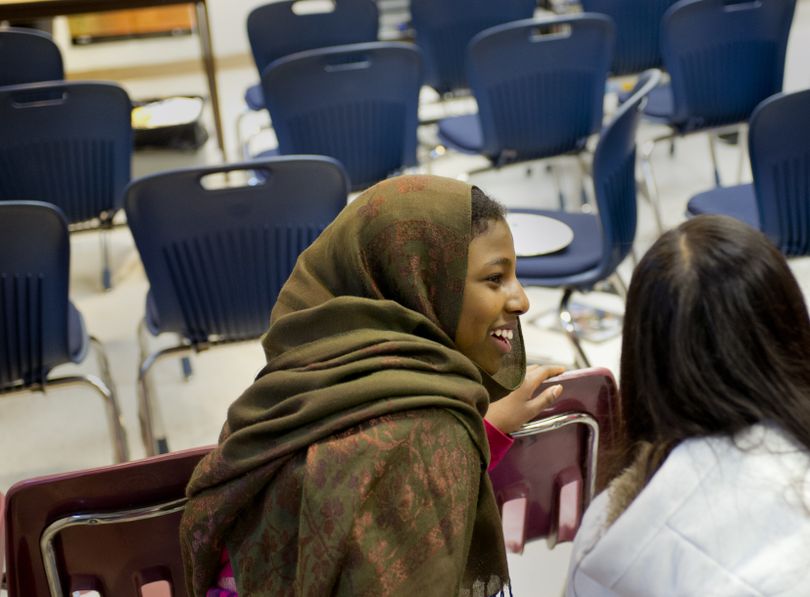 North Pines Middle School eighth-grader Asha Abbas, 14, and seventh-grader Isabella Moua, 13, share a laugh Wednesday after an English language development class presentation in which students tell stories about themselves using Microsoft Phot Story. SR photo/Tyler Tjomsland
It's another gloomy Monday morning, but we've got some Saturday Valley Voice highlights to start our day with. The Spokane Valley City Council spent eight hours in a
retreat
last week going over the preliminary 2013 budget numbers and discussing how they might fund street preservation. No decisions were made, so the issue will continue to be discussed at future meetings.
Reporter Lisa Leinberger visited a English language development class at North Pines Middle School attended by young immigrants from all over the world. The students were presenting photo stories and some talked about where they came from.
Some Millwood residents upset about a recent 14 percent water rate increase visited the Millwood City Council meeting to complain about the rate hike. Correspondent Valerie Putnam reported their concerns about paying too much for water this year.
Spokane Valley pools are open now and we have details about open swim times and swim lessons. The Spokane Valley Fire Department renamed several fire stations last week and the names of one or two might surprise you.
---
---