Thu., June 28, 2012
Today's highlights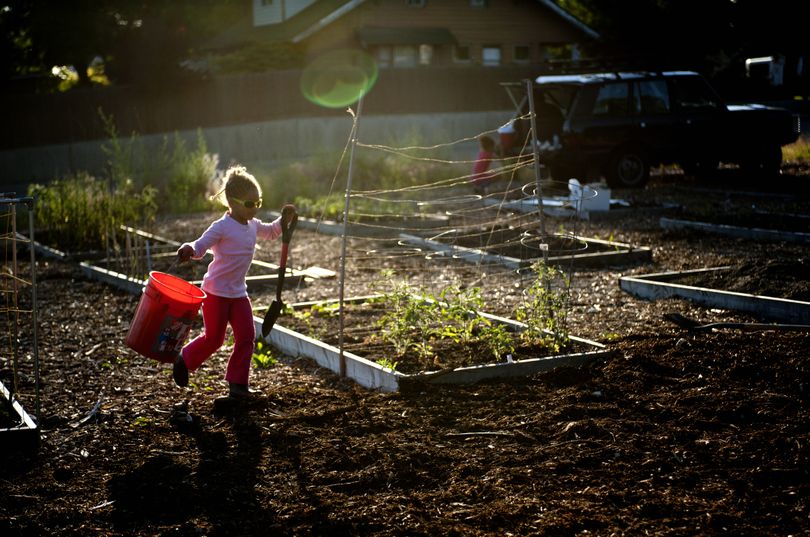 Aliyah Forrester, 5, runs with a bucket and shovel Monday, through the Pumpkin Patch Community Garden in Millwood. Her grandparents, Doug and Teresa Sadler, help run the garden. SR photo/Tyler Tjomsland
Today you get a look at the stories we've been working on all week. Reporter Pia Hallenberg is continuing her look at local community gardens and recently stopped by the Pumpkin Patch Community Garden in Millwood. The garden still has some of its 57 plots available and also participates in the Plant a Row for the Hungry program, donating produce to Second Harvest.
In a departure from past practice, the Spokane Valley City Council is not allowing the Spokane Valley Fire Department to make a presentation on its replacement levy on the August ballot. The move caught the fire department by surprise, particularly since it gave similar presentations twice previously.
The work on the Sprague Avenue reconstruction project has been delays after a gas line was found only inches under the asphalt. It had to be relocated and buried deeper before the road work could continue. During Tuesday's meeting the Spokane Valley City Council voted to require a development agreement before land on Conklin Road just south of Broadway can be rezoned high density residential. The agreement would set restrictions on setbacks and building height on the land, which is surrounded by single family homes on land zoned low density residential.
The town of Fairfield has several programs for kids running this summer. Free lunch is available in the Community Center on weekdays and the town will again bus children to the Tekoa pool.
---
---