Saturday's highlights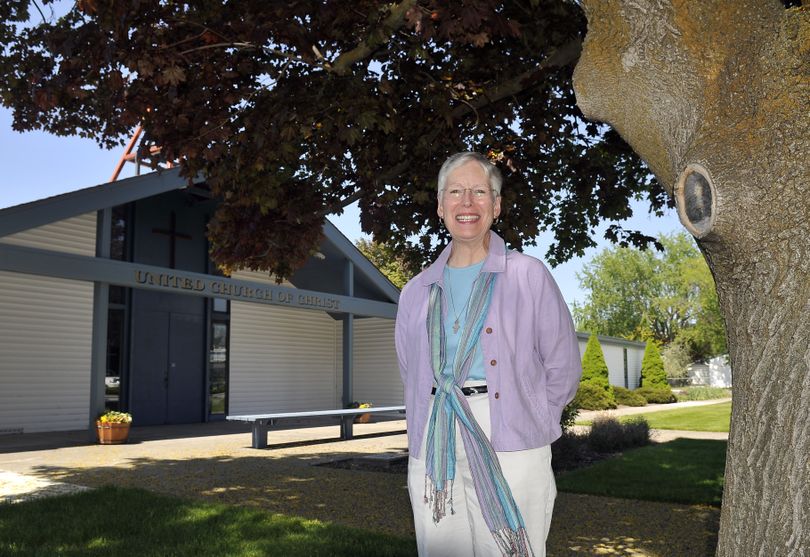 Linda Crowe, pastor of Veradale United Church of Christ for the past 17 years, is shown outside the church on Tuesday. She is retiring. SR photo/Jesse Tinsley
Apparently we're back to rainy and cool Mondays now. While you enjoy your morning coffee, we've got a bunch of stories from Saturday's Valley Voice to highlight. The Rev. Linda Crowe has been the pastor at the Veradale United Church of Christ for 17 years. She retired Sunday and it was an emotional experience for Crowe and her congregation.
Reporter Lisa Leinberger has a story on East Valley High School student Emily Harris, who won a statewide art competition. Her painting, titled "My Childhood," will hang in the Cannon Tunnel, which connects the Cannon House Office Building to the Capitol Building in Olympia.
The Liberty Lake City Council has an opening after Susan Schuler announced her resignation so she can move to New Zealand with her husband. Anyone interested in applying for the seat needs to do so by 4 p.m. on May 31. The Spokane Valley City Council had a discussion last week on what projects to fund with the street preservation money they recently set aside. There was some debate over which roads should be done first.
In other road construction news, the Sprague Avenue reconstruction project between Evergreen and Sullivan started today. The project will be completed in four phases to limit traffic impacts. Access to businesses will be maintained. The project should be done by mid-August.
Correspondent Juli Bergstrom Wasson has details on Wags to Riches dog grooming, which opened in Spokane Valley last fall. It's not just a place to go if Fido needs a bath and a trim. Owner Virginia Patton has nearly completed the requirements that will earn her the title of master groomer and she likes to do creative trimmming styles.
---
---