Saturday's highlights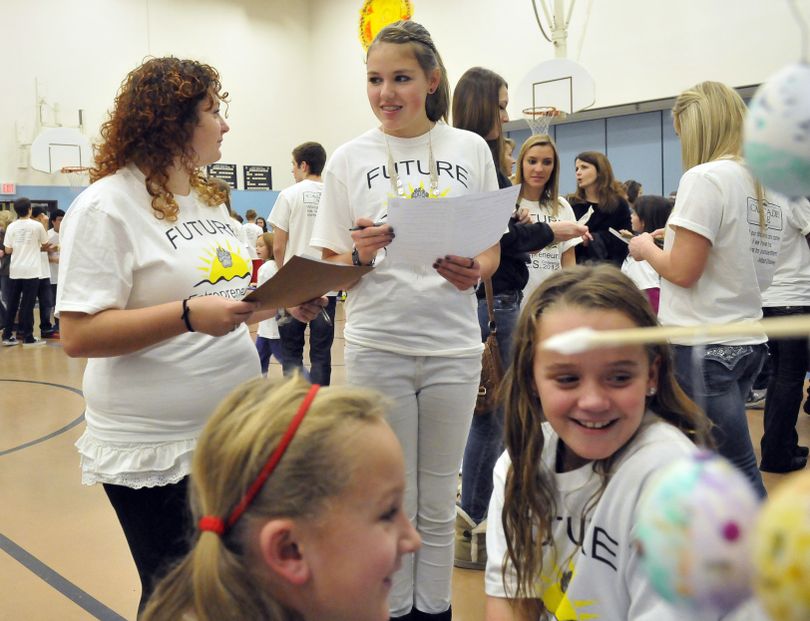 CV freshmen Jaimee Clark, standing at left, and Alexandra Burke, standing center, consult as they evaluate the entrepreneurial project of third-graders at Sunrise. SR photo/Jesse Tinsley
Welcome to a wet, windy Monday. But look on the bright side; we've got Thanksgiving to look forward to. As always we have some highlights from Saturday's Valley Voice. Reporter Lisa Leinberger has a story on a program that teams Sunrise Elementary students with Central Valley High School DECA students to learn about running a business. The students are selling products that they made.
Sullivan Park will double in size after the construction of the new Sullivan Bridge is complete. The park will be expanded as mitigation for the portion of the park that will be used as a staging area during construction. Other improvements in that area are also planned.
The HUB Sports Center has a new after school program for Greenacres Middle School that is proving to be popular. The students get help with their homework, have a snack, listen to guest speakes and play games.
The city of Liberty Lake is taking a second look at its animal control contract with SCRAPS. Mayor Steve Peterson iswants to see if SpokAnimal can provide the city cheaper service or if the SCRAPS contract can be changed to cost the city less out of pocket.
Lisa also has a report on a Central Valley school board meeting where a decision was reached to sell land in Liberty Lake to the city of Liberty Lake for $10 so it can be used for playing fields. The district has the option to purchase the land back for the same price in the future if it needs the property.
---
---