Saturday's highlights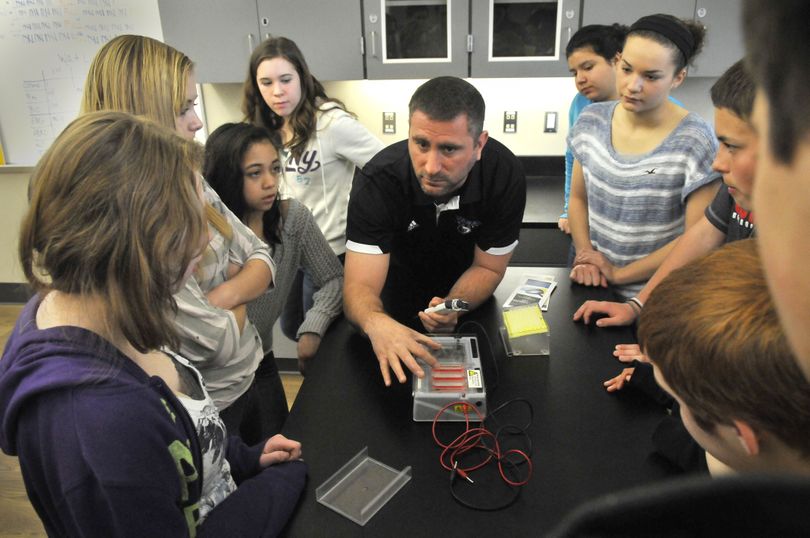 Central Valley High School biology teacher Phil Plesek, center, talks about DNA with a group of Evergreen Middle School eighth-graders Wednesday at Spokane Valley Tech. Eighth-graders from Spokane Valley schools have been taking tours of the tech education center where career and science-oriented classes are available. SR photo/Jesse Tinsley
Good Monday morning everyone. I'm fairly certain it's still spring, but that wind is making for a chilly day today. While we wait for it to warm back up again, we can take a look at some highlights from Saturday's Valley Voice. Reporter Lisa Leinberger has a story about Evergreen Middle School students who visited Spokane Valley Tech to learn about the career and technical education classes and programs it offers.There's an open house coming up this week for students who are interested in attending.
Newman Lake Fire and Rescue is looking at using volunteers and a temporary help to replace a retiring deputy chief. The issue will likely be discussed again during the district's regular fire commissioner meeting tonight. Spokane County Fire District 8 got some input from citizens last week after hosting a series of public meetings on the district's strategic plan. Residents offered suggestions on how the district can improve as well as identifying what the district does well.
The Millwood City Council approved its draft Shoreline Master Program, according to a story by correspondent Valerie Putnam. The council made changes to the section that governs public shoreline access on private land. The council also awarded contracts for an irrigation project and resurfacing the city tennis courts.
---
---