Today's highlights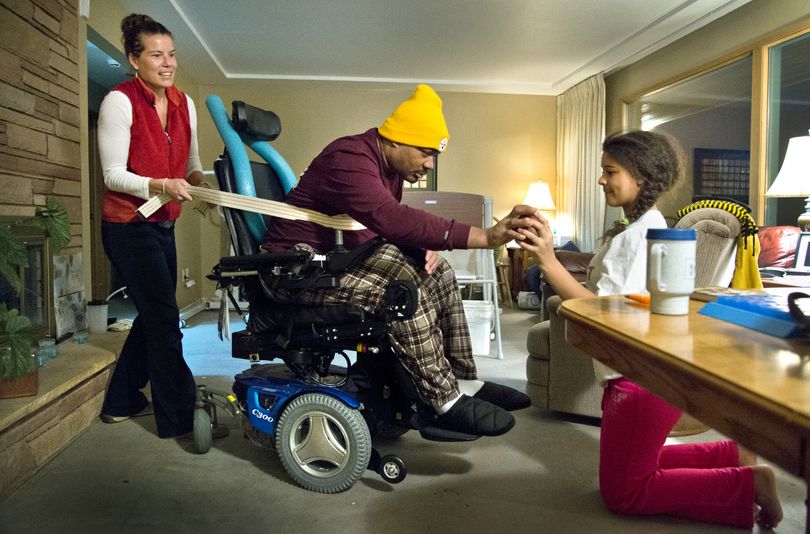 Al Palm works on his balance and strength, with the help of occupational therapist Emily Querna, left, and his daughter Joelle, on Dec. 2 at his home in northwest Spokane. SR photo/Dan Pelle
I have to start my apologizing for my general inactivity on the blog and Twitter lately. Last week I was waylaid by a lovely flu virus and didn't leave my house for four days. I'm not quite back up to full speed yet, but I'm here. With that said, here are some highlights from today's Valley Voice.
Reporter Mike Prager has a story on Al Palm, who used to run the City Perk coffee shop in the STA Plaza. He is battling a rare diseases that paralyzed him almost overnight and his friends are organizing a benefit auction to raise money for medical equipment and renovations to his house to make it wheelchair accessible.
Reporter Lisa Leinberger has some details on the water damage from a frozen pipe that shut down Adams Elementary for two days. She also attended this week's East Valley School Board meeting, where board chair Mike Novakovich had to step in and ask people to be civil to each other. At least one speaker called for the board not to renew the contract of superintendent John Glenewinkel.
The Spokane Valley City Council voted this week to award lodging tax revenue to local agencies that promote tourism. The process has been controversial in recent years, but this year everything went fairly smoothly. The council also approved a new towing ordinance that requires tow truck operators to check if an abandoned car has been reported stolen before towing it.
---
---