Saturday's highlights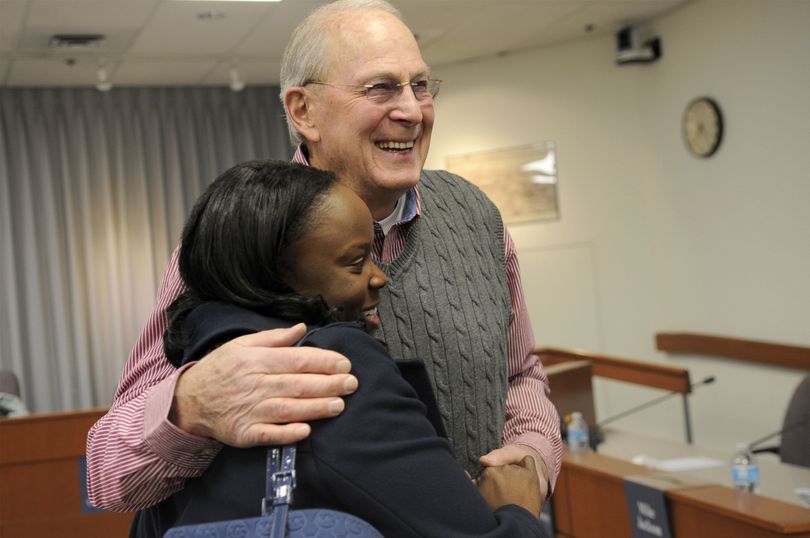 Spokane Valley City Councilman/Deputy Mayor Gary Schimmels is greeted by Latisha Hill, regional business manager for Avista, during a farewell gathering at Spokane Valley City Hall on Tuesday. SR photo/Kathy Plonka
Welcome to Monday, which this week is also known as Christmas Eve Eve. Not that we're counting the days until Christmas or anything. There are, of course, some highlights from Saturday's Valley Voice. A housing development is being discussed for the former Painted Hills Golf Course. The new owner may lease out the short par-3 course and the driving range, but it looks like various types of housing is the plan for the rest of the site.
Gary Schimmels is leaving the Spokane Valley City Council after serving ever since the city incorporated 10 years ago. He lost his re-election bid in November and now will be focusing on restoring his vintage cars and volunteering at local social service agencies.
Reporter Lisa Leinberger has a story on a group of Central Valley School District bus drivers who teamed up to collect enough money to send one of their coworkers on an all-expenses-paid trip to Hawaii. Bus driver Teri Perry has been receiving treatment for ovarian cancer and her coworkers wanted to give her a special gift. They surprised Perry with the gift last week.
---
---