Saturday's highlights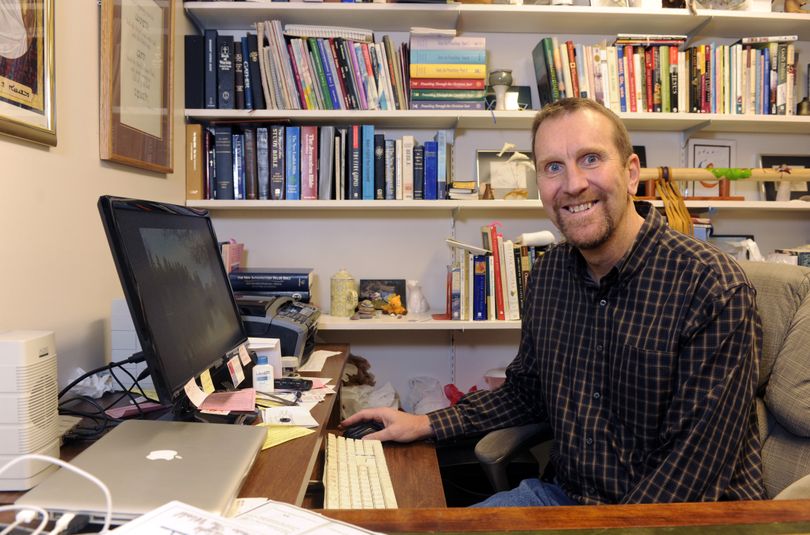 Roger Lynn, transitional pastor of Veradale United Church of Christ, sits in his office at the church on Wednesday. He is recovering from blood clots in his lungs, which caused an emergency stay in the hospital over the holidays. SR photo/Jesse Tinsley
I managed to dig my car out and make it to work this morning to bring you some highlights from Saturday's Valley Voice. But first, I must apologize for my sporadic posting this last couple of weeks. Between the time off for the holidays and early deadlines I wasn't able to post much and last week I had to make a last minute trip to Montana to bring my daughter back to college. But everything should go back to normal now, so let's get going.
When the Rev. Roger Lynn of the Veradale United Church of Christ got sick before Christmas, he took the unusual step of sending out mass emails and Facebook posts about his condition from his ICU hospital bed. Lynn, who is now back to work, spoke to me about why he was so forthcoming about his health issues.
People who drive the west end of Spokane Valley have probably noticed that the brand new Spokane Valley Fire Station 6 near the I-90 Sprague off ramp is finished and open for business. I spent several hours there last week hoping to go along on a call, but it was a quiet day. I was able to chat with the crew about how they like the new station and they told me they have had lots of people stop in to take a tour.
In a separate story are details about how the fire department's carbon monoxide detectors saved the day again. The detectors are attached to each first aid kit and firefighters were recently able to save six people from carbon monoxide poisoning when they arrived to help someone with flu-like symptoms and their alarm sounded. This is the second such save in recent weeks.
---
---