Saturday's highlights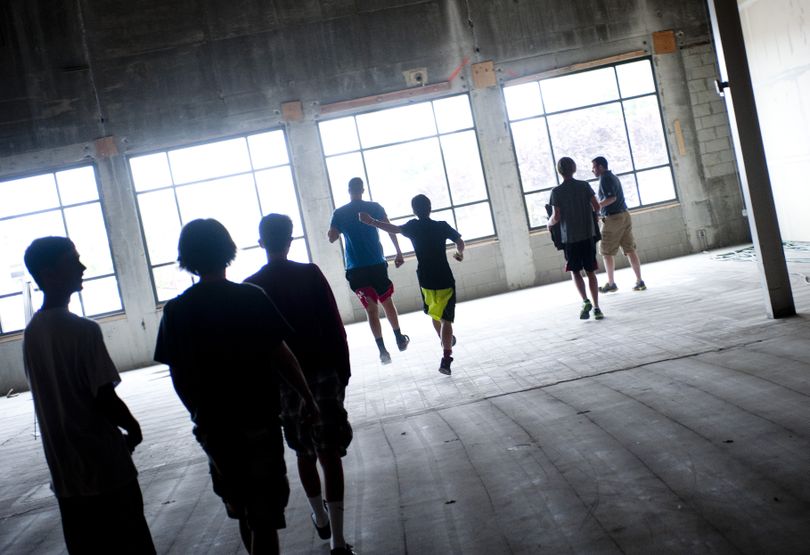 Spokane Valley Tech students run though the large room that used to be a Rite-Aid during a sports medicine class taught by Keith Eggleston on Wednesday. Eggleston was teaching the students how to analyze body movements and make corrections for injury prevention and efficiency. SR photo/Tyler Tjomsland
Welcome to a blistering hot Monday. If you start hearing a lot of noise tonight and tomorrow, that's me whining about the lack of air conditioning in my house. But I'm nice and cool for now and ready with some highlights from Saturday's Valley Voice.
Residents on both sides of the southeastern Spokane Valley city limits had some tough questions and comments for Spokane County representatives presenting information on their plan to restore wetlands in the Saltese Flats. The flats are located just outside Spokane Valley east of Barker Road. The area used to be a lake before it was drained for farming and ranching in the late 1800's.
Reporter Lisa Leinberger stopped by the new summer school classes being offered by Spokane Valley Tech. The free 13 day sessions cover everything from cosmetology to fire science to biomedical science. Students who attend the entire session can get credits. Lisa also has a story the new name for Contract Based Education - Dishman Hills High School.
Correspondent Steve Christilaw talked to The Pearl Snaps, a Spokane Valley blugrass band that recently competed in the National Old-Time Fiddlers Contest and Festival in Weiser, Idaho. The group has several performances lined up this summer and has put together a CD.
---
---