Thursday's highlights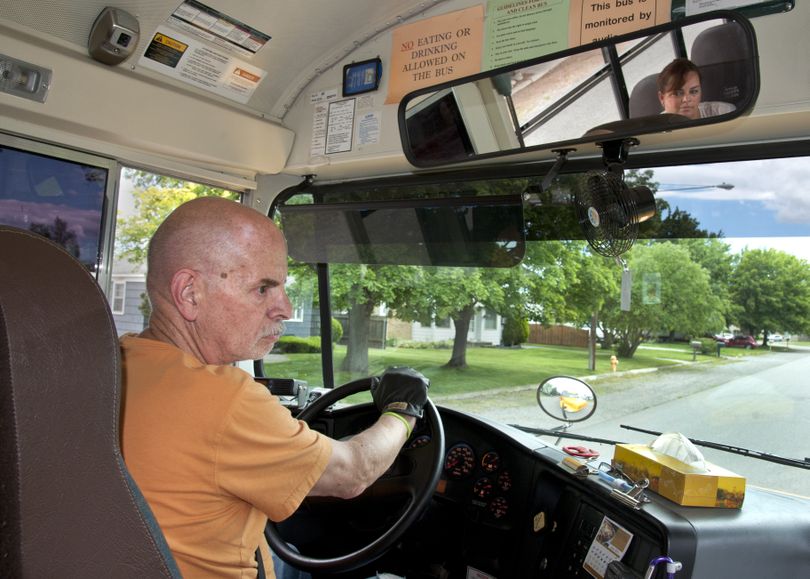 Greg Williams and Colleen Ramsey (reflected in mirror) drive the streets of Spokane Valley during a training session last week for the West Valley School District. SR photo/Dan Pelle
Happy Friday! I hope everyone had a safe and fun Fourth of July celebration. Before the weekend starts, lets take a look at some highlights from Thursday's Valley Voice. Reporter Lisa Leinberger has a story on the training required to become a substitute bus driver in the West Valley School District. Aspiring drivers have to complete days of classroom work and road tests before being hired.
The town of Rockford has paid its bill for law enforcement services from the Spokane County Sheriff's Office. The City Council had balked at paying the $32,000 bill, but they recently voted to pay what is owed to date. At a recent town hall meeting residents had expressed concern that the Sheriff's Office might stop responding to calls because the town hadn't paid its bill, but the Sheriff promised not to abandon the town.
Correspondent Stefanie Pettit has an update on Miss Chicken, who is now well settled in her new Spokane Valley home. The formerly feral chicken was trapped and relocated after hanging around Pettit's house for quite some time.
---
---