Saturday's highlights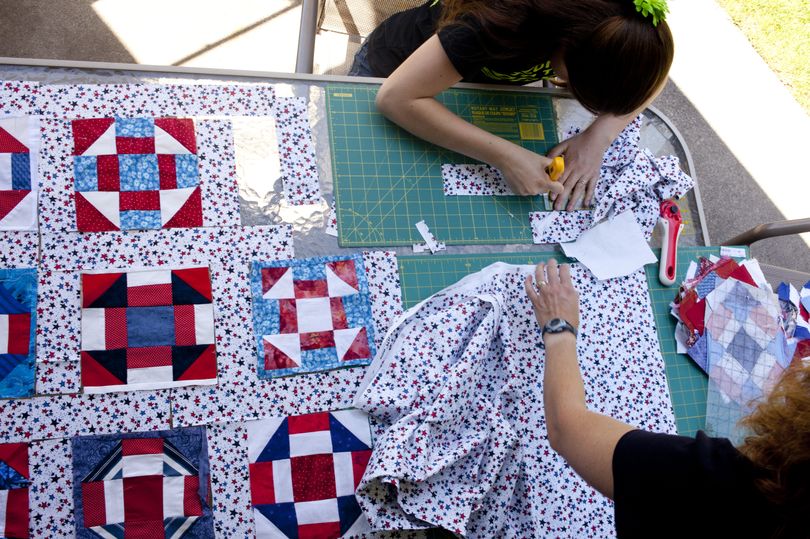 Ellin Schafer, 15, above, and her mother, Carolyn, assemble a quilt at their home in Spokane Valley on Tuesday. Carolyn Schafer is organizing a quilting drive for the members of Mason Flemmer's unit. Flemmer, the orchestra teacher at Central Valley, is being deployed for the third time to Afghanistan. SR photo/Tyler Tjomsland
I invite everyone to take a look at today's Garfield comic strip. That sums up my approach to Mondays very well. With that said, it's time to take a look at some highlights from Saturday's Valley Voice. Reporter Lisa Leinberger has a story on the efforts by students and staff at Central Valley High School to create 140 quilts for the 455th Engineer Company in Afghanistan. CV orchestra teacher Mason Flemmer is part of the unit.The volunteers still need donations of material to make the quilts, volunteers to put them together and cash to ship them.
Correspondent Steve Christilaw has a story on new volleyball coaches at Central Valley High School and University High School. Both are from out of the area and have a good coaching track record. Correspondent Valerie Putnam has a report from Millwood, where the council recently voted to restrict parking on portion of Stout Road and Grace Ave. Residents have complained that employees from local businesses are parking there.
Being buzzed by a bee ended badly for one man recently when he and his tractor rolled down an embankment after he swatted at the insect. The man was seriously injured, but he also had the unfortunate luck to land on a dead porcupine. That call for help was one of hundreds responded to by Spokane Valley Fire Department crews in the last two weeks.
---
---