Saturday's highlights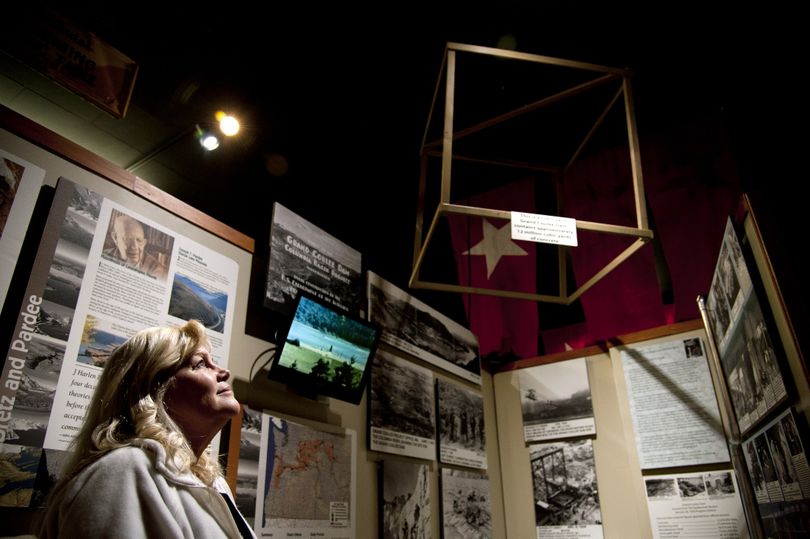 Jayne Singleton, director of the Spokane Valley Heritage Museum, is ready to open the Grand Coulee Dam and Ice Floods exhibit. The box hanging from the ceiling denotes one cubic yard. Grand Coulee Dam contains around 12 million cubic yards of concrete. SR photo/Dan Pelle
I'm fairly certain it's Monday morning (hello, second cup of coffee), so let's look at some highlights from Saturday's Valley Voice. Reporter Nichol Hensley has a story on a new exhibit at the Spokane Valley Heritage Museum that focuses on the Grand Coulee Dam and Lake Roosevelt.
Last week Spokane Valley Mayor Tom Towey gave his annual State of the City speech. He compared the city to the Gonzaga University men's basketball team in that they both focus on recruiting and the basics. Citizens can be proud of the city, he said.
There's a big celebration Saturday of the 10th anniversary of the incorporation of Spokane Valley. The bash at CenterPlace will feature some history from the Spokane Valley Heritage museum and local Native American tribes as well as carnival games and birthday cake.
In sports, correspondent Steve Christilaw takes a look at this year's Central Valley High School boys soccer team. There is a strong group of freshmen this year.
---
---