Today's highlights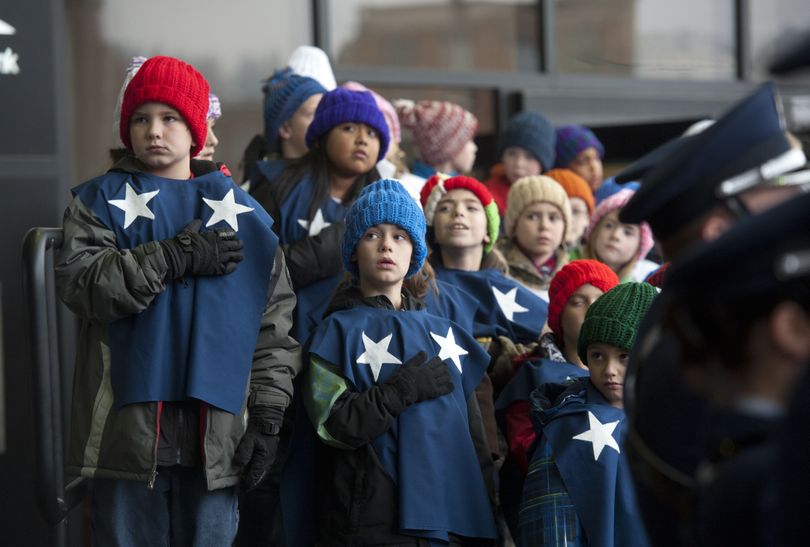 Third-graders from McDonald Elementary listen to the national anthem while waiting to sing near the truck carrying the Capitol Christmas Tree on Tuesday outside the INB Performing Arts Center. The tree is starting a regional tour before heading to Washington, D.C. SR photo/Jesse Tinsley
Happy wet and windy Thursday, everyone. While we're inside staying dry we can take a look at some highlights from today's Valley Voice. Reporter Lisa Leinberger went to the Spokane stop of the Capitol Christmas Tree, which will be put on display in Washington, D.C., for a singing performance by the McDonald Elementary School third graders. The kids had a week's notice before their performance of patriotic songs.
On Election night Spokane Valley City Council incumbent Gary Schimmels was three votes ahead of challenger Ed Pace and we have their reactions to the initial results. More votes have been counted since then, however, and we'll have another update in Saturday's Valley Voice.
The Spokane Valley Library will be closed next week as new carpet is installed by the front door and the desks are reconfigured. Books can still be put in the drop box, but the doors will be locked Monday through next Saturday, Nov. 16. Parents will have to bring their kids to other library branches for story time or miss out.
---
---