Today's highlights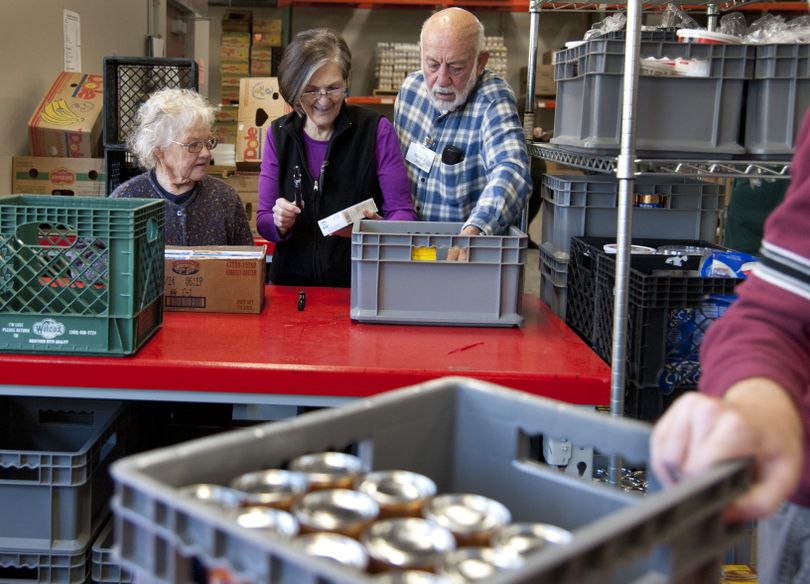 Volunteers Kathy McAteer, left, along with Kathy and John Malone sort through donated food on Tuesday at Spokane Valley Partners. SR photo/Dan Pelle
I have to begin by apologizing for not blogging much this week. I've been scurrying about trying to work ahead for next week, which includes two days off (yay) and early deadlines (ugh). For now we should celebrate being exactly one week from Thanksgiving by going over some highlights from today's Valley Voice.
Eight Spokane Valley churches have been collecting money to give to the Spokane Valley Partners Food Bank to buy turkeys and other items for Thanksgiving baskets that will be handed out to those that need them next week. The churches are collecting money instead of actual turkeys this year because Thrivent Financial has promised to match their donations up to a $1,600 cap.
Reporter Lisa Leinberger has a story on several Central Valley High School music students that created the LETEM Play non-profit that distributes donated musical instruments to low-income students. The students have handed out $13,000 worth of instruments and have begun offering music clinics.
The results of the November elections will be certified next week, but the outcome of at least one race is still unknown. There is a tie among two city council candidates in the town of Latah and one race for Spokane Valley Fire Department commissioner is very near the threshold that will require an automatic recount. In Spokane Valley challenger Ed Pace has cemented his lead over City Council incumbent Gary Schimmels.
The Spokane Valley City Council debated on whether to request state funding for the Appleway Trail Project or the expansion of Balfour Park. The city's finance committee recommended Appleway Trail, but Balfour Park also has some support.
---
---