Thu., Oct. 3, 2013
Today's highlights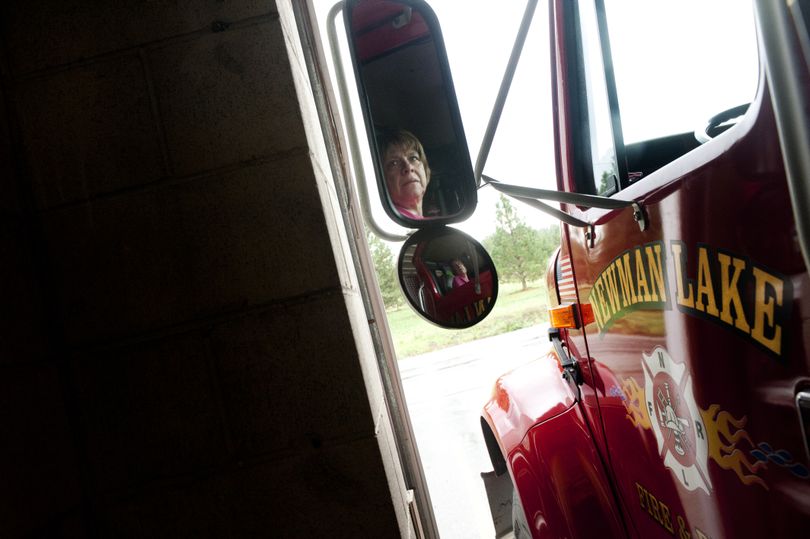 Toni Halloran, Deputy Chief of Newman Lake Fire and Rescue, concentrates as she maneuvers a water tender into the cramped confines of Station 1 on Tuesday. Newman Lake Fire and Rescue is again preparing to ask voters to pass a bond to replace Station 1. SR photo/Tyler Tjomsland
I hope everyone is having an excellent Thursday despite that nasty frost we had to scrape off our windshields this morning. Thursday is, of course, Valley Voice day, so we have some highlights. Newman Lake Fire and Rescue is considering tyring to pass a construction bond again to replace the aging Station 1. A bond failed at the polls in 2011, but this time commissioners are considering asking for only half the amount they asked for previously.
Reporter Lisa Leinberger attended a candidate forum this week featuring the candidates for the East Valley School District board of directors. Additional forums are planned for Oct. 12 and 16 for people unable to make the first session.
The Washington State Court of Appeals recently threw out the sentence of a former University High School teacher on a driving under the influence charge, ruling that he was improperly sentenced. However, Michael F. Cronin still served time in jail on other charges. He was fired by Central Valley School District in January 2012. A lawsuit Cronin filed in response to his firing is currently before the Court of Appeals.
Lisa checked in with Spokane Valely Rotary president-elect Mike Payson on the Spokane Valley Men of Rotary Fashion Show coming up this weekend. The fundraiser raises money for scholarships for high school seniors and books for local elementary schools.
---
---