Mon., Oct. 14, 2013
Saturday's highlights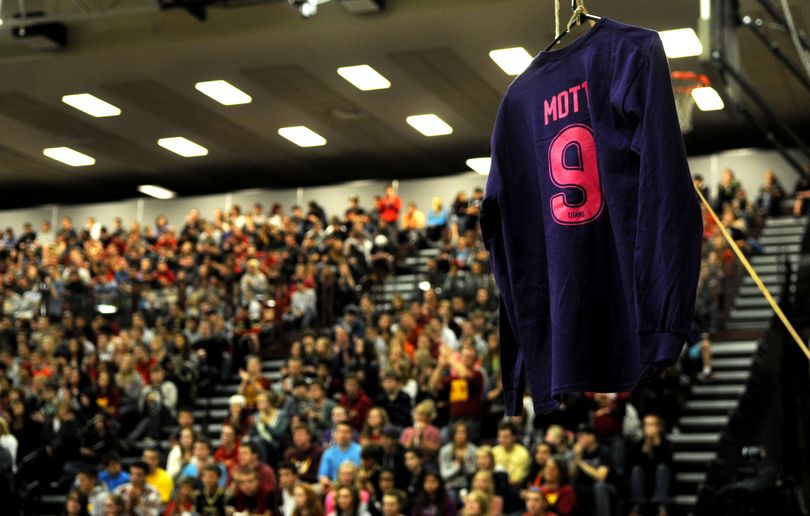 McKenzie Mott's jersey was retired during an assembly held in honor of her and fellow classmate Josie Freier at University High School on Friday. The two were killed in a car accident on Saturday, October 5, 2013. SR photo/Kathy Plonka
It's Monday again. Monday seems to come around much too quickly, but at least it means we have a Saturday Valley Voice to go over. This weekend correspondent Jill Barville wrote a column based on her perspective as a parent with a student at University High School, where students are struggling to cope with the death of two students killed in a car accident. An assembly was heldto remember Josie Freier and McKenzie Mott on Friday and hundreds of toys were collected in their honor for the Toys for Tots charity.
Reporter Lisa Leinberger stopped by North Pines Middle School for a seventh-grade class that was studying the laws of motion. They were running experiments to learn whether balls of the same size but different weight behaved differently when rolled down a ramp.
Spokane Valley City Council incumbent Gary Schimmels and challenger Ed Pace answered some questions about their views on Spokane Valley issues. Ballots will be mailed this week and this story is one of a series featuring City Council candidates.
Correspondent Valerie Putnam has a report from Millwood, where the city councilvoted to accept a loan to fund a water line replacement project. Residents have also reported increased vandalism and Mayor Dan Mork indidated he would ask for extra police patrols.
---
---