Today's highlights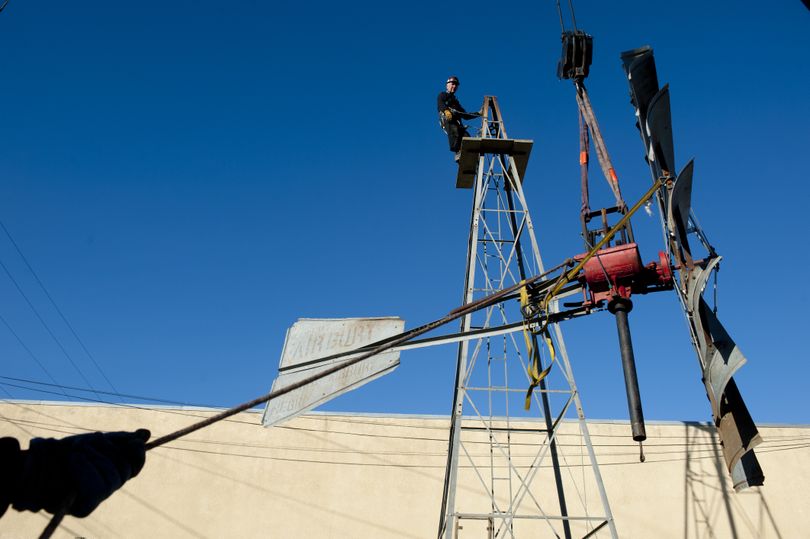 Hugh Grim watches from the top of a Fairbury farm windmill tower as his son, Jim, keeps a hand on a guide-line as they use a crane to lift the windmill to the top of its tower Tuesday at the Spokane Valley Heritage Museum. SR photo/Jesse Tinsley
Happy Halloween! Just remember to limit your sugar intake and everything will be fine. Meanwhile, we can take a look at some highlights from today's Valley Voice in between sugar breaks. Reporter Lisa Leinberger has a story on a "new" 1930s windmill that was just installed behind the Spokane Valley Heritage Museum. The Valley was once full of such windmills, which pumped water for farmers. The windmill has made previous appearances at the museum's annual farm show.
The Rev. Craig Goodwin of Millwood Presbyterian Church was recently diagnosed with a form of non-Hodgkins lymphoma. He is currently balancing his pastoral duties with an aggressive chemotherapy schedule that has him in the hospital for five days every three weeks. He said his diagnosis has given him a new perspective when dealing with people struggling with their own health issues.
The Spokane Valley City Council is moving forward with a proposed ordinance that would regulate the attire of bikini baristas at a business near City Hall who routinely go topless on certain days of the week, wearing only pasties and g-strings. The new law would mandate that their breasts be at least half covered. The proposal is sure to generate plenty of public comment at future council meetings as the ordinance moves through the approval process.
---
---