Thu., Sept. 19, 2013
Today's highlights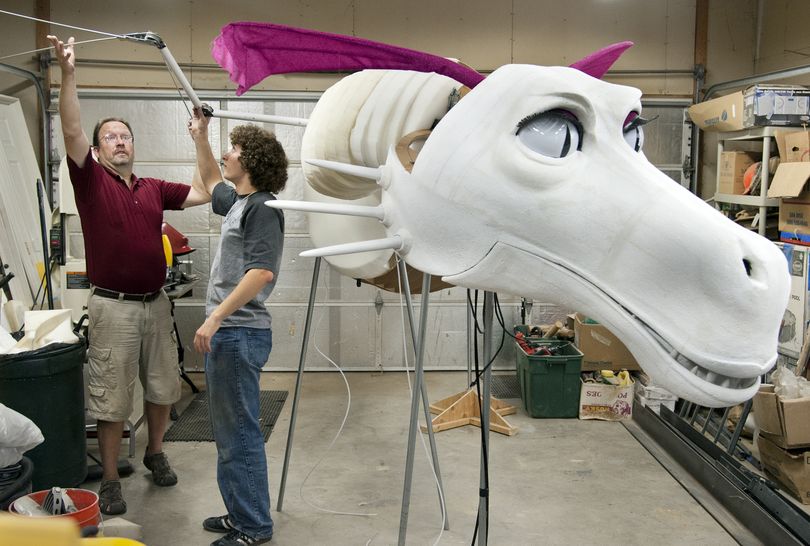 Rustin Hall and his son Joseph unfold the wing structure of the 24-foot, 75-pound dragon they built for the University High School drama department production of "Shrek." SR photo/Dan Pelle
Now that I have finally found my copy of today's Valley Voice that was sitting right in front of me on my desk, I can go over some highlights. (Don't ask. It's one of those days.) Reporter Lisa Leinberger has a cool story on a local family that built a huge mechanical dragon for the University High School's winter play "Shrek." She breathes smoke, she talks and she moves. It will take five students to control the beast. The production is scheduled for Dec. 5-14. Is it too soon to buy tickets?
The Southest Spokane County Fair is this weekend in Rockford. The 69th annual event features a parage, 3-on-3 basketball tournament, live music, a pancake breakfast, a fun run and much more. Of course, you can't forget all the animals either. They even play center stage in the Cow Chip Bingo.
A woman interested in opening a gymnastics facility is asking the city of Spokane Valley to make changes to its zoning code to allow her business to be located in an industrial zone. In a close vote, the city council sent the proposal back to the planning commission for further deliberation.
The city of Liberty Lake has finished a couple of missing links in its trail system along Sprague Avenue. There will be a dedication and ribbon cutting ceremony at 2 p.m. Saturday at Sprague and Molter Road.
---
---