Wed., Sept. 25, 2013
There was a lot of talk about nipples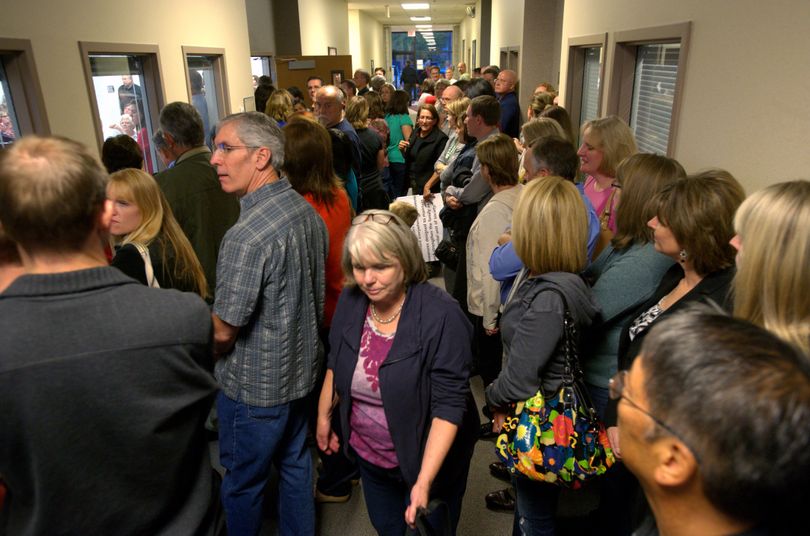 With a crowd spilling into the hallway, hundreds of citizens showed up at Tuesday's Spokane Valley City Council meeting to voice their concern about the XXXtreme Espresso stand on Sprague Avenue near Pines Road. SR photo/Colin Mulvany
Many of the 200 or so people who packed into City Hall for last night's Spokane Valley City Council meeting were there to complain about a new business in town, XXXtreme Espresso. The baristas wear bikinis most days, but on Tuesdays and Thursdays they are topless, wearing only pasties. This is what led numerous people to mention nipples (and other parts of the body) in their comments to the council.
But among the comments about concern for the activity taking place in the view of children was another message: take immediate action or we'll kick you out of office. Three of the current council members are up for election on the November ballot. Resident Dan Ross said he would campaign against anyone "who does not stand up for my children." "As you can see, I have a few friends," he said. "We are not afraid to take those positions away from you."
Reporter Jody-Lawrence Turner has a story today on the issue. Click here to read more.
Update: The City Council has called a special meeting for 1 p.m. Thursday, Oct. 3 at City Hall, 11707 E. Sprague. Items on the agenda include solid waste and potential regulations on public nudity. Public comment will not be taken.
---
---