Spokane Valley app gets trade show rollout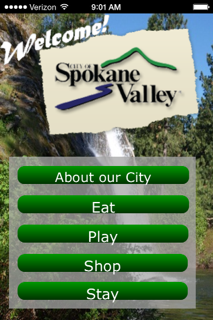 Spokane Valley's clever smartphone app is getting a trade show rollout.
The app, which relies on GPS coordinates and Google Places to steer users to the services or activities they're looking for, will be among the featured tech innovations at the city's booth in Thursday's Spokane Valley Chamber Business Show, set for 2 p.m. to 7 p.m. at the Mirabeau Park Hotel and Convention Center, 1100 N. Sullivan Road.
Developed in-house, the app was launched last summer but city officials are still trying to get the word out that it's available for free download from both the iPhone App Store and Android Play Store. It's considered an economic development tool because it seeks to help tourists and residents alike realize the Valley generally has the services, activities and recreational opportunities they want.
Users are provided with easy-to-follow maps to whatever they're looking for in a format that has drawn widespread accolades from tourism and city officials across the Northwest.
But while the app puts an impressive, almost encyclopedic array of local information at your fingertips, there's one Spokane Valley question even 21st century technology can't answer: where's downtown?
---
---