Sullivan Bridge project celebrated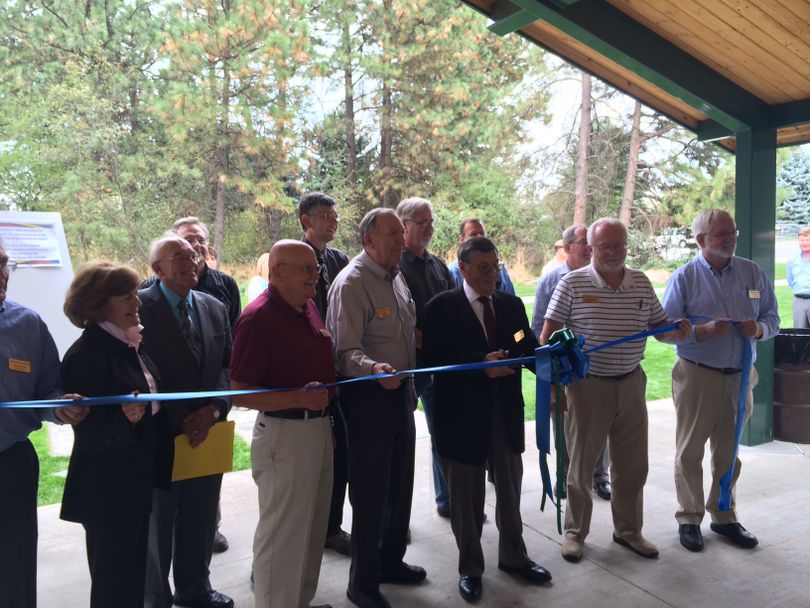 The Spokane Valley City Council and dignitaries from around the area gathered on the shore of the Spokane River to kick off the Sullivan West Bridge Replacement Project, today at 3:30 p.m. The west bridge is the southbound part of the 60-year-old structure which is currently held together with temporary reinforcement. Before the ribbon cutting, Spokane Valley Mayor Dean Grafos told the gathering that bridge safety never was an issue but that replacement was badly needed. "This is one of the most vital pieces of Valley infrastructure," Grafos said, adding that it's a major north-south arterial. "More than 4,500 jobs depend on smooth flow of traffic on this bridge."
Grafos said the total cost of the project will be more than $15 million – with $8 million coming from the Federal Bridge Replacement program, $5 million coming from Washington State and $2.3 million coming from Spokane Valley. The funding includes $3.5 million of gas tax monies coming back to Spokane.
City of Spokane Valley engineer Jim Dingfield said it's been a priority to keep the bridge open to traffic.
"It is going to be about a five year project," Dingfield said.
Part of the project is an expansion of facilities in Sullivan Park, which is right by the north end of the bridge, and includes the addition of a picnic shelter – where Thursday's kickoff event was held – as well as improved river access and better access to the Centennial Trail once the project is completed.
"The park will remain open the entire time," Dingfield said.
Commuters will soon see traffic moved over to the northbound bridge, which will be striped for three narrow lanes and have a sidewalk suspended from the side of the bridge. By June of 2015, the traffic pattern will be reversed allowing the project to finish by September of 2016. Construction details are available here.
Among officials present were State Rep. Matt Shea, County Commissioners Al French and Shelly O'Quinn. Everyone enjoyed treats of cookies and bridge mix.
Note: this story was updated on Friday - the total cost of the project is $15 million.
---
---