Thu., April 16, 2009
More on Apple Cup move for WSU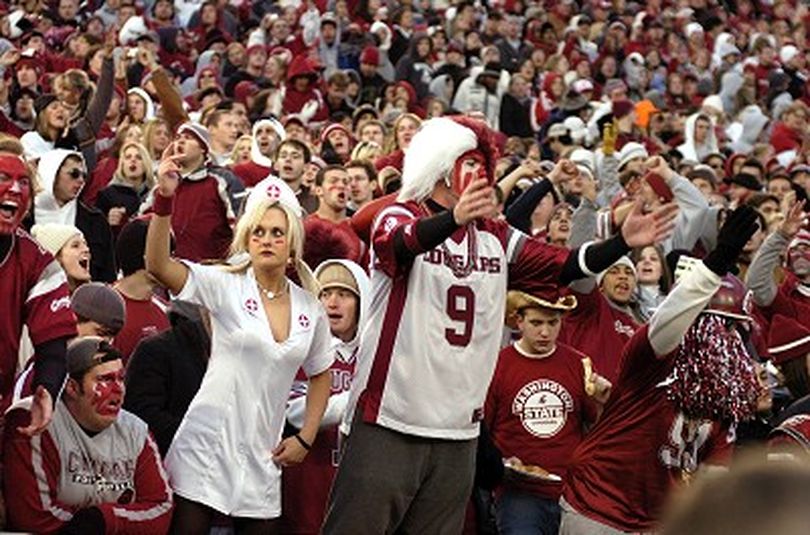 COUGARS
• UPDATED: 10:40 A.M.; 1:30 P.M.
What do you think is the most commented-about story on the web around the state of Washington right now? Could it be the possible move of the Apple Cup to Qwest Field each year? Newspaper and fan sites around the state are bubbling over with comments, about two-thirds to three-quarters them against the move, as far as we can tell. For more on the agreement, read on.
••••••••••
• As we said in our story, nothing has been signed yet. But we were told by our main source the agreement is pretty well done and an announcement could come soon. "It's going to happen," the source said. The answer when asked if they could see anything possibly derailing it: "nothing." So there you have it. I'm sure there will be more comment, more opinion today and tomorrow. My guess it will tend toward the "how-could-we-ever-let-this-happen?" side of the argument. But the answer is right in the story, in the state budget, in every budget at every business in our area right now. It's red ink. And it's spilling out everywhere. If there is a chance to increase revenue, then schools, governments, businesses are going to grab it. And, according to our source, this is a chance to guarantee each school upwards of $2 million a year over the next six years. It might mean the survival of a sport or two. Is it right? That's something you have to decide. But it is a reality. ... The news is covered in this Bud Withers' story in the Times. ... And there are opinions rolling in, including Nick Daschel's on Buster Sports and this one from Greg Johns on the P-I site. ... UPDATE: Ted Miller of ESPN.com has this piece on WSU running back James Montgomery.
• UPDATE NO. 2: Reading through what I've written thus far, I noticed a couple of things I neglected to mention and have been batted about in the comments, such as the date. This agreement would allow the Apple Cup to be played on Thanksgiving weekend, which, as most of you know, is a dead period in Pullman thanks to the students getting the entire week off. As some 65 percent of WSU students are from the West Side, this might help folks from that group attend the game. Some of asked how long this might last. After checking with a source, the understanding is each school would commit to putting up three home games, or a total of 6 years. As I find out any other details, I'll pass them along.
• Changing gears a bit, the Everett Herald had this feature on WSU baseball player Derek Jones. ... Former WSU coach Tony Bennett filled out his staff at Virginia, making Ron Sanchez's position official. Former WSU assistant director of basketball operations Ron Wideman is also on his way to Virginia to take over the same role on Bennett's staff. As for Washington State's basketball staff, right now it consists of Ken Bone and assistant coach Ben Johnson. No other hires have been officially announced and if they don't come today, our guess is they won't be announced until next week, because Bone and Johnson will be spending the next few days in Australia. ... UW is losing an assistant coach, with Cameron Dollar about to be named as Seattle U's head coach, according to Bob Condotta in the Times.
•••
• That's it for this morning. There is football practice today – 10 down, five to go – so we'll be back after that. And there probably will be updates throughout the day as well, whenever we discover a fresh commentary about the Apple Cup. Until then …
---
---