Wed., April 29, 2009
McCombs lines up with Spokane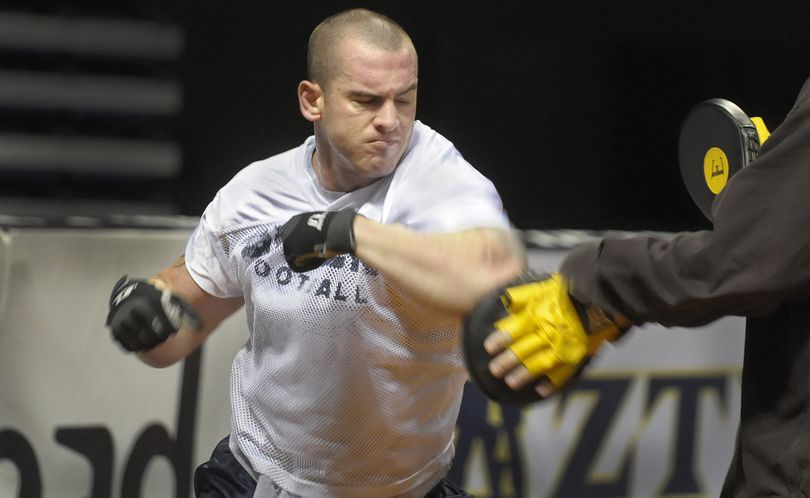 Ben McCombs has been an arenafootball2 impact player with Bakersfield, Rio Grande Valley and Central Valley. Nothing changed when he joined the 2009 Shock.
McCombs (No. 99 pictured above) was perhaps the biggest free-agent signing for Spokane, which returned 13 players from last year's squad. He's settled in as a starter at defensive end, registering four sacks in four games.
Read more about McCombs' journey to Spokane below in an unedited article that will run in Thursday's S-R.
By Jim Meehan
Staff writer
Spokane had just polished off an 83-63 win over Central Valley in the arenafootball2 playoffs last August when Shock coach Adam Shackleford approached Coyotes standout defensive lineman Ben McCombs.
"I told him that if he was going to be in arena2 next year I was going to do everything in my power to get him to Spokane," Shackleford said.
McCombs couldn't recall the specifics, but he remembers the gist of Shackleford's message. Months later, McCombs was set to join San Jose when word came that the Arena Football League's 2009 season was cancelled. His phone rang soon thereafter.
"I'm not sure if it was the same day or the next day when 'Shack' called," McCombs said. "I was pretty bummed out and wasn't sure what to do, but it was like, 'Man, it seems right.' I'll go up there and keep playing."
McCombs spoke with Central Valley coach Fred Biletnikoff Jr., who had helped him out several times during his career.
"I said, 'I want to play in front of a crowd, I want to be on that indoor practice field and I want to have all that stuff up there," McCombs said. "He said, 'I can't recruit against that. Go enjoy yourself.' He wasn't happy to hear it, but he definitely understood."
McCombs has made a seamless transition with Spokane. He has a team-high four sacks for the undefeated and top-ranked Shock. He became af2's all-time sacks leader with 45 when he hauled down Stockton quarterback Andy Collins last week.
McCombs' efforts were rewarded with a game ball. He handed the ball over to his father, who made the drive to Stockton from his home in Santa Barbara.
The 6-foot-4, 265-pound McCombs is a not-so-gentle reminder that arena football isn't all about point parades, despite rules that give offenses decided advantages. There is no stunting up front or exotic blitzes. Quarterbacks often take three-step drops and fire quick passes.
It's not exactly conducive to pass-rushing defensive ends.
"But there are definitely ways to get an advantage," said McCombs, who was with AFL Chicago last year before finishing the season with Central Valley. "Trying to time up the motion (receiver) is a big part of getting that extra step on the rush and you're just trying to keep the linemen off balance.
"I'm always trying to make myself better. I try to give them as many different looks as possible. I'm always moving. I have a motor. If I was a coach, I'd want guys that never give up. I'm not going to stop until the play is over and eventually the other guy is going to give up or make a mistake."
McCombs doesn't necessarily have to put on his game-face on Saturdays because he generally wears it every day. He took a helmet to his knee earlier this season and missed some practice time. He wasn't happy about it, but coaches insisted he rest his knee. He rarely takes plays off in practice, "sometimes to the point that some of my teammates get mad at me," McCombs said.
He's an admitted adrenaline junkie. He was the only student at San Marcos High to compete in rodeo. He loved bull-riding, even though he broke his arm at one event and it cost him part of his junior season of football.
"Made my coach irate," said McCombs, who gave up bull-riding at age 18 after winning a first-place belt buckle. "I was hooked the first time I did it. The rush was just indescribable."
He tried bungee jumping, but wasn't completely satisfied. "I like it, but I wanted a longer rush," he said. "That's why I want to try skydiving. Anything that makes the hair on your neck stand up."
His to-do list includes ultimate fighting, but football is his priority at present. He's played the sport since he was 10. He stayed close to home and played at Santa Barbara City College before moving on to NAIA MidAmerica Nazarene in Olathe, Kansas, where he had 18 sacks in 21 career games.
Scouts don't often find their way to Olathe, so McCombs began his pro career with Tennessee of the now-defunct NIFL before joining af2 Bakersfield in 2004. He had 26 sacks in two stints with the Blitz, 1.5 sacks with Rio Grande Valley in 2005 and 13.5 in nine games with Central Valley last season.
McCombs has four of Spokane's nine sacks. The Shock's steady pass rush is one of the reasons why the team ranks fifth in scoring defense (42.2 points).
"I expected a very professional program and that's what I got," said McCombs, who supplements his $200 per-game salary (plus $50 if Spokane wins) by working as a personal trainer. "It's just as good as Shack claimed it would be."
Even better for the coach.
"When we played against Ben McCombs," he said, "we game-planned against Ben McCombs. I had a Ben McCombs package in my running plays and it's nice to not have to use that this year."
---
---