Fri., Feb. 20, 2009
GU prepares for Pepperdine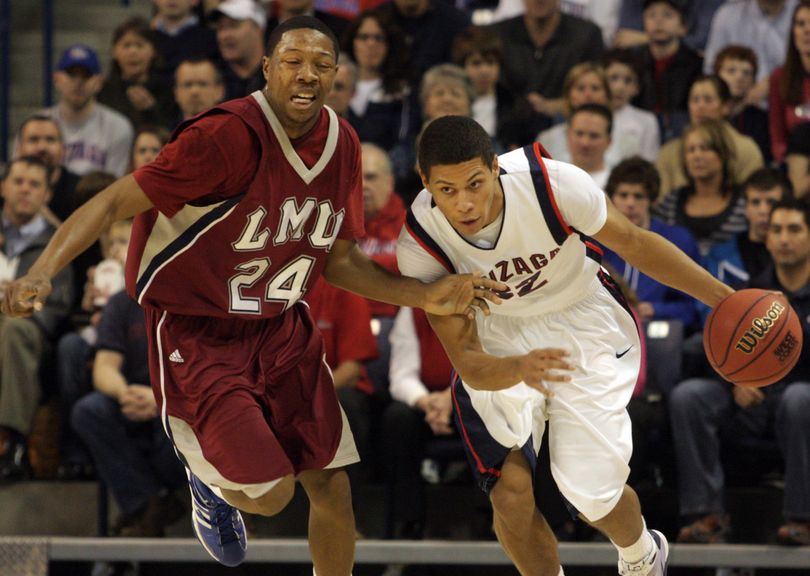 Gonzaga entertains Pepperdine at deadline-unfriendly 8:30 on Saturday night. Read on for an unedited preview and a couple of links.
--Find a recap of the Pepperdine-Portland game here and here.
And the preview...
By Jim Meehan
Staff writer
One goal down, several more within reach.
The Gonzaga Bulldogs clinched no worse than a share of the West Coast Conference men's basketball title with Thursday's win over Loyola Marymount. The 17th-ranked Zags can earn an outright championship with a victory against Pepperdine, which visits the McCarthey Athletic Center tonight at 8:30.
"We'll celebrate (the WCC title), but it's important for us to finish it out," senior wing Micah Downs said. "If we can be the third (Gonzaga) team to go 14-0 (in conference), we can be a history making team. This is the best defensive team Gonzaga has ever had statistically. If we can cap it off with 14-0, that would be really sweet."
The Bulldogs went 14-0 in 2006 and 2004, respectively. The 2006 team won 29 games before falling to UCLA in the Sweet Sixteen. The 2004 squad won 28 games, including a first-round NCAA Tournament game against Valparaiso before losing to Nevada.
Prior to Gonzaga, Pepperdine's 1992 team was the last to go unbeaten in the WCC. That came during Tom Asbury's first stint as Waves' head coach. Asbury guided Pepperdine to three titles (1991-93) in six years. He was also an assistant under Jim Harrick when the 1982 Waves went 14-0 in the WCC.
Asbury is in his first season back at Pepperdine's helm. The Waves (8-19, 5-6) were picked to finish last (eighth) in the preseason poll, but they're currently fifth. Pepperdine had a three-game winning streak snapped with a 74-45 loss at Portland on Thursday.
"They're hungry to jump up into that top four and have a chance to get some byes (in the WCC Tournament)," Gonzaga coach Mark Few said. "Coach Asbury has done a great job with them."
Gonzaga (20-5, 11-0 WCC) scored the first 17 points and went on to an 83-69 win over Pepperdine in Malibu a month ago. Josh Heytvelt scored 25 points, Austin Daye 16 and Matt Bouldin added 14 points and 10 assists.
Senior guard Jeremy Pargo's six assists against LMU gave him 554 for his career, tied with John Stockton for third on GU's all-time list.
---
---