Sun., Feb. 22, 2009
Day after Pepperdine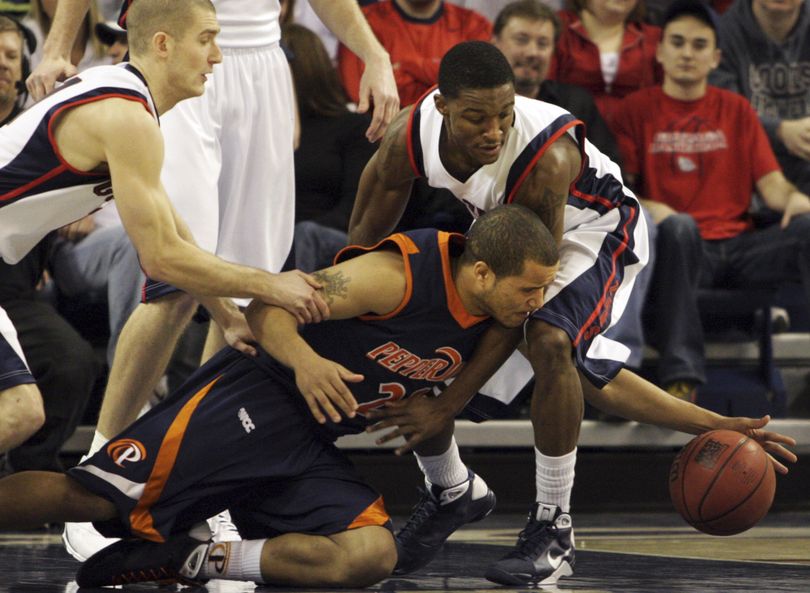 Back with the day-after post following Gonzaga's 92-58 victory over Pepperdine. Read on.
--Forwards Austin Daye and Ira Brown were sporting ice bags on tender ankles after Saturday's win.
Daye went down near the baseline after an inbounds pass. There was no contact on the play. Daye said he might have slipped on the floor, possibly on a wet spot.
"I think it had something to do with my shoe," Daye said. "It has a little extra on the side for support but it kind of gives a lot. It was like I moved to the left, hit the spot and it rolled really quick."
He had his ankle re-taped and re-entered the game about five minutes later.
"I was cringing at some points," he said. "Hopefully I'll be able do some running and stuff tomorrow."
Brown also returned after apparently getting kicked late in the first half. He told Few afterward that his lower leg was hurting as he went to see the training staff.
"He wasn't running around like he normally does," Few said.
--Josh Heytvelt will be in the running for WCC player of the week honors after scoring a career-high 28 points to go with 11 rebounds and two assists. He was coming off an 18-point, 5-rebound effort against Loyola Marymount.
"We don't have anybody that can compete with him right now," Pepperdine coach Tom Asbury said. "He's just way better than anybody we've got."
Heytvelt had size and strength advantages in both games.
"We wanted to exploit the inside game," he said. "Having people wanting to get the ball inside really opened up the perimeter passing so we could get the inside-outside game."
Added Matt Bouldin: "We were finding him in there. He ran the floor really well and got a lot of easy buckets, a couple of putbacks. I though he played really well."
--Backup center Rob Sacre (foot) has been cleared to do some individual work. The next step in his recovery should come this week when he takes on additional tasks.
"Hopefully we can get him running up and down by the end of the week," Few said. "And then we'll see where he's at and see what kind of impact he's going to have."
--Jeremy Pargo had three assists and one turnover, moving his two-game total to nine assists and just two turnovers.
"He had a good, solid weekend of taking care of the basketball, just making good decisions and making the easy play," Few said. "That's when we're at our best."
Gonzaga had 20 assists, its most since putting up 22 against Pepperdine a month ago. GU's eight turnovers were its fewest since committing seven against Portland on Feb. 5.
--The Kennel Club's chants of "SOR-EN-SON" started early, with more than 8 minutes remaining. A couple minutes later, senior guard Andrew Sorenson entered and quickly delivered a field goal. It was Sorenson's first field goal of the season. He had made seven 3-pointers in his previous 13 games.
All 11 available Zags played and scored. The chants for "P-MAAG" (walk-on Chris Pontarolo-Maag) started shortly after Sorenson entered. P-Maag played the final two minutes and made a free throw for the first point of his career.
--Micah Downs had another productive game. Despite going 0 of 5 on 3s (GU was just 5 of 20 from long distance), Downs finished 6 of 13 from the floor and scored 14 points.
"Micah had a heck of a weekend," Few said.
--Gonzaga had 13 steals, one shy of its season high of 14 versus Indiana. Bouldin and Downs each had three. The Bulldogs also limited Pepperdine to 33.9 percent shooting. Keion Bell led the Waves with 17 points, but made just 7 of 20 shots. Mychel Thompson, who averages 9.8 points, was 1 of 5 and finished with 6 points.
"I thought we were efficient on offense and really got after it on defense and tried to contest pretty much every one of their shots," Few said. "When we do that, we can be pretty good."
The Waves managed to continue a bizarre trend when their first field goal was a banked-in 3-pointer by Bell. Can't determine it exactly, but that's perhaps eight straight games in which an opponent has banked home a 3-pointer.
"How about that?" Few said, shrugging his head. "One of these days that has to end."
QUOTEBOOK
Asbury on the game: "We just didn't show up, but they're probably that much better than we are. Don't underestimate how good they are."
Asbury is in his second stint as Pepperdine coach. In his first tenure, Pepperdine won three WCC titles in six years. He was also an assistant under Jim Harrick on dominant Waves teams in the 1980s.
"We have to remember who we are and how young we are and realize it isn't going to get done over night," Asbury said. "Our problem is our whole coaching staff was here before when it wasn't this way. The shoe was on the other foot then. That is what's been hard for us. We just have to live with it for now."
Few on Gonzaga's outright WCC title: "It feels great. I was just telling them that task was set before us and they handled it. They should be really excited about it, regardless of other peoples' expectations put on them. It's not like anybody else in the Northwest or out West is winning multiple conference championships, so we need to take a lot of pride in that."
Heytvelt on whether Gonzaga is leveling off or improving: "I think we're going up a little bit. I felt good energy with the team. We were bouncing around before the game, a little hyper."
---
---