Fri., Feb. 27, 2009
WSU seniors will say goodbye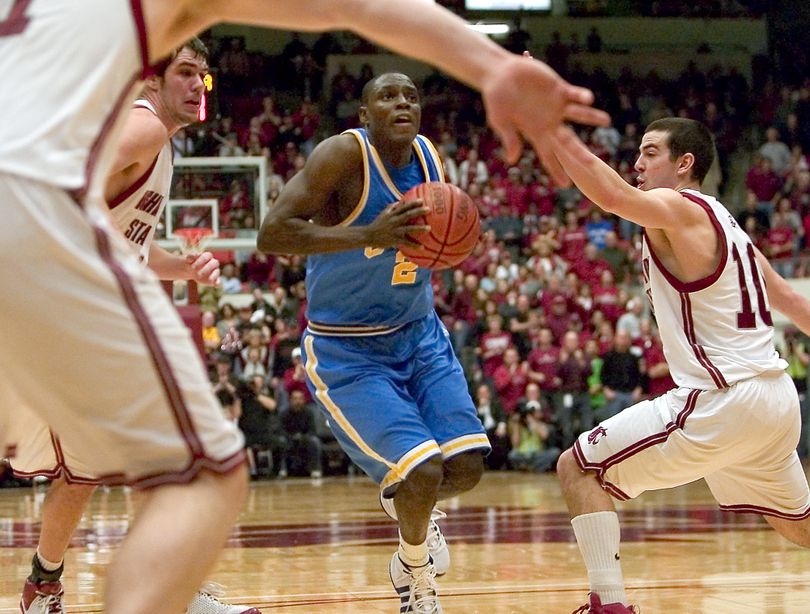 COUGARS
Arizona State will enter Beasley Coliseum tomorrow coming off a tough loss in Seattle, a loss that possibly cost the Sun Devils a shot at the Pac-10 title. So how will they respond? And how will the Cougars deal with the emotions of senior day? We'll find out, of course, in less than 24 hours. Until then, you can read our advance for tomorrow's S-R. Read on.
••••••••••
• Here's the unedited version of the story along with a quick look at the five seniors who will be honored tomorrow ...
PULLMAN – It's going to be emotional. There's no way to avoid it. But the seniors Washington State will honor today in their final Beasley Coliseum appearance know they can't let the emotion take over.
There's too much at stake.
"It's going to be emotional but we've got to keep it in check," said Aron Baynes, one of those being honored in a pregame ceremony (see sidebar). "Arizona State is a great team and we have to focus all our energy on them."
The game – against the No. 14-ranked Sun Devils – has taken on even greater importance following WSU's back-to-back wins over UCLA and Arizona and the Sun Devils' Thursday night loss to UW. The Cougars are trying to keep their postseason hopes alive; ASU (21-6 overall, 10-5 in the Pac-10, 1 1/2 games behind UW) the same with its Pac-10 championship dreams.
When asked after Thursday's 69-53 rout of Arizona if WSU was playing its best basketball at the exact right time, Caleb Forrest, another senior, said no.
"We had NCAA expectations, that's why I said it was a little too late," he explained Friday. "If we had started playing this way two weeks ago then it would have been soon enough to still make it happen with the NCAA.
"We've narrowed the gap to get in and made it harder on ourselves."
It's not as if the Cougars don't expect to keep playing beyond the Pac-10 tournament in two weeks, it's just that expectations in the program have been raised after consecutive NCAA tournament appearances. Those thoughts have faded over the course of their 15-13 season (7-9 in the Pac-10).
"In my mind, to make the NCAA tournament, obviously, we have to win the Pac-10 tournament, period," senior Daven Harmeling said. "We're not getting an at-large, I understand that.
"But in terms of the importance of this game, I just want to play as hard as I can for the last time on this court."
And have fun. That's been working.
"After we lost to USC we decided we're going to have fun," Harmeling said. "There might not be anything after these next few games, no postseason, so why not have fun with the games we have left."
Senior guard Taylor Rochestie has been enjoying the last week a lot more than the weeks before. In the most recent seven days he's scored 50 points and has earned Pac-10 player of the week honors. And seen the Cougars post two key wins.
"That's where we want to be," Rochestie said of the postseason, adding the Cougars might have felt they were owed another NCAA berth early in the season.
"Now we see how hard it is to win and we are starting to play with more passion as if it's kind of a win-or-go-home mentally. It's kind of like each game is the tournament."
Before there is a postseason tournament, however, there is the little matter of senior day.
"Maybe a few more nerves before the game," Baynes admitted, "a little more emotional. But once that ball goes up it will be basketball first. That's how it is."
The seniors
• Taylor Rochestie
Santa Barbara, Calif.
6-1, point guard
Three-year starter; transfer from Tulane.
Career game: Last Saturday at No. 20 UCLA, with 33 points, five rebounds, four assists and 14 of WSU's final 15 points in the 82-81 upset, only the Cougars second win ever in Pauley Pavilion.
• Aron Baynes
Cairns, Australia
6-10, center
Four-year starter
Career game: Came off the bench March 3, 2007 to score 25 points, grab six rebounds and help WSU defeat USC 88-86 in double overtime. The home win clinched second place in the Pac-10 for the Cougars.
• Daven Harmeling
Grand Junction, Colo.
6-7, forward
Five-year letterman; redshirted sophomore year
Career game: Had a career-high 28 points, including seven 3-pointers, as WSU upset No. 7 Arizona 77-73 on Jan. 6, 2007. The win, only the Cougars second in 43 games against UA, helped propel WSU to the second-place Pac-10 finish.
• Caleb Forrest
Pagosa Springs, Colo.
6-8, forward
Four-year letterman
Career game: Thursday night vs. Arizona. Came off the bench to score 15 points, grab six rebounds and hand out three assists in WSU's 69-53 victory, keeping the Cougars' postseason hopes alive.
• Ryan Bailey
Marysville, Wash.
6-7, forward
Three-year walk-on
Career: Practice player who has played the role of opponents ranging from Chase Budinger to Lawrence Hill.
•••
• That's it for tonight. We'll be back tomorrow morning. Until then …
---
---