Fri., Jan. 30, 2009
Day after Saint Mary's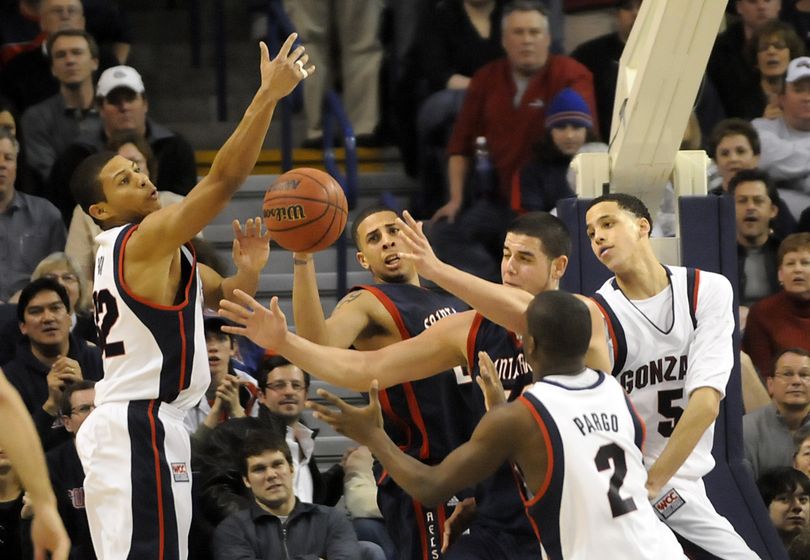 Let's begin the day-after Saint Mary's post in-house with John Blanchette's column, which neatly puts Gonzaga's 69-62 victory over the Gaels into perspective, and the S-R gamer. Here are additional links from the Contra Costa Times, Seattle Times and A.P.
Here's a link to S-R photos of the game.
Read on for more.
Watched the replay when I got home and Patty Mills' perimeter shooting performance was maybe even more impressive on second viewing.
Here's a recap of his six first-half 3s (his previous career high was four):
1). A 23-footer over Jeremy Pargo. 2). Mickey McConnell penetrates, drawing help from GU's Steven Gray. McConnell dishes to Mills on the right wing and he connects again. 3). Gaels feed post Ben Allen and Mills' defender, Demetri Goodson, sags off just enough to give Mills some space. He catches Allen's pass and shoots before Goodson can recover. 4) Mills runs Goodson off a back screen in the paint and uses his incredibly quick catch-and-release for another 3 before Goodson can close out. 5). Mills takes an outlet pass and has clear sailing because Goodson went in for the offensive rebound. He hits a pull-up 3 from 22 feet, again in front of GU's bench. 6). Pargo leaves Mills on the weak side to try to pick off an anticipated pass to the top of the key. Instead, Carlin Hughes whips a skip pass to Mills, who drains another shot as Gray, rotating from the lane, arrives a half-second late.
"Honestly, after his third or fourth one, I still thought we were up," Gonzaga's Austin Daye said. "I looked up at the score and we were down five. It happened so quick. When a player gets hot like that … but he was hitting tough shots."
"He's a good player, I've seen it before and I'll see it again," Gaels coach Randy Bennett said.
"When a player gets in the zone like that, there's not a whole lot you can do," said Gray, no stranger to the 'zone' himself.
Mills' performance probably triggered unpleasant memories of Stephon Curry for many Zags fans, but coach Mark Few opted for another comparison: "A Morrison-like effort. We subbed Jeremy out for a blow and (Mills) caught fire."
--Mills injured his right (shooting) wrist with just over three minutes left in the first half. He drove around Pargo, who was called for a foul. Mills went down in the lane and appeared to brace his fall with his right wrist. He got up, immediately holding his right hand, and was sidelined the rest of the game.
"He means so much to that team," Gray said. "He draws so much attention and he opens up a lot of things for the other guys. You can't help so much when he's in there. Anytime you take a big chunk out like that, a team is bound to struggle."
Most Zags didn't realize Mills was hurt.
"Somebody told me he wasn't starting the second half and I was like, 'Yeah, right,' " Pargo said.
Mills tried one shot in warm-ups prior to the second half and knew he was done for the night. He did tell Bennett he could still play defense. Bennett said there was "no chance" Mills could play.
Mills wasn't available for comment. He was expected to undergo X-rays this morning.
Pargo said he spoke to Mills after the game. "I told him I wished the best for him and I hope he gets better soon," Pargo said.
--Daye had mixed results. He blocked three shots in the first 3:35, but he struggled offensively in the first half, getting his first bucket with 4:25 remaining. He couldn't match Diamon Simpson's strength and he had difficulty defending the Simpson's power post moves.
"I didn't do a good job of it," Daye said. "I wasn't really happy with myself. I got two fouls. After that I was trying to play conservative, which I shouldn't do. He did a great job tonight.
"The next game I'll try to do some things that will look a little different to him, that he's not used to."
The Bulldogs did a better job on Simpson in the second half, using a variety of defenders. Saint Mary's offense stalled without Mills and the Gaels repeatedly missed from the perimeter. Simpson and Omar Samhan scored 11 of the Gaels' second-half points. Lucas Walker struck for all nine of his points in the final 5:53, but Saint Mary's shot just 33.3 percent in the second half.
"I think we did a good job of containing most of the bigs in the second half, which I thought was key to the game," Daye said. "We did a good job of bearing down and getting the guards in (Omar's) dribbling lanes and deflecting his passes."
Daye scored eight of his 10 points in the second half. He also finished with a team-high nine boards. He has led (or shared) GU in rebounding the last six games.
--Still, the Gaels dominated on the glass. They had 17 offensive boards, which created a 22-13 edge in second-chance points. Simpson had 12 rebounds and Samhan seven. Those two also had nine of SMC's 15 turnovers.
"They've got a nice team," Few said. "They play to their strengths and share the ball and they're a great rebounding team."
--Simpson, a 62-percent free thrower, was 3 of 8 at the line. He was the only Gael to attempt a free throw.
--Gonzaga starting guards Matt Bouldin, Pargo and Gray combined for 42 points, 10 rebounds, six assists, five turnovers and four steals. They made three of GU's four 3-pointers. The Bulldogs had only two turnovers in the second half and seven for the game.
It was a pretty quiet night from the bench (Micah Downs five points, Ira Brown three) in limited minutes (30). All five starters played at least 31 minutes with Pargo logging 39.
"Matt had a big game," Pargo said.
Bouldin, continuing a recent trend, aggressively drove to the basket and either finished or drew fouls. Pargo attempted 13 shots, tying his second highest total of the season, and was in double figures for the first time in four games.
"I guess it's because we saw man (defense) for first time in what, six games," said Pargo, when asked about the guards' effectiveness. "I guess it plays to our strengths."
--Best non-Samhan-related sign: Foster: Australian for Tall.
QUOTEBOOK
Bennett: "If we hit shots in the second half, we're still going to be all right. You have to make shots against those guys and we were 2 of 14 from 3."
Gray: "In the back of our minds we know (Mills) didn't play in the second half, but in league a win is a win. We're going to go back and look at the film and try to figure out how to control (Mills)."
Pargo: "They slowed it down (in the second half), but they still executed their offense by getting the ball inside to their bigs. Those two (Samhan and Simpson) are a load. I know, I got switched on them a couple times. Diamon scored on me two times."
---
---