Wed., March 18, 2009
Q & A with Father Spitzer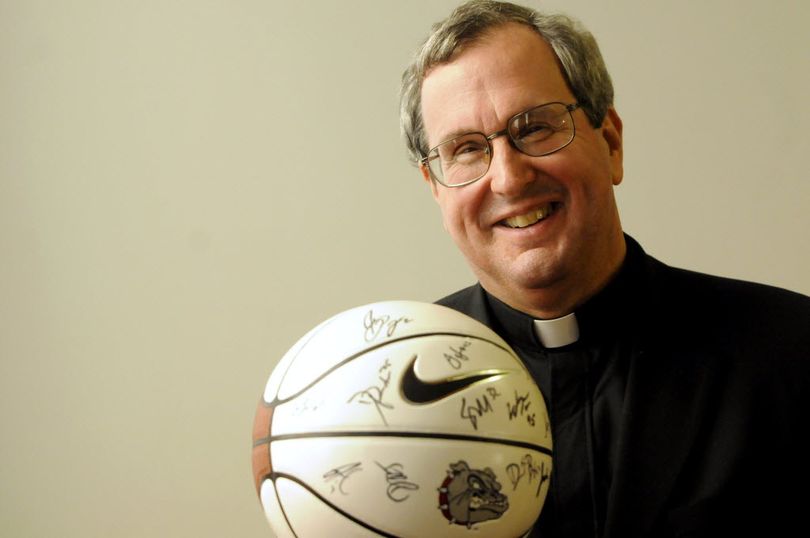 On the eve of Gonzaga's 11th consecutive NCAA tournament appearance, the Rev. Robert Spitzer, the school's president, sat down with Spokesman-Review columnist John Blanchette for an hour-long Q-and-A. What follows is the long version of the interview that appears in Thursday's paper.
Whenever this Gonzaga basketball season ends – first round or Final Four – the Bulldogs will graduate five seniors and one immense off-the-court influence. The Rev. Robert Spitzer, the school's president since the Zags' NCAA tournament run began in 1999, will leave the school in July.
If coach Mark Few has been the architect of the basketball program's phenomenal development, it couldn't have happened without the vision, endorsement and support from the school's leadership. Spitzer has used basketball as a lever for spurring enrollment and campus growth to unprecedented levels – earning him both accolades and some criticism within the Gonzaga community, and beyond.
On the eve of GU's 11th consecutive NCAA tournament appearance, Spitzer sat down with Spokesman-Review columnist John Blanchette for an hour-long Q-and-A.
What did you think of the event in Las Vegas?
Are you kidding me? It was Zags everywhere. I did the Mass on Sunday – 440 people, all Zags. The University of Portland was next door with 16. So we sent 40 Zags to UP's Mass because they were literally out in the hallway. There were Zag shirts in the casinos, out of the casinos, between the hotels – we took the place by storm. I think we had 4,000 guests that Gonzaga alone brought down there. Then on top of it, the spirit was so great. And so the hotel, they love us. We really want to play back down there again. It's a great neutral site. So I had a chat with the commissioner while we were there and I think he's going to get that solidified.
And of course both wins – I mean, wowie zowie. We played to win. There was no doubt about that.
I sat next to Kelly Bowen on the way back up on the plane. She was so exhausted. At one point she just elbows me and she sits up and says, "Oh, excuse me. I was dreaming basketball. I guess it must be pretty bad, huh?"
Is this your last tournament?
I probably won't be coming back here. I'll probably be moving on from Spokane, much to my regret. I've loved it here in Spokane very much and of course I love the Zags. What a wonderful ride.
These tournament experiences – what have you enjoyed most?
First of all, I just love what it does to our campus – although I'm away from it, but I get the reports. I know it's transformative. Plus I see a lot of our students going down there and they do constitute a fine cheering section. Second thing of course is a great chance to meet with so many of our benefactors and friends who wind up going down there and for that reason it's good for the school and good for the spirit of the school. Thirdly, what it's doing for us publicity wise. My gosh, even today I just got back from the chamber – or from Greater Spokane Inc., now – and we had a couple of guys from Leon Hayes (sp?), a new firm coming into town, and they're saying, "Everybody knows Gonzaga. They put Spokane on the map." This is an international patent firm and they're locating here and quote 'everybody knows Gonzaga.' So you can see what it's done. It's been a tremendous ride for us.
You've said your presidency has been "charmed" by this basketball team. Do you get teased by other college presidents about this ridiculous marketing tool you've inherited?
Honestly, there are generally three reactions from other presidents. One is to completely ignore it, like nothing is going on. Then you have the "You can't stay on this crest forever" comment. "Your time shall end and I'll be here to witness it." And then there's the teaser: "Aw, Spitzer, you're so lucky – what the heck?" I get all three of them pretty regularly.
It's one thing to succeed. Along with that, you've committed resources to basketball and athletics to build on what's been started. What's been the rationale behind that? Was this a strategy?
After the first season, I recognized immediately what this would do for us. Of course Dan Monson coming in and telling me he was going to take the offer from the University of Minnesota – I was crestfallen, literally. But I didn't blame him at all – the offer was so good, he did the right thing for himself and for his family. But there were a couple of different guys that had so much confidence in Mark Few, and everybody told me, "Don't worry." Which has turned out to be absolutely warranted. He's our Knute Rockne, let's face facts. He really is. He just is.
Three things kind of happened then. We had two bylines: we're going to leverage this for all it's worth, and no opportunity will be left unseized. The first move was, what do we do to try to lever this success – not just in publicity and clothing and things, but how do we do this with benefaction, university relations, marketing, the whole schamazel (sp). A series of things came out of it. The first was to try and build up the athletic endowment right away and capitalize on our first success. So I asked Mark if he would come down with me to Salt Lake City to see the McCarthey boys. Phil was in my class at Gonzaga; Tommy was a little ahead of us. Mark said OK so I asked him to meet with me in this coffee shop and we could strategize before we go over to their home. So I tell him, "We want to get this funding for our athletic endowment." Mark goes, "Well, the athletic endowment is important but I think the arena is more important." I said, "The arena? Where are you going with this one?" And Mark laid it on the line: an investment in a new Kennel – and this is the Knute Rockne, he's real quiet but then you get it laid on the line – is going to help us with our recruiting, with our marketing and on down the line. All these things instinctively one would know in a way. But when Mark put it out there it was very, very clear. I knew right away for Mark that this was going to be essential for him as a coach, and I wanted to do everything we could to keep Mark as a coach because I knew he was going to be vital. So I changed my pitch right away – I've told the McCartheys this story – and it became all about the arena. We didn't have a design, we didn't have an amount, we didn't have anything, but we were pitching the arena.
At the time, I wanted to go on the cheap – is there some way we could expand the old Martin Centre, bust out the walls or something? And John Stone came up to me and he put his arms on my shoulder and said, "Can I be really honest with you? That's a lousy plan. You've got to get something that's worthy of this team." And I realized that was right. You just get kind of scared when people start throwing out numbers like $26 million. Which now, if you tried to build it, it would be $43 million.
It looked like we were going to be real short at the last minute. We have an 80 percent rule here, and I needed another $2.3 million to put us over the line. We didn't know we were going to have a big positive cash flow off of this thing so we had to plan something very conservative. So it was at the Arizona game – the double overtime game (in the NCAA Tournament in Salt Lake City). I came up behind the McCarthey boys and I'd already called and left a message asking if I could have dinner with them after the game. I came up at halftime and said, "Hey, I'd love to take you guys out." And they said, "Take us out? Oh, no, you don't. We don't know what you're asking for, but you're not going to take us out, we're taking you out." We go down to their sports bar in Salt Lake City after the heartbreaker and I thought that was really going to put a damper on things because we'd lost. But Phil and Tom looked at me and said, "Wasn't that the greatest game?" and so the atmosphere was great. They told me, "We don't want you to be president of Timbuktu College so what do you need?" I said, "You really want to know?" They said, "Yeah, we really want to know." I said, "I need exactly $2.3 million." Phil looks at me and says, "Good. You've got it. Now let's have a good time." They had already done their research – oh, Spitzer's asking us out to dinner, let's talk to somebody and find out what he wants. I'm sure they had some intel from somebody. All they wanted to do was make me make the ask, but I'm sure they knew every penny I needed. And that was just the beginning of it.
With the positive cash flow, we were able to do things to build up the athletic department and not just the basketball program, but all sports. It's so imperative to us to keep our Knute Rockne and our coaches, so we needed to make sure we had the funding in place to do as much as we can for these people we very much appreciate, and to build up the other sports as well.
We've really tried to utilize this for marketing purposes. We've tried to use the lever. We wanted to make sure we were going to take advantage of this for admissions possibilities, and we have. Obviously this helps us with recruitment of men's students. At a time when a lot of other private schools are 65-35 in favor of women, we've been looking for a real balance and there can be no doubt the basketball team has captured the interest of men as well. You have to have all the follow-on stuff done. What basketball does is generate leads and interest. You have to do three other things to seal the deal. The first is to get your financial aid strategy in order. It doesn't matter how much a student wants to come – if they can't afford it, it's a deal breaker. Then you have to make certain that you have very good publicity for your academic programs. We have great rankings – great Princeton rankings, great U.S. News and World Report rankings, great rankings in the independent surveys. So the thing is to get the word out about those rankings and our programs so people can say, "This isn't just a basketball school." This is a fine academic institution that's nationally ranked. And part of that is marketing. Even though you have the rankings, you can't presume anybody knows about it. The third area is the campus visit. I shouldn't say this too much, but one of the difficulties of being in Spokane is what's called initial name recognition. Actually, people know Gonzaga more than they know Spokane when they're applying. We are at an initial disadvantage then when it comes to initial name recognition. But that gets reversed when we bring them to campus. Then we have about a 70 percent chance when a senior or junior visits here of actually sealing the deal. Then Spokane becomes a huge advantage. Everybody loves the atmosphere here. The downtown is so near. It's a very friendly place to be. It's very manageable traffic. The Montana kids love it – it's much bigger town than they're used to, but it's manageable. What you get here is this interesting atmosphere that's generated by precisely what Spokane is and where it is. We've quintupled our visit program and the reason we were able to do it is that our interest was generated by the team and by seven of our academic programs and our rankings. That doubled interest has brought so many people to campus, which allows us to use our secret weapon: the visit.
We have also taken advantage on the benefaction level in every imaginable way. And now of course we have our own athletic benefaction division – it's called development or some other thing that doesn't sound too much like money.
What you don't expect is the interest it generates in people on other levels. The other day I was in San Francisco talking to some people about our loan program. What are we going to do for the kids who needs loans and can't get them. I said if everybody can throw in 50 grand apiece we'll put it in a fund, we'll pay you back interest according to the Perkins interest rate. So we're starting this program for high-need kids who might get hurt by the recession. Who's giving all this money? People who had given already – exceedingly generously – to the basketball program. They're generated by the basketball success, but now they're helping with these other things – the high need kids.
You were at Georgetown when the basketball program there first reached its heights. Is there something in that model that influenced what you did here?
I have to say that I was almost oblivious to the infrastructure and marketing that was going on behind the scenes at Georgetown, but I certainly knew of the games – and who could miss Patrick Ewing and later Alonzo Mourning and Dikembe and so forth. These were great players – who are like our players, in that they've come back to support Georgetown the way our former players have come back to support us. They stick with us. In many ways this place is like a home as well as a place where they had academic and athletic training. I see that similarity with Georgetown.
Georgetown is in the middle of Washington, D.C., and has some advantages. But having a university in a small town is not a bad thing. You just have to lever it well and sports is a way of doing. Georgetown didn't need a lot of name recognition. They didn't need the basketball team to make that obvious. In Spokane, we probably need the team a little bit more just to get the visits going so that people recognize Spokane more. For all the virtues that it has, but you only recognize them when you come here.
There has been a faction on campus worried about the growth of the school, and you've had your critics for accelerating that growth. Have there been similar critics about basketball getting too big here?
Every once in a great while, someone will come up and chew my ear off a little bit about it. My general response is to say I hope you realize how much our academic programs are benefiting. I hope you realize how much the niversity's enrollment is benefiting. By and large, though, the vast majority of our faculty and vast, vast majority of our students, benefactors, friends, trustees and regents absolutely know what this team has done. I don't have to explain that to anybody.
Have you ever been concerned what might happen if the program were to slip competitively, because of the enormous expectation that's been built here? Do you worry about the repercussions?
No one is going to turn their back on this team even if we have bad years. First of all, we ain't no ingrates. We know what this team has done for us. Your kid has a bad semester, you don't reject him. Whatever Gonzaga is, we are a grateful community first and foremost. It pervades. I've noticed at Gonzaga that are different sometimes – sometimes – from the atmosphere of other schools. Not all schools. The key thing is, at Gonzaga, if we have a disappointing loss, I don't get calls from anybody telling me, thihs has to change, players, coaches, whatever. I don't get this. I know other people do. I think the reason is sheer appreciation and gratitude. And secondly the confidence that we've done everything we could. There is just something here. We are a community of appreciation, of gratitude, and confidence in the competency of our coaches and program. We're believers. I don't get a lot of yadda-yadda. I don't get it. I know other presidents get it. In fact, it's the opposite. Please tell Mark or please tell so and so, that we just love the way they play, such great heart. If people tell me that, I pick up the phone and leave a message for Mark and tell him exactly that, win or lose. That's special about Gonzaga.
If we had a slippage, I think – A) we ain't no ingrates, but also B) it wouldn't just be tolerance. We'd be figuring out whatever we could to help, not to hang somebody at midnight. So, no, I don't worry about that. The other thing is, in a way, I just think we have such forward looking coaches and athletic staff that even if we had two bad seasons or whatever, I know this much: we would be systematically rebuilding.
I've always said to your coaches, I'm your athletically challenged president. So I trust you. That trust has never been unjustified. And I'm going to back them, and I know the next guy will, too.
I don't know if you've heard the term out there, the "Gonzaga syndrome." Not just within your league, but schools of a similar ilk that expectations and demands have increased and with that, coaches getting fired for not reaching the similar. And there are people who will suggest you've sold your soul for basketball success. What would be your response?
That's just about the silliest allegation I've ever heard. To begin with, our Jesuit has not been compromised by basketball. If anything, basketball has helped to get us resources to strengthen that mission. Secondly, our academic mission has not been compromised by basketball. If anything, it has helped us to get the resources to improve our academic mission. Thirdly, the whole atmosphere of our community is not only built on the development of the whole person and all the Jesuit ideals that we try to cultivate, but it's also built on fun and spirit. That's part of the deal even in a Jesuit atmosphere. We are not taking our values and principles and ideals and faith and our service commitment in some sterile way, but in a community – and a community that's filled with spirit and fun. Athletics is not hurting that. If anything, it's helping it tremendously.
Selling your soul – I haven't compromised anything in faith, in Jesuit mission, in academics, in student life, in culture for basketball. Basketball has never asked me to do that. Our student athletes are out there, working with grade schools … did you hear Josh Heytvelt's speech at the final game? This is hurting my mission? Josh Heytvelt gave a huge boost to Jesuit mission. And Mark has done us a huge favor. The Coaches vs. Cancer – are you kidding me? Mark and Marci out there bringing the whole community together? This is Jesuit with a capital J. It galvanizes the spirit of our campus in a healthy way.
We certainly didn't sell our souls. And we didn't compromise in any way our Jesuit ideals or commitment to academics.
In general, is it harder any more to justify the investment in Division I – the commitment necessary to be a Division I athletic school?
There's Division I with football and without football. Division I with football? Yeah, it would be real hard to justify it for a small private school. We don't have a big operation to support that. But Division I basketball? I would have to say there's a risk to make that investment. At the end of the day is the risk worth it in terms of leveragable benefits? For us it was totally worth it. Now, we were lucky because we had evidence going in of what our natural results might be. In other words, before we ever started thinking about the arena on a serious level, we already had an Elite Eight team plus a really good season going on in my second season here. I had precedent going into this thing, thinking this is leveragable. At another school, I would have to sit down and look at this quantitatively. But we had a real advantage and a reason to believe the track record would at least partially continue. Other schools, the risk is higher because they don't. But if they have a good program and want to know whether to invest more in it, I would say that's probably a good risk. If they have traction, it's a better risk.
You've brought up Josh's name in our conversation. Mark has said that when Josh had his troubles two years ago, he was ready to remove him from the program and that it was you who talked him out of it and encouraged him to give Josh a second chance. Why was that your counsel?
Mark sometimes doesn't give himself enough credit. Mark very much wanted to be a believer in Josh, too. But the key element was that I was assured when I was talking with people that Josh was having a deep reconsideration of what had gone on his life. Being a Jesuit, I'm a believer in forgiveness. And I'm a believer that people can change their minds about everything, including life. We all wanted to be believers. There were certain expectations asked of Josh to see if he could step up to them and frankly he stepped up so strongly, I was amazed. This was a transformation. It's not that I didn't believe in him; I didn't know he could do that much that fast. I was very gratified. Josh has made the most of our trust. I always would say, if there is a real purpose of amendment and you think that's genuine, it's worth it to take a chance on somebody. And Josh just proved it to me that it was worth it to me to take a chance. He proved it for the next person I'll have to trust.
How would you characterize your relationship with Mark?
Mark knows I'm athletically challenged. He doesn't expect me to know any basketball, except for the fundamentals. I genuinely trust Mark. I like his family and Marci and his kids. I have genuine friendship and affection for Mark Few. And from the day he talked me into the arena in that coffee shop to the present moment, I think he has been so right on. I tell him he's our Knute Rockne and he is.
What qualities about him do you think have made him such a good fit for Gonzaga?
Obviously, he's a tremendous basketball strategist. He's methodical, which is a personality that appeals to me. I love methodical people. But he can also be decisive and that's a gift. If you have someone who is careful and methodical, but can also be decisive, that's a great combination for leadership. Mark is quieter than I am and with all the accolades that are given to him, quite frankly he is humbler than I am. And humility is a great gift of a leader, and Mark does have it. Sometimes he brings that out in almost Jimmy Stewart-esque fashion. He also has a great sense of dignity and pride in himself, the program and the students which he continually points to. Is that a great fit for Gonzaga? Oh, yeah.
Mark cares about a lot of different people and a lot of different things. Coaches vs. Cancer is just one thing. Mark picks what he wants to do and then he supports it. He models that for the student athletes who do similar things.
There is also a great deal of graciousness in Mark Few and that's a hard thing to come by. We have a dinner for the coaches and their families after the season just to say thank you, and Mark tries to say thank you to me more than I say thank you to him and I would call that graciousness. And there's humor underneath that which is utterly human. His father, as you know, is a Presbyterian minister and I see a lot of that humor and graciousness in his father.
---
---