Sat., Nov. 7, 2009
Highlanders girls state race champs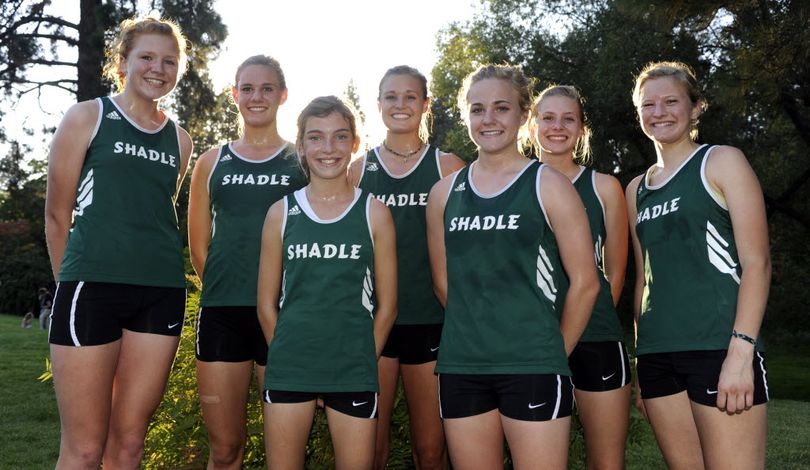 Shadle Park girls captured their first state 3A cross country championship and a couple of girls who played for volleyball titlists last year are champions in their second fall sport. Chelsea Chandler who played for the Highlanders volleyball titlists last year, was fourth scorer in cross country this. And Colfax's Morgan Willson, who played for the Bulldogs volleyball champs, was State B race winner in her first cross country season.
Here are my stories from Pasco:
PASCO – Shadle Park two-time winner Andrea Nelson did not repeat as individual State 3A cross country champion Saturday, as she finishing fourth.
 But what transpired was even better.
She was a member of the Highlanders' first title team. Her patented closing rush let her slip past freshman teammate Kendra Weitz, running 18 minutes, 37 seconds to Weitz's 18:38.
The pair finished behind race runner-up Katie Knight, a North Central freshman who was nipped by Glacier Peak freshman Amy Eloise Neale, 18:08 to 18:09.
Shadle's Katie Morris placed ninth with a sub-19:00 race and hard-charging finishes by Chelsea Chandler and Shayle Dezellem enabled Shadle to defeat Glacier Peak 59-67 in the long-awaited meeting of the state's top-ranked teams.
Nelson's coach, Bob Isitt, asked her a while back which she would prefer – win individually or with a team. He said he was told it was a hard question to answer.
The answer was revealed at Sun Willow's Golf Course: The team win was far superior, she emphatically told him.
"This is probably the happiest I've ever been," said Nelson, who won the 4A title in 2007 as a sophomore and 3A last year. A bad start knocked her out of this year's title race, but she gathered herself and picked off numerous runners to become Shadle's top finisher.
"When I found out we'd won, I was crying. This is so much better," Nelson said. "It was so cool to be on the stand with the others." It was evident in how tightly she clutched the team trophy.
"I was concerned at first because Andrea was back and saw Shayle struggling a bit," said, also overjoyed by the outcome. When he found out his top three finishers compiled 2, 3 and 6 points for team scoring purposes, it eased his mind. And the closing rush of newcomers, Chandler and Dezellem spelled the difference.
"I'm ecstatic," Isitt said. "I'm more euphoric that I thought I'd be. Once I found out we'd won, boom! It was like a big weight was off me."
Knight that although standing at the start was nerve wracking because of the size of the race, she enjoyed her first state experience, going out with the leaders and never wavering.
"It was fun," she said. "Second place is good for a freshman. There's always next year and next year and the year after that."
Colfax's one-woman cross country team, Morgan Willson, was making her state debut. It was a rousing success. She ran solo in the first race of a day, the Girls 1B/2B, which began under balmy blue skies.
Winning by nearly a minute in 18:36 over White Pass' Mikel Elliott, Willson's first race at Sun Willows was at the time the 20th fastest for a champion in all classifications in 12 years. Turned out to be a fast track with subsequent races run quicker, led by Garfield's Anna Dailey's 17:58 for the 4A title.
Last year Willson played for Colfax volleyball and basketball champions and placed first (800), second (1,600 and 3,200) and was part of a relay placer for the team 2B champs. It prompted her switch.
"I liked running and thought cross country would be a good match," the sophomore said. As for her first state race, "it felt like any other course. I was out for a little run. A big run."
Northwest Christian-Colbert placed third with 87 points and St. George's fourth with 128 behind runaway team champ Northwest Christian-Lacey's 28. The local NWC was led by Christina Anderson in fourth and Lisa Vandenburg in seventh to go with previous first, second and third places. … In the 4A race, Mead's Baylee Mires stayed with the leaders and placed fifth in 18:37. Lewis and Clark's Alison Keenan medaled in 10th. … Cheney freshman Sanne Holland placed third in 18:49 in the 2A race and the Blackhawks trophied in fourth with 120 points. Sehome was repeat champion with 57 and Kingston sisters Ruby and Marina Roberts placed one-two in 18:06 and 18:38. … Lakeside girls, like the Eagles boys, brought home fourth-place, scoring 131 points. Kenna Middleton took fourth in 19:48. King's won with 83 and Northwest's Maddie Meyers (18:01 and Eliza Rice (19:37) placed first and second.
---
---