Fri., Nov. 20, 2009
WSU says goodbye to seniors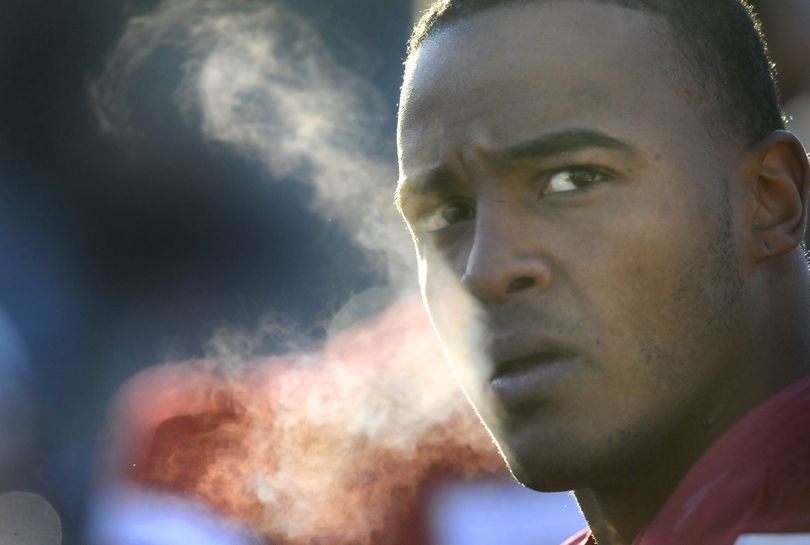 COUGARS
Doing what reporters do a lot, sitting, waiting for phone calls to be returned. While I'm enduring that, I figured I could post our advance for tomorrow along with our game-day items. Then you have all evening to read them. Weather prediction for kickoff Saturday: 38 and a 30 percent chance of a rain/snow mix. Nice. Read on.
••••••••••
• Here's the advance ...
PULLMAN – When the Washington State Cougars emerge from the Martin Stadium tunnel prior to today's game against 20th-ranked Oregon State, four unique seniors will run onto the Martin Stadium turf.
Four players suiting up for one final game together in Pullman.
Two defenders, two on offense. Four seniors out of the 15 WSU will honor in pregame ceremonies.
Sure, there are others in the group that have been at WSU for the same amount of time, dealing with the same coaching change, the same tough defeats, the same moments of triumph that have dotted their college journey.
But this gang of four is different.
The four have been on the field for most of the plays over that span, supporting each other, supporting the Cougar effort, win or – as has been the case nearly every game the past two years, including a 1-9 mark this season – lose.
Kenny Alfred, making his 43rd start on the offensive line. Linebacker Andy Mattingly, who never took a redshirt year. Dwight Tardy (pictured above), the victim of a major knee injury that robbed him of games and yards. Safety Xavier Hicks, who saw his career almost slip away due to off-field problems.
They've lived through the ups and downs of four college football seasons. And each has come through with a different perception.
There's Alfred, the philosopher.
"It's easy to say it's another game and another week and another opportunity to enjoy the process to go in and work for a win," he said this week. "At the same time I think it will be surreal after I realize it will be my last game at Martin. I don't think I'll realize that after the game. Maybe, if I'm lucky, when I get back home to Gig Harbor in a month or so.
"I like to embrace change, but at the same time it never sinks in until after the fact."
Tardy, the survivor.
"To finally sit back and have that feeling that you've finally been through it all," the running back said of what the game today means. "Four or five years, you've finally made it. So many guys don't make it. To finally have that. I made it, I've been through the struggle, the ups and downs."
Hicks, the historian.
"You look back," he said. "You look back at all the good times you went through with your team, all the bad times you went through with your team. It's just a great feeling, because not a lot of people get to experience college football.
"It's just been amazing growing up with my teammates, maturating, seeing each other get better every day."
Mattingly, the local kid.
"I've been coming here, watching games since I was a little kid," he said. "To be a part of it for four years, this whole experience has meant a lot to me.
"It went so fast. I remember my first one, Mkristo (Bruce) and Scotty Davis were here, I remember their senior day. I didn't think anything of it. Here it is. Now I'm up."
They'll join other WSU stalwarts like Tony Thompson, who will sit today with a concussion, and Kevin Lopina, today's starting quarterback, in saying goodbye to Martin Stadium and the Cougar fans.
With one thought.
"I'm just happy I can leave without any regrets," Alfred said.
•••
• And here's the game-day stuff ...
WSU game day
Oregon State at Washington State
Kickoff: 2 p.m. (PST), Martin Stadium
TV: None
Radio: KXLY 920-AM
• Tale of the tape
Washington State Cougars
Record: 0-7 Pac-10, 1-9 Overall
Coach: Paul Wulff, second season
Oregon State Beavers
Record: 5-2 Pac-10, 7-3 Overall
Coach: Mike Riley, ninth season
• Trends
Last meeting:
10/11/08
Oregon State 66, WSU 13
Last week:
WSU lost to UCLA, 43-7
Oregon State defeated Washington 48-21
Series:
Washington State leads 47-43-3
• The matchups
When the Cougars run: The Oregon State front seven is about as good as it gets in the Pac-10, and the rushing defense reflects that. The Beavers lead the conference, yielding 102.4 yards a game, without having played Washington State, the only school in the Pac-10 not averaging 100 yards. The Cougars are down to 74.2 after gaining 73 against UCLA last week. Still, don't be surprised to see WSU try to move the ball on the ground, using Kevin Lopina's feet – and size – to give it a shot at the edge. EDGE: OSU
When the Cougars pass: Despite starting two sophomore safeties, the Beavers pass defense has been solid if not spectacular. OSU has given up 19 passing touchdowns, the most in the conference, while intercepting just seven passes. A part of that has been a somewhat impotent pass rush, as the Beavers' 14 sacks are the second least in the Pac-10. Lopina had fun throwing the ball around against UCLA and may be able to find Johnny Forzani (two touchdowns of more than 68 yards) or Jared Karstetter (six touchdown catches) down the sidelines. EDGE: OSU
When the Beavers run: They will give the ball to a Rodgers brother. The first option is sophomore running back Jacquizz, who is third in the Pac-10, averaging 114.8 yards a game. The second is his brother James on the fly sweep, a play WSU has struggled with for two seasons. James has less than a quarter of Jacquizz's carries (46 to 215) but averages the same 5.3 yards. The Cougar rush defense has struggled as the injury toll mounted and with the loss of outside linebacker Jason Stripling (suspension) and linemen Toby Turpin (suspension) and Dan Spitz (concussion), stopping the Beavers isn't going to be any easier. EDGE: OSU
When the Beavers pass: Senior Sean Canfield has found his stroke this season after missing much of last year due to injury. Canfield has completed 69.8 percent of his throws, and he's still averaging 10.8 yards per completion. His favorite target is James Rodgers, who leads the Pac-10 with 71 catches, good for 83.2 yards per game. Jaquizz has also turned into a receiver, and is second in the conference with 62 catches. The Cougar defense, missing two starters, is the most porous in the Pac-10 and 118 (out of 120) in the nation. EDGE: OSU
Coaching/intangibles: Don't expect the crowd to lift the Cougars to victory in this one. If WSU draws 20,000 on the weekend before Thanksgiving break, it will be considered a moral victory. The Beavers, who seem to improve consistently during the course of each season, are motivated, having a Rose Bowl berth on the line. The Cougars hope to suit up 50 players who aren't redshirting, though some of those will be players making a Senior Day appearance. EDGE: OSU
Presidential connections: Former Washington State student Edward R. Murrow may have interviewed a President or two while he was working for CBS news, but it's hard to match the connection Oregon State basketball coach Craig Robinson has with the White House today. As you probably know, his sister Michelle happens to be married to the President. That's pretty tough to beat. EDGE: OSU
• Three things to watch
Keys to today's Washington State-Oregon State matchup
1. The starting lineups: With it being Senior Day, WSU intends to start a couple players on offense that don't usually fill that role. Left guard Reed Lesuma and tight end Zach Tatman could both run out onto the field for the first snap. Lesuma, for his part, said all he wants to do his fulfill his assignment and help the offensive line succeed. The way the Cougars have been starting, that would be a step up. There has been a lot made about WSU being outscored 159-3 in the first quarter, but that's not the worst of it. The Cougars have just 14 first-quarter first downs and seven of those came in the opener against Stanford.
2. Oregon State's substitution pattern: The Beavers are in the Rose Bowl hunt. If things break right – they defeat WSU and Oregon overcomes Arizona – then the Civil War battle with the Ducks will be for the Rose Bowl. The last thing OSU wants is to lose one of its key players to injury at this late stage. If the Beavers break out early, like every Pac-10 team has against the Cougars this season, then expect them to be judicious with their playing time, saving the starters for another week. Why? Think of the controversy in Corvallis if Jacquizz Rodgers was hurt with OSU up four touchdowns.
3. The crowd: Two years ago the rains came cold and hard for the Oregon State game played the same pre-Thanksgiving-break weekend as this contest. The crowd, already small, was positively miniscule after halftime as Cougar fans ran for cover, propelled, in part, by a large deficit. The crowd could be even smaller today, with the students leaving town for the break. WSU coach Paul Wulff doesn't think a small turnout would hurt his team, saying it just won't help. If the Cougar faithful surprise everyone, turn out and stay, it might give their team a lift.
• Three names to know
KEATON KRISTICK
OREGON STATE LINEBACKER
The 6-foot-3, 230-pound senior is a strongside linebacker in more than name only. He's strong against the run, leading Oregon State with 75 tackles, including 6.5 for loss. He's strong in pass defense, whether it be rushing the passer (one sack) or dropping into coverage (two interceptions). He's strong at forcing turnovers, with a fumble recovery and another forced to go with the interceptions. And he's strong in the leadership department, having started 23 consecutive games, assuming the role of captain this year. His strongest game this season? Probably the 37-32 loss to Arizona in which he had 12 tackles, including one for loss.
KENNY ALFRED
WSU CENTER
Alfred will make his 19th, and final, Martin Stadium start today, part of a career that includes 43 overall starts and is among the finest in Cougar history. Alfred redshirted as a freshman out of Gig Harbor High in 2005, but played in all 12 games the next year. He moved into the starting lineup at left guard in the fourth game that season, moved over to center a game later and has been a fixture in the middle ever since, missing only the UCLA game his sophomore year. The only Cougar invited to participate in the East-West Shrine All-Star Game this season, the 6-3, 289-pound Alfred is also an outstanding student, having been named to the Pac-10 All-Academic team each year.
JOE HALAHUNI
OREGON STATE H-BACK
Halahuni is listed as a tight end on the roster. He won't start there today – Brady Camp, a prolific run-blocker earns that distinction – but Halahuni may be on the field for the first play as an H-back. The 6-2, 249-pound sophomore from Orting High is the pass-catching tight end (or H-back), with 28 receptions this season, adding another dimension to an already potent Oregon State attack. He's had two record-breaking games this season. Against USC, Halahuni set a school record for most catches by a tight end with nine. And against Cal he gathered in six passes for a career-best 128 yards, including a 48-yard catch that is the longest in his career.
• This and that from today's game …
Despite losing 66-13 in Corvallis last season, WSU picked off four passes, two by Xavier Hicks, who will make his final Martin Stadium appearance today. ... The Beavers are in the midst of their fourth consecutive winning season. That's something they haven't done since the 1960s. ... The last time WSU defeated the Beavers was in 2006, a 13-6 decision in Oregon. ... If Oregon State wins today, coach Mike Riley will move past Tommy Prothro into second alone on the school's career wins list. Riley and Prothro have 63 wins. Atop the OSU list is Lon Stiner with 73, most before World War II. ... The Beavers are converting almost 50 percent of their third-down plays. WSU is ninth in the conference in defending on third down, giving up first downs on 40.5 percent.
•••••
• That's all for tonight. We'll be back in the morning as per usual. Enjoy your Friday. Until then …
---
---