Fri., Nov. 20, 2009
Zags roll past IPFW, 90-55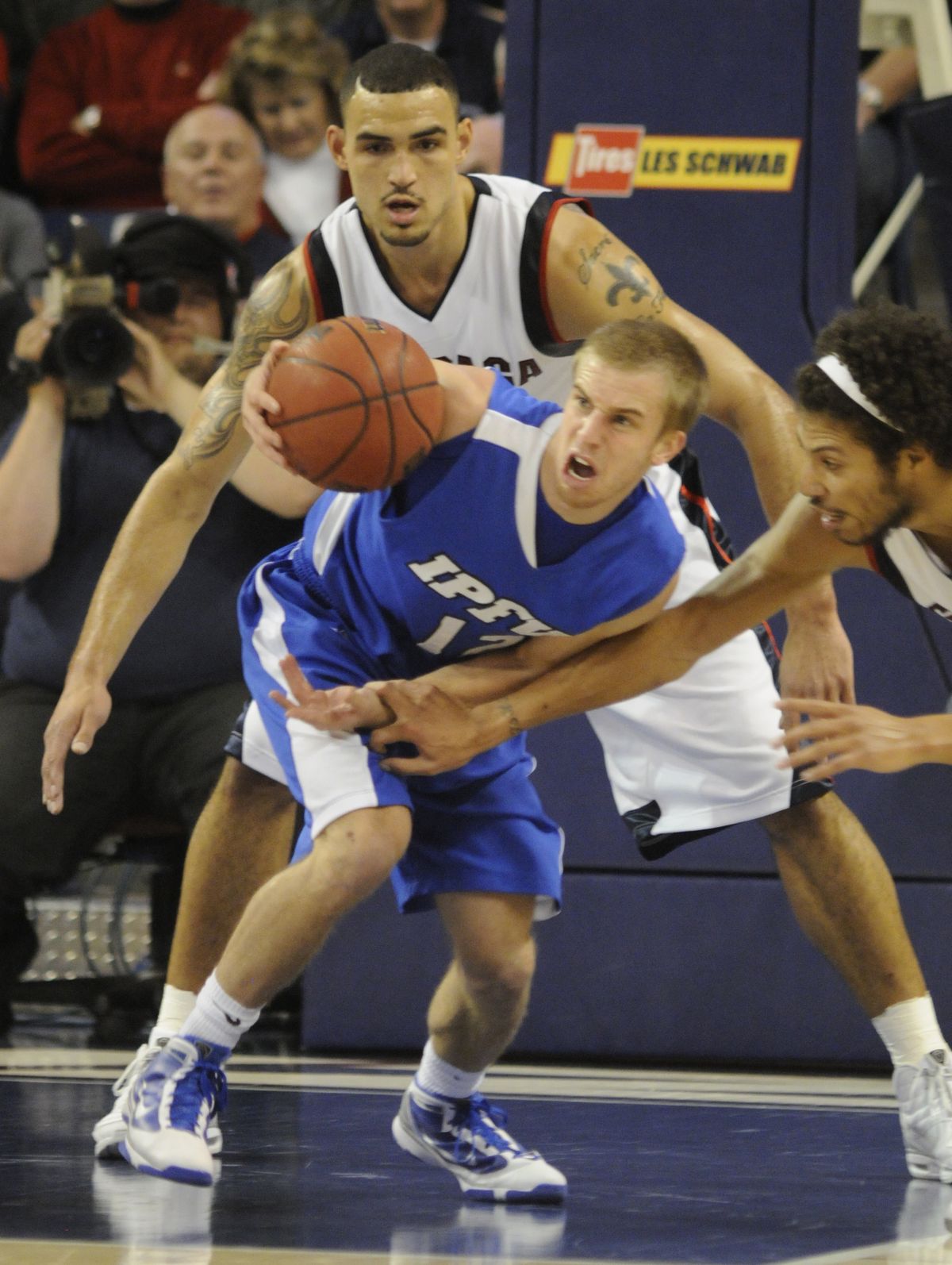 Indiana-Purdue Fort Wayne's Ben Botts (12) is pressured by Gonzaga's Steven Gray, right, and Robert Sacre in the first half at McCarthey Athletic Center Friday night. (Colin Mulvany / The Spokesman-Review)
Gonzaga moved to 2-1 with an easy 90-55 win over IPFW on Friday. The Mastodons (1-3) lost by 19 at WSU on Thursday.
The Bulldogs had four players in double figures. Rob Sacre and Matt Bouldin each scored 15 points.
Read my unedited game story below and check back tomorrow for a day-after post.
By Jim Meehan
Staff writer
In a duel of slow starts, Gonzaga and Indiana-Purdue Fort Wayne traded turnover for turnover.
Then Gonzaga stopped turning it over. IPFW didn't, and the Mastodons kept missing shots.
The result was eight scoreless minutes at the outset that Gonzaga turned into a double-digit lead and the Bulldogs were on their way to a 90-55 non-conference men's basketball victory in front of 6,000 Friday at the McCarthey Athletic Center.
"We were just so excited to play, it was kind of 'whoa, we need to slow it down a little bit,' " sophomore center Robert Sacre said of GU's jittery start. "We were all fired up because of the loss to Michigan State. We're hungrier than we've ever been and we just want to push ourselves and get better."
Sacre had his third straight double-figures scoring game, finishing with 15 points, a team-high eight rebounds and two blocks. Matt Bouldin added 15 points, Demetri Goodson scored a career-high 14 and Steven Gray made three 3-pointers and finished with 11 points. The Bulldogs made 62.7 percent of their shots, including 8 of 16 3-pointers.
After committing five turnovers early, Gonzaga (2-1) solved its passing, dribbling and violation issues and had no problem finding good shots. The Bulldogs led 13-0 after Sacre made a pair of free throws.
Zach Plackemeier finally got the Mastodons on the scoreboard with a layup with 11:55 left. One minute later, GU led 18-2 on Gray's 3-pointer.
IPFW (1-3) eventually warmed up and was within 24-15 with 7:35 left, but the Zags closed the half with an 18-9 run for a 42-24 halftime lead.
"It was a little up and down," said forward Kelly Olynyk, who contributed six points and five boards. "I think we settled down and played to our strengths, got the ball inside to Rob and the guards played well, feeding it inside and making plays."
Bulldogs coaches asked Goodson to speed up the pace.
"When he got into games last year it seemed like we'd played a little faster and this year there's been a  tendency to slow down," said head coach Mark Few, who gave Goodson rave reviews for his on-ball defense through three games. "We've been trying to speed him up. We want to play that way. He has two great wings running with him, two great forwards playing with him."
Goodson made 6 of 7 shots, most coming in transition.
"I was thinking about that after the Michigan State game, that I wasn't pushing the ball hard enough," Goodson said. "Coming into this one, I was really trying to push it and look for my shot. I did that and things opened up."
IPFW scored the first six points of the second half to trim Gonzaga's lead to 12. After a timeout, Bouldin's two free throws started a 15-5 run that put Gonzaga on top by 20. Gray, Goodson, Sacre and Elias Harris all scored in the spurt.
"They came out with high intensity and we just needed to match it," Sacre said. "Our guys did a great job with that and we just pulled away."
Ten Bulldogs scored. Sophomore forward Bol Kong made a pair of 3s and had eight points in his debut. Gonzaga led by as many as 36 late in the second half.
Gonzaga faces three games in three days, beginning with Colorado on Monday, at the EA Sports Maui Invitational.
---
---