Sat., Nov. 21, 2009
Day after Mastodons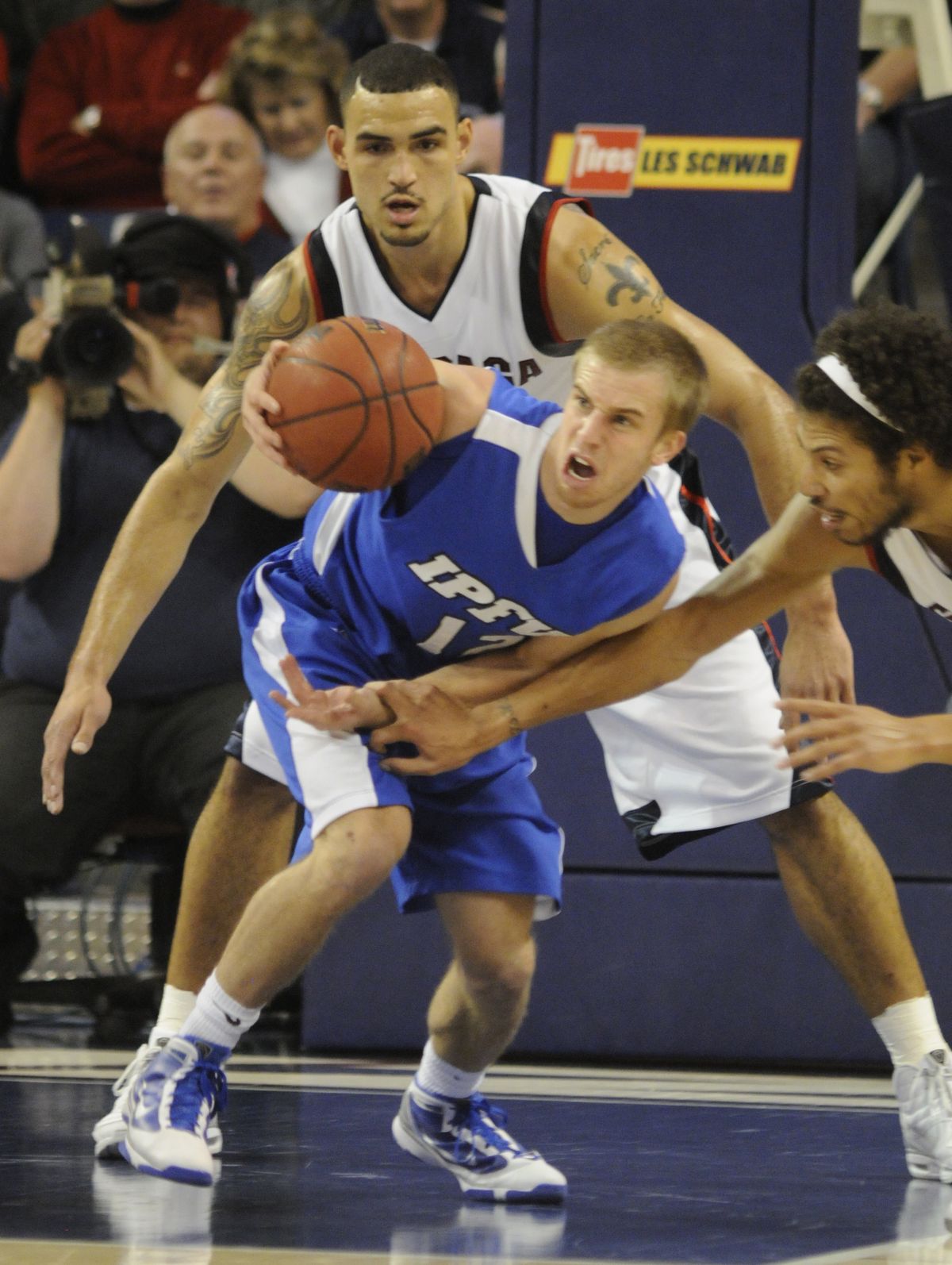 Indiana-Purdue Fort Wayne's Ben Botts (12) is pressured by Gonzaga's Steven Gray, right, and Robert Sacre in the first half at McCarthey Athletic Center Friday night. (Colin Mulvany / The Spokesman-Review)
I admit I just wanted to write 'Mastodons' one more time. Here's the day after post following Gonzaga's 90-55 blowout of IPFW on Friday night.
Game story here and photos here.
Much more below.
I can't recall a Gonzaga game when I looked up at the scoreboard 3 minutes and 30 seconds in and saw zero points for both teams. At that point, the teams were a combined 0 for 4 shooting with nine turnovers, five by the Zags.
(Then again, I can't remember seeing a visiting coach fake sitting down with the student section barking 'SIT DOWN COACH, SIT DOWN COACH', but IPFW's Dane Fife did so Friday night).
Matt Bouldin posted up 6-3 guard Zach Plackemeier for an easy bucket to get GU on the board with 16:24 left. Demetri Goodson scored in transition, Bouldin hit a pull-up 3-pointer and Goodson added a steal and dunk. Robert Sacre scored the next four points and GU led 13-0.
"I thought that first group came out with some good energy and they were able to get after them a little bit," coach Mark Few said. "I thought we got good effort out of everybody that went in the game. They're a different kind of team. They spread you out with five guys. We were utilizing our size at the one end and trying not to make it a disadvantage at the other end because they were really spreading it out and attacking basically with five guards."
Several times Sacre was forced to guard a 6-5 or 6-6 player. Will Foster played just two minutes, in part because of the defensive matchup.
"This was just a hard game for him, chasing a guard. That's a tough guard," Few said.
Meanwhile, the Mastodons missed their first 10 shots and committed eight turnovers before getting their first field goal with 11:55 remaining. Gonzaga was leading by 13 by then.
"We just needed to slow down," Goodson said. "We were kind of forcing things. We started getting the ball moving to create easier shots and we picked up our defense and created some turnovers."
Bouldin, as he did often last season, took advantage of his 6-5 frame to post up smaller guards on at least three occasions.
--Gonzaga didn't completely kick the turnover bug, finishing with a season-high 18. Bouldin, Goodson and Elias Harris each had four. Bouldin was picked twice from behind after crossing midcourt by Mastodons he didn't see coming. The Bulldogs finished with 13 assists.
Bouldin and Goodson combined for all nine of GU's steals.
--Stats of note: GU 44-22 edge in points in paint; 26-9 in points off turnovers and 19-4 on fastbreak points. IPFW 13-4 edge in second-chance points. GU won the glass 49-35, but IPFW had 15 offensive rebounds.
Manny Arop grabbed six rebounds in just 13 minutes. Walk-on Michael Hart had three assists in four minutes. GU shot 64 percent in the first half, 61.5 percent in the second half. GU's starters were 22 of 32 on field-goal attempts. Bouldin played 28 minutes and Gray 27. The next highest was Goodson with 24 and Sacre with 23.
--Some memorable plays: Bouldin's no-look pass to Sacre, trailing the break. Sacre was fouled and made both free throws; Goodson's scoop lob pass to Harris for a dunk in the second half; G.J. Vilarino's madcap drive to the basket for a layup (not the one he got fouled on, but the one that seemed to surprise a defender who was in pretty good position before G.J. blew by); Kong showing a smooth stroke on both of his 3s; A fan who drained a half-court shot and won $700 in a promotion, topped only by the young girl who made a half-court shot in Thursday's women's game.     
--It's not unusual for me to run into a Zag on the MAC court practicing after I've finished writing my game story. Sacre frequently practiced post moves during his true freshman season when I was packing up and leaving, generally two hours after the final buzzer. On Friday, it was Andy Poling.
As clean-up crews worked in the stands, the redshirt freshman forward was shooting free throws. He missed six free throws in the closing minutes of the IPFW game and was trying to get his stroke back on track.
Poling wasn't the only one who struggled at the line. GU was 18 of 34 (52.9 percent).
--On the topic of running into somebody, shortly after the final buzzer I came out of the media room as official Mike Peterson was leaving the Arena. He looked a little peaked. Peterson said he was fighting the effects of food poisoning, which probably made for a long night on the court.
--Leading scorer Deilvez Yearby didn't start for the second time in IPFW's four games. The 6-foot-6 senior, who came in averaging 18.5 points, picked up two quick fouls shortly after checking in and was limited to two points in the first half. He did come back with a stronger second half to finish with 11 points and seven rebounds.
--Bol Kong didn't play in GU's first two games and he didn't enter Friday's until midway through the second half. The sophomore forward swished a 3-pointer on his first shot attempt as a Zag. He made another 3 a couple minutes later and added two free throws. He would have had a double-figures performance but a layup attempt rimmed out.
QUOTEBOOK
Kelly Olynyk on Maui Invitational: "It's going to be a real good test. We have everyone's attention now because of (a narrow loss to No. 2) Michigan State, but now we have to come through and show what we can do."
Few on Goodson: "As he moved into the starting role (this season), he became maybe a little more conservative and he had a scrimmage where he had quite a few turnovers I think might have impacted him some. He's trying to figure out that fine line of taking care of the ball and playing at our pace and it's not easy."
Few on Goodson's defense this season: "He's been phenomenal on-ball defensively, setting the tone like no guard we've had here at the point of attack."
---
---