Sat., Nov. 21, 2009
WSU falls to OSU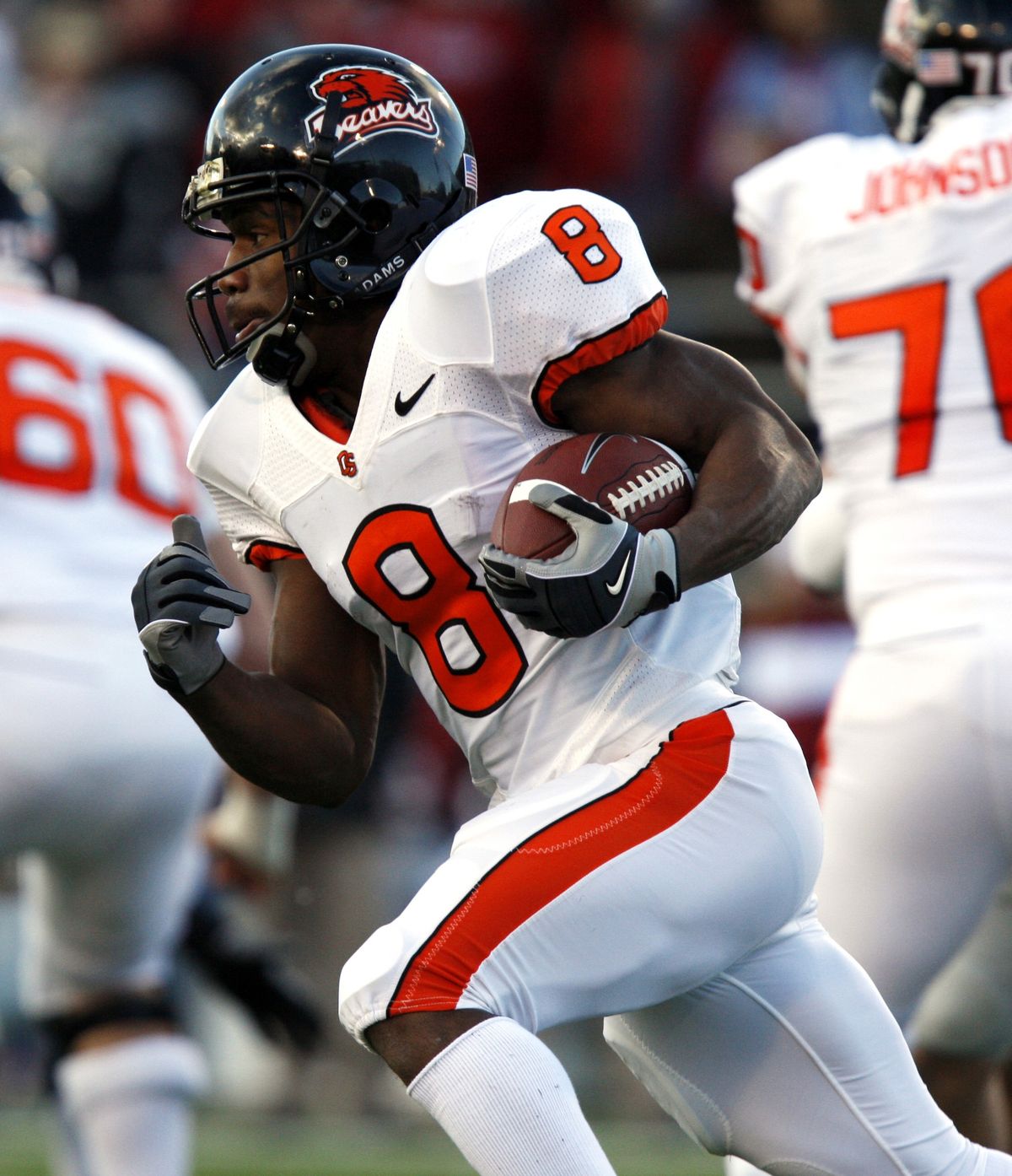 Oregon State special teams player James Rodgers (8) returns a kickoff during the first quarter of an NCAA college football game against Washington State, Saturday, Nov. 21, 2009, at Martin Stadium in Pullman, Wash. (Dean Hare / Associated Press)
COUGARS
Yes it takes me a while to get this stuff put together. You can't rush mediocrity. But I'm done now. So if you want to read our game story and notebook, the unedited versions of both on the link. Read on.
••••••••••
• I do have a few thoughts. Very few because I'm tired. And hungry. But at least I was in Martin Stadium, unlike most Cougars. The place was empty. The announced crowd 16,167 includes season tickets even if those seats were empty and a lot of them were. But the students are counted as they walk through the gate and there couldn't have been more than a couple hundred of those. Not that anyone could blame them. ... The WSU defense played dang well considering there were no more than a handful of subs available – and a Simpsons' handful would be stretching it. That's part of John Blanchette's column tomorrow. The Beavers did put up 567 yards, but 192 of those came in the fourth quarter when the Cougars had just worn down. ... The offense is still struggling. Though Kevin Lopina played well at times, there were a lot of big plays – Gino Simone open in the end zone early, a couple of long passes with guys running free – that were missed. Even Lopina admitted that afterward. But he took care of the ball until a late fumble – that probably cost WSU three points – and there is something to be said for that.
• Here's the game story ...
PULLMAN – Talk about undermanned.
The Washington State University Cougars went into Saturday's Pac-10 Conference game with 20th-ranked Oregon State with 13 scholarship defensive players in uniform.
And that's on a defense that entered the game last in the NCAA's Football Bowl Subdivision in total defense, one spot above where the offense sits.
Predictably, the Beavers (8-3, 5-3 in Pac-10 play) had their way, especially in the second half, leaving Martin Stadium on a cool, breezy Saturday with a 42-10 victory and keeping their Rose Bowl hopes alive.
But the announced crowd of 16,167 – WSU's least-attended game since a hastily scheduled Montana State makeup contest in 2001, following the terrorist attacks – on Senior Day saw WSU keep it close for a half, something that hasn't happened often in this 1-10 season.
"I thought they played better today than they've played," said Oregon State coach Mike Riley. "I think they should be proud of their team for how they played, and I'm proud of ours for winning the game."
That probably wasn't ever in doubt. It's just how OSU got there that was somewhat surprising.
The Cougars had a starting safety, set to sub for another injured starter, not suit up with a shoulder injury. A starting linebacker and defensive tackle were suspended this week for violations of team rules. One backup defensive lineman had his right hand in a cast and did not play. And, on the fourth play of the game, Brandon Jones, their best cover corner, went down – and out – with a back injury.
With the makeshift group playing a makeshift defense – WSU usually plays a 4-3 most downs but went with a 3-4 for all 76 plays – the Cougars (0-8 in the Pac-10) gave up three early Oregon State scoring drives and trailed 21-3 with 9 minutes, 26 seconds left in the first half.
And the Beavers were poised to score again 3 minutes later.
But safety Xavier Hicks, one of 14 WSU seniors honored before the game, picked off one of Sean Canfield's few errant passes – Canfield finished 22 of 29 for 231 yards and two touchdowns – at the WSU 10, giving the Cougar defense a boost.
"It really hyped up the defense," said Easton Johnson, who up until Thursday was a receiver but played all but 10 plays at safety. "We need to make big plays to motivate us just to keep going, to make ourselves better."
Johnson epitomized WSU's struggles – he switched sides after backup cornerback Anthony Houston tore up his knee Wednesday – and its resolve – the junior walk-on, who was backup safety last season, was credited with 10 tackles.
"Easton Johnson, that was tremendous job," said linebacker Alex Hoffman-Ellis, who led WSU with a career-high 15 tackles, "coming over last-minute and really stepping up."
Hicks' interception, and an ensuing three-and-out, the only one of the game for the WSU defense, gave the offense some much-needed breathing room.
"We got it going," Riley said of his offense, "and it's too bad Sean threw that interception. (Hicks) surprised him in the coverage. Up to that point (our offense) was spectacular."
Not so the Cougars. After an 11-play, 49-yard, field-goal producing march to open the game – with freshman Jeff Tuel (knee) still sidelined, senior Kevin Lopina made the start at quarterback, his first since Hawaii in the season's second week – the offense had gained 21 yards.
With 3 minutes to go before half, a Lopina screen pass to Dwight Tardy broke for 27 yards down the right sideline.
Jared Karstetter, who had six catches for 72 yards, then hauled in a 28-yard pass on the same sideline, despite pass interference by OSU's James Dockery, but the catch was overturned on review, leaving the penalty.
It was the first of four consecutive flags on the Beavers, which resulted in a first-and-goal from the 4. Three plays later, they faced a fourth down from the 1.
Being it was Senior Day, Wulff called on Tardy, who wormed his way into the end zone over right tackle, cutting OSU's halftime lead to 21-10. In his last Martin Stadium appearance, Tardy finished with 37 yards rushing and another 27 receiving.
"I didn't get upset because I didn't think it would do any good," Riley said of his halftime speech. "I thought they made some plays and we made some poor choices."
Both seemed to almost disappear in the second half.
Oregon State's defense yielded just 87 yards in the final 30 minutes. More than half came on back-to-back Lopina passes to Karstetter – one for 21 yards, the other for 27 – on a 61-yard, fourth-quarter drive that ended in WSU's only turnover, a Lopina fumble at the OSU 14.
That drive came after Jacquizz Rodgers, last year's Pac-10 offensive player of the year as a freshman, had finally broken down the tiring WSU defense. The 5-foot-7, 191-pound Rodgers broke up the middle, bounced off Myron Beck and Johnson, and rumbled 39-yards for a score that made it 35-10.
Rodgers finished with 165 yards on 24 carries, and added five catches for 39 yards. Older brother James was the only Beaver with more receptions, with six, but Damola Adeniji was the game's reception yardage leader with 89, including a 11-yard touchdown catch to open the scoring.
•••
• And here's the notebook ...
PULLMAN – Reed Lesuma knew Saturday was going to be a good day. He just didn't know how good.
After all, the senior offensive lineman knew he was going to make his first career start, leaving Martin Stadium in a style befitting one of the most well-liked and respected Washington State University football players.
But it started getting better Friday night, actually. That's when he returned home after practice and his older brother – and former Cougar teammate – Vaughn sitting in his chair. Then his mother Irene popped out of the bedroom. They had flown in from Hawaii to surprise Reed at his final home game.
"It caught me completely off-guard," Lesuma said.
Twenty hours later he did the same to the Oregon State defense.
Lesuma started at left guard in place of junior Zack Williams. It was expected he would play a series and then head back to his usual spot on the point-after and field goal teams.
But the Cougars marched 49 yards on their first possession and Lesuma did his part, making every block. So he stayed in.
"I was very proud of Reed," WSU coach Paul Wulff said. "He has not played a snap all year on offense ... and boy I thought he did a great job."
Lesuma, meeting the media postgame sporting a leaf lei brought by his mother from the Islands, agreed with his coach's assessment – to a point.
"I felt like I did alright," Lesuma said. "There are always things you can improve on and you are always your worst critic. There were a lot of times where I was saying, 'shoot, I should have done that' or 'I could have done that better.'
"Overall, the quarterback got sacked once toward the end of the game, so I guess we did a pretty good job."
The coaches must have thought so. Williams returned to his customary spot to start the second half, but Lesuma was back on the field in the fourth quarter.
But the highlight was being able to share it with his mother and his brother, who started for two years at left tackle and spent time on the field giving his younger brother advice.
"It was the icing on the cake for the senior day experience," Lesuma said.
•••
Lesuma wasn't the only surprise contributor Saturday. And he wasn't even the most surprising.
Up until Thursday afternoon, Easton Johnson was a backup receiver. A walk-on last year out of Feather River CC in California, Johnson spent that season as a reserve safety, seeing some minutes on special teams.
In the spring he was switched to receiver, though he fell behind his peers quickly in the fall. A snafu with a summer class forced him to sit until mid-September before it was finally straightened out.
By then WSU was already down two defensive backs. Over the ensuing weeks, two more were lost for the season. Then against Notre Dame starting safety Chima Nwachukwu went down with a bad ankle sprain. Wednesday, reserve cornerback Anthony Houston tried to stop and tore up his knee.
The next day Johnson was back with the defense.
Saturday, when Brandon Jones was lost with a back injury after four plays, he was on the field the next series. He played the nickel back spot the remaining 66 plays.
"I was really excited because I just like playing football, period," he said. "To just get a chance to play, it's really cool."
Johnson made the most of it.
Throughout the game Glenn Johnson kept announcing Johnson's name as the tackler to the half-full stadium – including Johnson's first play – and didn't stop until he had said it 10 times.
That number was second most on the Cougars, tied with another backup defensive back, Aire Justin, five behind linebacker Alex Hoffman-Ellis' game-high total.
"Running nickel, I ran it last year a little bit and it's not too complex," said Johnson, who grew up in Renton, Wash. "I got a lot of help from the other safeties."
And they had a lot of praise for him afterward.
"He made a lot of great plays," said strong safety Xavier Hicks. "Though I know we had a lot of injuries, it was good to see him come out there and help us out."
There was a down side, however.
"I had to strap my pads on a little tighter playing defense," Johnson said, "So I had less oxygen to flow, so I got pretty tired."
•••
Hoffman-Ellis joined the WSU football team last year after one high school season and one at junior college. Even he admits his football knowledge wasn't deep.
"This year I learned what a three-technique is on the d-line, what that meant," the sophomore middle linebacker said. "It's still a learning process."
He's learning fast. Not only were his 15 tackles a career high, they came playing inside on a 3-4 defense, something the Cougars have played only sparingly the past two seasons.
The defense allows linebackers to run, and that's Hoffman-Ellis' strength. When he sees the ball carrier, he has one thought.
"I'm not letting you get away from me," the 6-foot-1, 233-pound Hoffman-Ellis said. "Even before I started playing football, I always loved to just run. I took pride in being fast for someone who's a little bit bigger.
"I take it to heart when someone is running away from me. 'I'm going to catch you.' "
That showed on the game's first play, a screen pass to OSU star Jacquizz Rodgers that went for 22 yards. It was Hoffman-Ellis who ran him down from behind.
•••
Wulff was asked about the crowd, which was announced at 16,167 but seemed quite a bit fewer. WSU's students are off for Thanksgiving – Friday was the last day of classes – and only a couple hundred were in attendance.
In the course of his answer, he may have let slip the date of next year's Apple Cup, which hasn't been announced.
"Our schedule next year, we play Washington Dec. 4," he said. "It's late, so I think we have two late byes. ... If you're going to look at fan attendance, that's an impact."
The Cougars and UW have never met later than Nov. 30.
•••••
• That's all we have tonight. We'll be back in the morning. Until then …
---
---