Sun., Nov. 22, 2009
One last look at OSU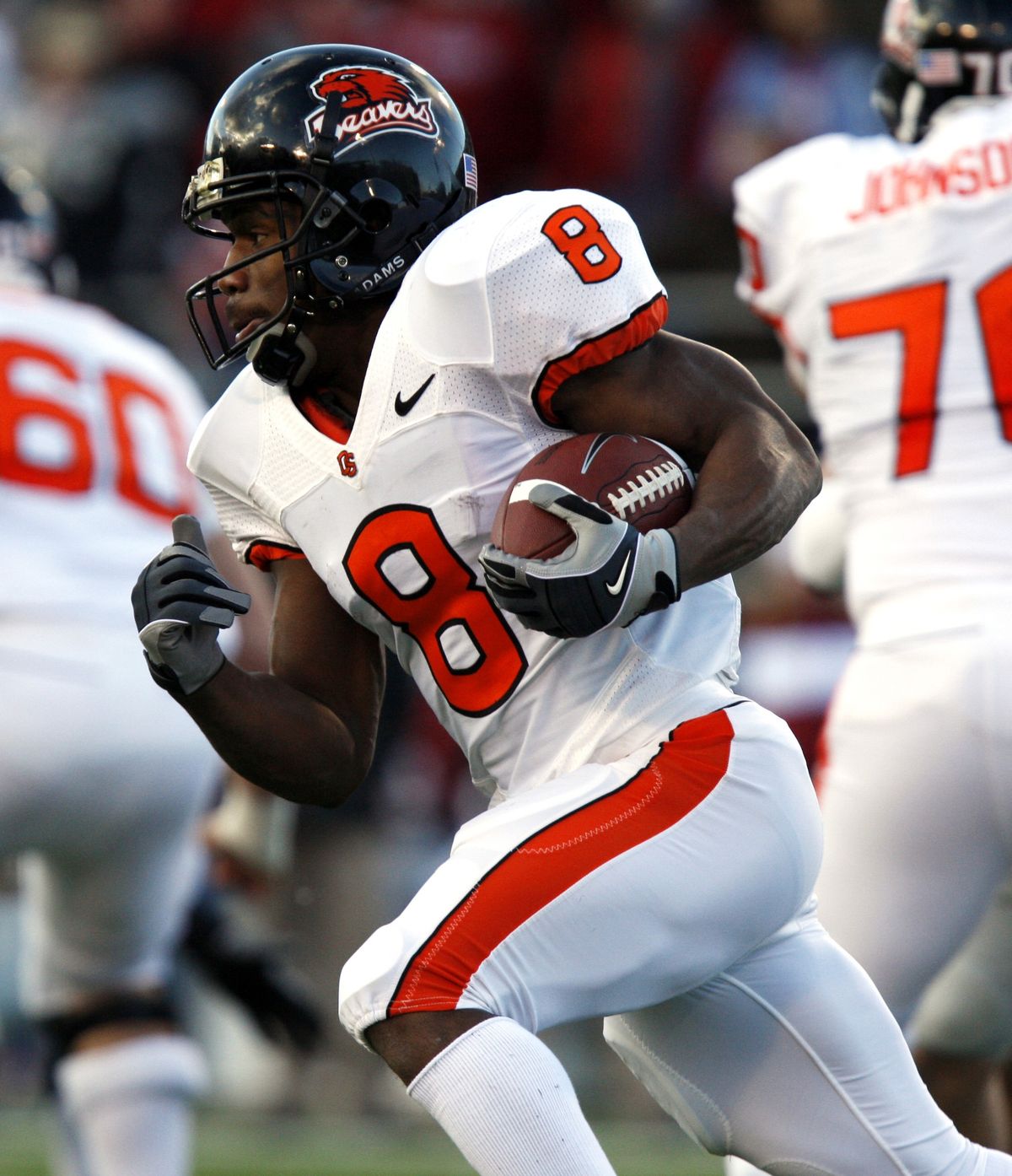 Oregon State special teams player James Rodgers (8) returns a kickoff during the first quarter of an NCAA college football game against Washington State, Saturday, Nov. 21, 2009, at Martin Stadium in Pullman, Wash. (Dean Hare / Associated Press)
COUGARS
We have our follow story and the look back feature ready for you on the link. Read on.
••••••••••
• We talked with coach Paul Wulff tonight and he said much of what he said Saturday. The defense played hard, but wore down as the game went on. The offense had its moments, but there were a lot of chances missed (which we cover in our follow). ... He said there's a chance Reed Lesuma might have played himself into this week's starting lineup, but nothing will be decided until after practice this week. ... He also said Johnny Forzani had suffered a slight concussion on his last kickoff return and would be evaluated more this week. ... Brandon Jones' back injury is bad enough it could keep him out of the Apple Cup. ... The Cougars defense might have to play a 3-4 again this week but it would probably hinge on the availability of Dan Spitz (concussion) and Bernard Wolfgramm (back, leg). ... Whether or not any other injured player would be back – including quarterback Jeff Tuel – is still to be determined. We'll see how practice goes this week. ... He also talked about the importance of the glue guys on special teams and how the loss of Kyle McCartney (broken leg) has hurt WSU. ... And that was about it, other than the stuff we cover in our follow.
• Here is the unedited version of that aforementioned follow story ...
PULLMAN – As a former offensive lineman, Washington State University coach Paul Wulff appreciates good offensive line play.
That's why he found watching video of the Cougars' 42-10 defeat to Oregon State last Saturday not nearly as painful as most Sunday sessions have been.
The offensive line may have played its best game of the year, especially considering the opponent.
"Our offensive line did some good things blocking," Wulff said.
Which led to something WSU (1-10 overall, 0-8 in the Pac-10) hasn't had much this season.
"We had a tremendous amount of opportunities," Wulff said, "that we didn't convert on."
To have chances against the 16th-ranked Beavers (8-3, 6-2) was more than could be expected, considering OSU leads the Pac-10 in rushing defense (98.5 yards a game) and is in the top half in total defense (340.5).
"The blocking was good," Wulff said. "So rarely someone came free. We had hats on hats and they did a nice job blocking."
With time, quarterback Kevin Lopina and the WSU passing attack had chances to make some big plays. There were a couple – Jared Karstetter had two catches of more than 20 yards and Dwight Tardy had another – but many more were missed.
Wulff gave Lopina a little bit of a pass, because the senior was making his first start since the second week of the year. But after the game Lopina was critical of himself.
"I still made some mistakes," he said. "I've got to knock some of the rust off here and there. ... I could have played a little smarter. I missed some quick throws on some third downs that I shouldn't have done.
"But for the most part I felt I was competing and trying as hard as I could."
The Beavers aren't a sack-happy bunch – their total of 15 is ninth in the Pac-10 – but they do have a good enough front seven to be playing for a Rose Bowl berth.
In Washington (3-7, 2-5), WSU will be facing a group that will attack more, but is more vulnerable to a counter punch downfield.
"Our o-line definitely blocked better," Wulff said, "which gave us more opportunities out there to connect. ... Hopefully this week we can make a big stride in connecting and converting more in our passing game."
The other side of the ball will still be thin this week, with Wulff saying cornerback Brandon Jones will probably be unavailable after reaggravating a back injury last week.
Converted receiver Easton Johnson did so well – 10 tackles – Wulff said another walk-on receiver, senior Colin Huemmer, will probably move over this week.
Wulff was asked if he ever had someone switch sides of the ball midweek and play as well as Johnson had.
"Never," Wulff said. "Never heard of it."
No matter who plays, Wulff has a mandate for them this Apple Cup week.
"We've got to lay it out on the field," he said. "We've got nothing to rest up for. It's our last game. So we've got to dig and leave everything we've got on the field."
•••
• And here is our look back ...
Oregon State 42, WSU 10
• High point of the game
Though Dwight Tardy's 1-yard scoring run gave Washington State University its lone touchdown, it was a defensive play that gave the Cougars hope. Oregon State had scored on its first three possessions, doing nothing fancy but still moving methodically down the field. The Beavers were about to tack on another when Xavier Hicks stepped in front of Joe Halahuni and picked off Sean Canfield's pass at the WSU 9. Not only did Hicks' interception stunt the Beavers momentum, it was only the sixth pick Canfield has thrown this season.
• Low point of the game
Though they were playing with limited resources, the WSU defensive players played most of the day with discipline. Not only were they controlling their gaps, they were tackling well. Until near the end. With 12:10 left, Jacquizz Rodgers burst up the middle for what looked like another 7- or 8-yard gain. But when Myron Beck closed, he didn't wrap up. He led with a shoulder, bounced off into Easton Johnson, knocking him loose as well, and Rodgers went 39 yards for his second score. That made it 35-10 OSU and the Cougars were officially done.
• A pat on the back
The loss of two oft-used defensive linemen last week meant WSU was down to three available linemen who had been on the field much at all this season. With no relief in sight, Casey Hamlett, Anthony Laurenzi and Travis Long played nearly every snap, with Jesse Sanchez playing about four plays in relief. As co-defensive coordinator Chris Ball said, it's not often the big guys, who get banged around every snap, are able to go that long. With no other option, they did what they had to do.
• Needs fixing
By this time of the season the only thing that can be fixed might be the injury list. A rivalry game like the Apple Cup sometimes can have recuperative powers. With Washington State's list so long, even getting one or two guys back, especially up front on defense, would help immensely. Two more were added Saturday, with defensive back Brandon Jones possibly out this week with a back problem and receiver Johnny Forzani trying to recover from a mild concussion.
Three unanswered questions
• Can WSU contain Jake Locker? The Cougars didn't have to worry about Locker last season as the junior quarterback was out with a thumb injury. But for the second time this season the depleted WSU defense will be dealing with a strong, fast quarterback who is capable of making as many big plays with his feet as with his arm. The last time the Cougars faced this problem, Oregon's Jeremiah Masoli caused them fits.
• Will the Washington crowd cause the Cougars problems? The young team has started slowly on the road almost every time this season. If it happens again Saturday, WSU could be once again out of touch by the end of the first quarter – and without a home crowd to lift them back into it.
• Can the offense score more than one touchdown? The last time it did was against Notre Dame, and that was with a healthy Jeff Tuel. But the Washington defense has been nearly as vulnerable as WSU this season (104th nationally in total defense, compared to WSU's 120th), especially through the air, giving up 255.7 yards per game. If Kevin Lopina can get time, the receivers should be open. Then he has to connect.
•••••
• That's all we have tonight. We'll be back in the morning. Until then …
---
---