Wed., Oct. 28, 2009
Panhandle Picks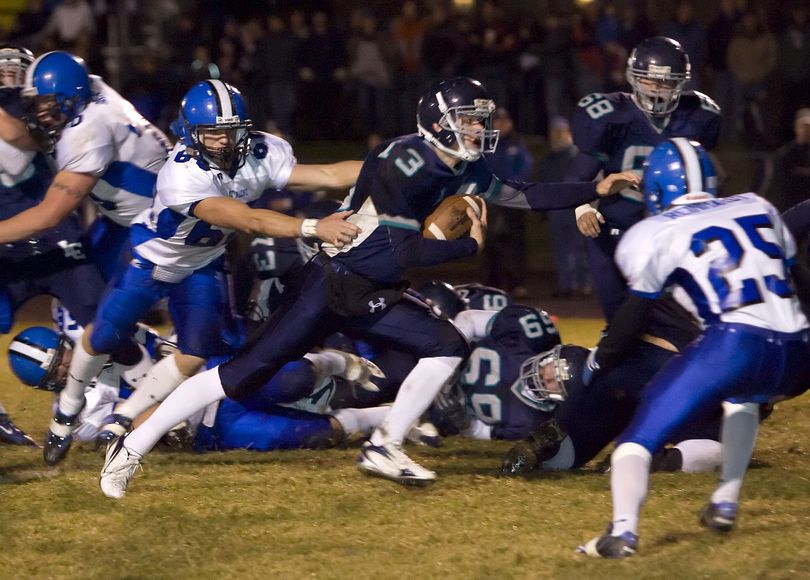 We've reached the final week of the high school football regular season in North Idaho.
Click below to see this week's predictions.
QUESTION: Who do you think will win this week?
In the picture above, Lake City quarterback Mark Smyly scores against Coeur d'Alene last week.
That was more like it. I went 8-1 last week and improved to 61-21 overall (.744).
Post Falls (5-3, 0-2) at Coeur d'Alene (6-2, 1-1): Lake City's win over Coeur d'Alene last week gave the Trojans some postseason hope. PF needs a win over the Vikings coupled with a Lake City win over Lewiston to have a shot at a Kansas Tiebreaker for a state playoff berth. First things first. The Trojans have a tall task Thursday (the game is being played Thursday to avoid conflict with the state volleyball tournaments in the area). In their league losses to LC and Lewiston, the Trojans didn't play complete games. They'll have to play well from start to finish to beat the Vikings. CdA, meanwhile, is steaming from its loss to LC. I expect the Viks to play one of their best games of the year against PF. CdA 28, PF 14.
Lake City (2-6, 2-0) at Lewiston (4-4, 1-1): The Timberwolves can capture the league title and top playoff berth outright with a win. A Lewiston win will create some sort of tiebreaker scenario. If LC plays like it did against PF and CdA it will win. If the T-Wolves struggle Lewiston will win. LC coach Van Troxel will have his team focused. LC 27, Lewiston 20.
Lakeland (2-7, 0-1) at Sandpoint (6-2, 1-0): The 4A Inland Empire League title and lone state playoff berth is on the line. Lakeland created a three-way tie last year in a similar scenario. That won't happen this time. Moscow thumped Lakeland two weeks ago and Sandpoint shut out Moscow 33-0 last week. The Bulldogs will win in convincing fashion. Sandpoint 42, Lakeland 7.
Bonners Ferry (4-3-1) at Timberlake (7-1): Congratulations to the Badgers on qualifying for the Intermountain League's crossover playoff games. Congratulations to the Tigers for capturing the league title. Congratulations to the Tigers for advancing into the state playoffs. TL 42, BF 13.
Priest River (6-2) at Orofino (5-3): The Maniacs handled the Spartans 40-21 in the league game at PR. Orofino will cruise to victory in the crossover play-in. Orofino 40, PR 13.
Clark Fork (1-6) at Kootenai (8-0): The No. 1-ranked Warriors tune up for the state playoffs. Kootenai 44, CF 24.
     Mullan (3-5) at Wallace (5-3): The Tigers had to forfeit last week against Kootenai because of the flu. Well or not, it won't matter. Wallace 42, Mullan 18.
---
---