Fri., Sept. 11, 2009
WSU ready for Hawaii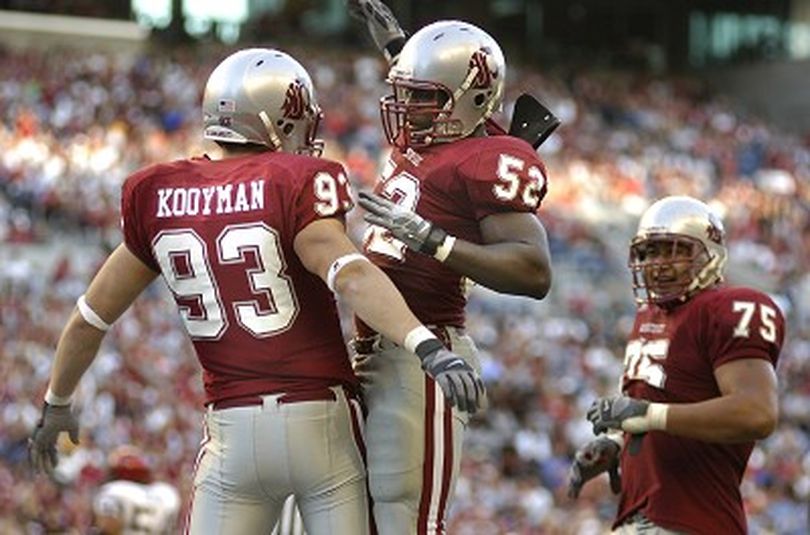 COUGARS
The S-R jinx has hit again. It's starting to make us a little paranoid. Read on for what happened his time.
••••••••••
• After we decided to write a Kevin Kooyman (above) story this week, he gets hurt. A PCL injury to his knee. He's out for three to four weeks. He'll be replaced in the lineup tomorrow by Casey Hamlett and Jesse Feagin. The former is the subject of our story for Saturday, the unedited version of which you can read here. It's followed by our Game Day items.
•••
SEATTLE – It's not like Casey Hamlett is some hayseed from North Nowhere.
Heck, unlike other first-year players at Washington State University, the transfer from Western Washington has already played a football game at Qwest Field.
"There were only 12,000 people there," Hamlett said this week, looking back at last year's battle in Seattle with Central Washington. "I think they only sold seats in the lower bowl."
There will be quite a few more than 12,000 in the Seahawks' home stadium today when the Cougars host Hawaii in the eighth incarnation of WSU's annual West Side game. Crowd estimates are in the 45,000 range.
Which is quite a few more than Hamlett, a defensive end from Edmonds, saw last year while playing in what turned-out-to-be Vikings final football season.
And WSU's 5-hour bus trip Friday across the Cascades? A short jaunt.
"Humboldt State, when we played there, that was kind of a long trip," Hamlett said of the 27-hour roundtrip trek to play on the Northern California coast. "We drove down there from Bellingham. You get there, play the football game, then get right back on the bus and drive back to Bellingham."
All the while playing in front of little more than friends and family.
"There's not a lot of people at those schools and the football programs aren't very hyped," he said.
Hamlett, 6-foot-3 and 250 pounds, may see a lot of action today as starting defensive end Kevin Kooyman is out for at least three weeks after suffering a PCL injury in his knee during Wednesday's practice. With Kooyman out, Hamlett and Jesse Feagin will try to fill the gaps.
Though get through the gaps might be more precise.
"We've got to be in position to make plays," said co-defensive coordinator Chris Ball.
The Cougars weren't often enough in last year's 24-10 loss in Hawaii.
"We did get good pressure on him, even when we didn't sack him we got good pressure," said coach Paul Wulff of UH quarterback Greg Alexander, who the Cougars sacked seven times. "He scrambled and picked up good yardage on us, which hurt."
No matter how many plays he makes today, Hamlett expects to be greeted by numerous family members and friends afterward, many of whom watched him play last year. When they were a big part of the crowd.
•••
WSU game day
• Hawaii vs. Washington State
Kickoff: 4 p.m. Qwest Field
TV: KHQ-6 and SWX in Spokane
Radio: KXLY 920-AM
• Tale of the tape
Washington State Cougars
Record: 0-1 Pac-10, 0-1 Overall
Coach: Paul Wulff, second season
Hawaii Warriors
Record: 0-0 WAC, 1-0 Overall
Coach: Greg McMackin, second season
• Trends
Last meeting: 11/29/08
Hawaii 24, WSU 10
Last week:
WSU lost to Stanford, 39-13
Hawaii defeated Central Arkansas, 25-20
Series:
Even, 2-2
• When the Cougars run: WSU is going to try to get a push up front and force Hawaii's defense to prove it can stop the run. If the Cougars can put a hat on a hat, expect Dwight Tardy and James Montgomery to get loose. Hawaii, which has been hit by injuries this week, will use its quickness to try to disrupt the Cougars' blocking scheme. EDGE: WSU
• When the Cougars pass: Last year WSU struggled to solve the puzzling Hawaii pass defense, finishing with just 76 yards. But the Warrior secondary is entirely new – as is the rest of the defense – and the Cougars feel they can find some gaps. Those gaps may be in the air, as Hawaii doesn't start a defensive back taller than 6-foot. The secondary will be challenged by 6-4 Jared Karstetter and 6-2 Jeshua Anderson. EDGE: WSU
• When the Warriors run: Maybe the better label here would be "if the Warriors run." Hawaii ran 34 times last season against WSU, but only averaged 1.9 yards a carry, mainly because the Cougars' seven sacks. Veteran quarterback Greg Alexander was the leading rusher in that game and also last week. WSU's run defense will be challenged to tackle in space and might be without leading tackler Louis Bland. EDGE: WSU
• When the Warriors pass: This is Hawaii's strength. Alexander threw for 315 yards against the Cougars last year. His 304 yards last Saturday included three touchdown passes, one the game winner with a little more than a minute left. WSU didn't give up 200 yards against Stanford, but did yield a 63-yard scoring strike. EDGE: Hawaii
• Coaching/intangibles: The most important aspect here is the trip from the Islands to Seattle. Hawaii has always been tough at home but the 2,680-mile flight from Honolulu to Seattle illustrates the Warriors main problem. It isn't easy to play a road game for Hawaii, no matter where. The Warriors came in early, but will they feel acclimated? EDGE: WSU
• Stadium: The turf at Aloha Stadium was blamed for some bad rug burns after last week's game. That's never been the case at Qwest Field. In fact, since the facility opened in 2002, there has been nothing but praise. Except from opponents. Considered one of the loudest stadiums in the NFL, it hasn't been quiet during Cougar games either. EDGE: WSU
• 3 things to watch
Keys to today's Washington State-Hawaii matchup
1. Pressure on Greg Alexander: Last year WSU was able to disrupt Alexander's timing with its pressure. But the Cougars were surprised a little by the 6-4, 240-pound quarterback's ability to pull the ball down and take off. They won't be surprised this year. WSU still intends to bring pressure, whether it comes from the defensive line or blitzing linebackers. The Cougars may be without linebacker Louis Bland and will not have end Kevin Kooyman or tackle Dan Spitz.
2. Tackling in space: Hawaii's run-and-shoot offense is basically a simple one, based on allowing the receivers to run routes in response to what the defense does. The idea is to spread the field – and the defense – to isolate one player against a defender. If that defender misses, the Warriors are off and running. WSU must tackle better than it did against a stronger but less-quick Stanford team if it wants to win. With corner Aire Justin possibly out and safety LeAndre Daniels nicked up, the Cougars will be a little thin.
3. The push up front: Even Hawaii coach Greg McMackin was impressed by the physical play of the Cougar offensive line last week. He gets to see it in person today and he may see a lot of it. The group feels it has an advantage and wants to prove it. The Hawaii front seven isn't huge but it does have some quickness. The Warriors' scheme will make it tough for WSU's linemen to get out to the linebackers, but if they can, the running game will shine.
• 3 names to know
GREG SALAS
HAWAII SLOT RECEIVER
The 6-foot-2, 200-pound junior from Chino, Calif., was the Western Athletic Conference's offensive player of the week after posting tying a career highs in catches (seven) and setting one in yards (180) during the win over Central Arkansas. Besides catching the Warriors' first touchdown pass of the year (a 4-yard toss from Greg Alexander), he also broke away for a 66-yard reception to spark the Warriors' game-winning drive. He burned the Cougars for seven catches for 131 yards and a touchdown last year, part of his yearly total of 57 catches.
MYRON BECK
WSU LINEBACKER
Beck didn't start against Stanford and only made one tackle. But the 6-foot, 209-pound former safety – he started the first three games there last season – may hold the key for the Cougars defensively. Beck should see plenty of action as a hybrid linebacker/safety, called upon to help in pass coverage and run support. The Cougars didn't have him against Hawaii last year and he missed most of the offseason recovering from back surgery. But he's run well the past two weeks and the former Ingraham High (Seattle) star is ready to play.
R.J. KIESEL-KAUHANE
HAWAII LINEBACKER
The 5-11, 225-pound senior started his season with some big hits, posting a career-high 10 tackles in last week's win. That number was nearly half of his tackle total in last season. But this week, due to an injury to Brashton Satele, out for the season with a shoulder injury, Kiesel-Kauhane moves from weakside linebacker to the middle, a spot handled by Mana Lolotai last week. Kiesel-Kauhane, a team captain, told the Honolulu Advertiser the "move comes kind of natural to me."
• This and that from today's game …
This is the first time these two schools have met outside of Honolulu. The first game in the series was played in 1925. ... Hawaii plays three consecutive games on the road. The Warriors will leave Seattle and head to Las Vegas, where they will play the Rebels next week. ... Dwight Tardy's 13 carries moved him to eighth on the Cougars' career list. He's 10th in rushing yards. ... Hawaii running back Leon Wright-Jackson played his high school football at Pasco. ... Nine WSU players made their first collegiate start against Stanford. ... Though Hawaii has posted seven wins against BCS schools since 2003, the Warriors have yet to win against a BCS-conference school on the road. ... Reid Forrest had a career-long 64-yard punt last week. ... Hawaii has been playing football for 100 years. ... Jared Karstetter's 91 reception yards in the opener was one more than he had all last season. ... Quarterback Greg Alexander has only thrown six interceptions in 277 career attempts.
•••
• That's it for now. We'll be back in the morning with our usual links, though, because it is Saturday, we'll be a little later. Sleep in and check us around 10 a.m. Until then …
---
---