Mon., April 19, 2010
Defense tries to make strides at WSU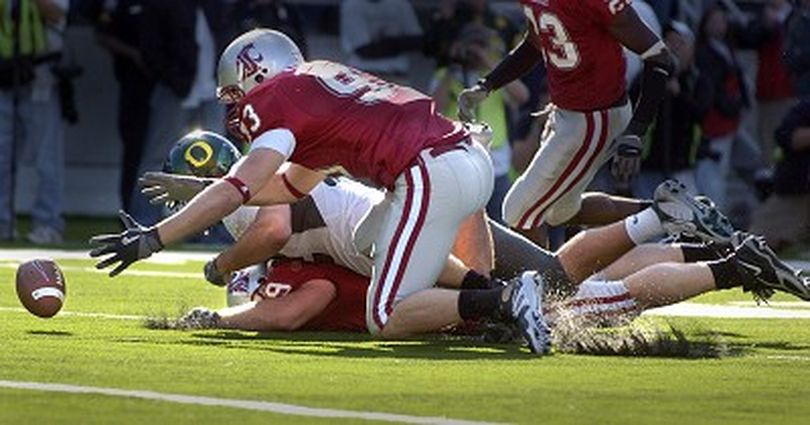 COUGARS
We expected to have this up quicker, but the Andre Winston news took some time away from football. But we now have our football story ready for tomorrow's S-R, so we can post it. Read on for the unedited version along with some web-only notes.
••••••••••
• Here's our story. Today we are looking at where the defense is right now. Tomorrow we're going to look at the offense. ...
PULLMAN – No matter how you parse it, the 2009 football season wasn't kind to the Washington State University defensive unit.
Sure, injuries didn't help. Nor did the offense's 31 turnovers. But the bottom line was simple: Out of 120 bowl subdivision teams, WSU was 120th in total defense (512 yards per game) and 118th in scoring defense (38.5 points per game).
Changes had to be made.
They were. And this spring they are being implemented.
"We wanted to fit our players, to match our ability," said co-defensive coordinator and assistant head coach Chris Ball of those changes Monday following the Cougars' early morning practice, the first in the last week of spring drills. "What can we do and what can't we do? It fits what we have."
The overall emphasis this spring has been to raise the defensive aggression. But just saying you want to be more forceful doesn't get it done.
The plan is to put more pressure on the quarterback by better defining roles up front.
"What we are doing allows the defensive line to play a lot more aggressive," Ball explained.
There is more freedom for the rush end – sophomore Travis Long with the starting unit – and an attacking tackle – junior college transfer Brandon Rankin. The other two down linemen – tackle Bernard Wolfgramm and end Kevin Kooyman (above) – are more attuned to controlling the rushing attack.
"In the beginning I was kind of upset, because I kind of wanted to be the standup end," said Kooyman, a fifth-year senior. "Right now I like it a lot, because I don't have to worry about the tight end being on my side most of the time. So when it's pass, I don't have to worry about a tight end blocking me.
"I like how it's working out."
With the defensive line and a linebacking corps with more speed and blitzing ability – from Alex Hoffman-Ellis, converted safety Myron Beck, reserve Andre Barrington and possibly incoming four-star freshman C.J. Mizell – the defensive backs are working on breaking more aggressively on the ball.
"I think it starts with (strength coach Darin) Lovat," said sophomore cornerback Daniel Simmons. "He got us more explosive over the winter and it helps out a lot. And the DBs are working a lot of drills where we get out of our breaks faster, exploding out of our breaks.
"And, as a whole, we're just getting more savvy out there."
"We're just getting after it," Kooyman said of the defensive line. "We're just being physical because that's the main thing we have to do. It all starts up front."
Ball sees the two – pass rush and coverage – working together to improve on the 24 turnovers forced by WSU's defense last season.
"When we were really good in the secondary, we were leading the Pac-10 in sacks," said Ball, mentioning 2003, when WSU had 24 interceptions and 50 sacks.
A dozen of the 15 allowed spring practices are done. How have the Cougars taken to the new schemes?
"If you take our starters, I definitely think we're right where we want to be," Ball said. "The twos, our backups, have to come along a little bit quicker, because they are going to have to play, obviously. But, ya, I feel good about it."
Part of the reason is Ball believes some of the backups have made their marks – along with the most veteran guy on the line.
"(Sekope) Kaufusi is playing really well," Ball said of Long's backup at end. "(Freshman tackle) Justin Clayton is playing really well. He's really smart, very coachable and very athletic, much more than you might think.
"And of course, Kooyman. It's easy to see we're a different defense when he's out there."
And that, ultimately, is the goal.
•••
• Now to some notes. ... As mentioned in the story, WSU practiced at 6 a.m., getting on the field early because Mondays were scheduled to be off days in the spring. With many players facing afternoon classes, when this practice was scheduled in lieu of last Saturday's scrimmage the time was set to avoid conflicts. Still, some players did have to run off early to get to class. A fast start wasn't in the cards as the intensity took a while to ramp up. "A little bit when we first got out here, obviously, with everybody waking up," WSU coach Paul Wulff said. "But once we kind of got into it, after 20 minutes or so, it seemed to be OK, seemed to be pretty good." ... More and more college teams are going to morning practices – Oregon did last season – to limit class time disruption and to limit the ability of players to be up late in the evening. ... WSU was in helmets, shoulder pads and shorts. ... Friday evening and Saturday, the Cougars went on a team-building retreat at Camp Reed. "That's something that (will show) over time," Wulff said. "Ya, it was good to get together. This team is never, it's pretty hard to be together away from school and football. You need that. We definitely got some of that time together and it was a lot of fun for everybody." Well, not quite. Starting receiver Gino Simone sprained his left ankle on the outing and will be out this week. ... Speaking of injuries, running back Marcus Richmond, who suffered a MCL sprain the first scrimmage, was back at practice Monday sporting a brace-like tape job on his right knee. He went through all the drills, including the team ones. ... There were a few more players out, most notably Travis Long, Elliott Bosch and Bernard Rankin, suffering pink eye. Insert your movie joke here (and you know which one I'm talking about). ... Cornerback Terrance Hayward, who missed some time with a shoulder problem, was back but safety Jay Matthews was not, suffering from an injury to the same area. Zack Williams, who returned Thursday, was not suited up after aggravating his shoulder. ... Starting center Andrew Roxas won't return but he was walking markedly better as his high ankle sprain heals. "We've got to have a good, full contact day tomorrow," said Wulff, who expects to get some of the players back for the afternoon practice. "We've got to tackle and get back to playing football full speed. That will be our focus tomorrow." Asked if the players missing were limiting his team, Wulff said, "In the past it would have affected us a lot more. We've got more depth and more guys understanding what they're doing, so we can function at a better pace and clip with some of the back ups who are stepping in and playing. That still allows us to grow."
•••••
• That's it for this morning. We'll be back later with our story on Andre Winston. Until then ...
---
---