Fri., Dec. 10, 2010
WSU powers through to 74-52 win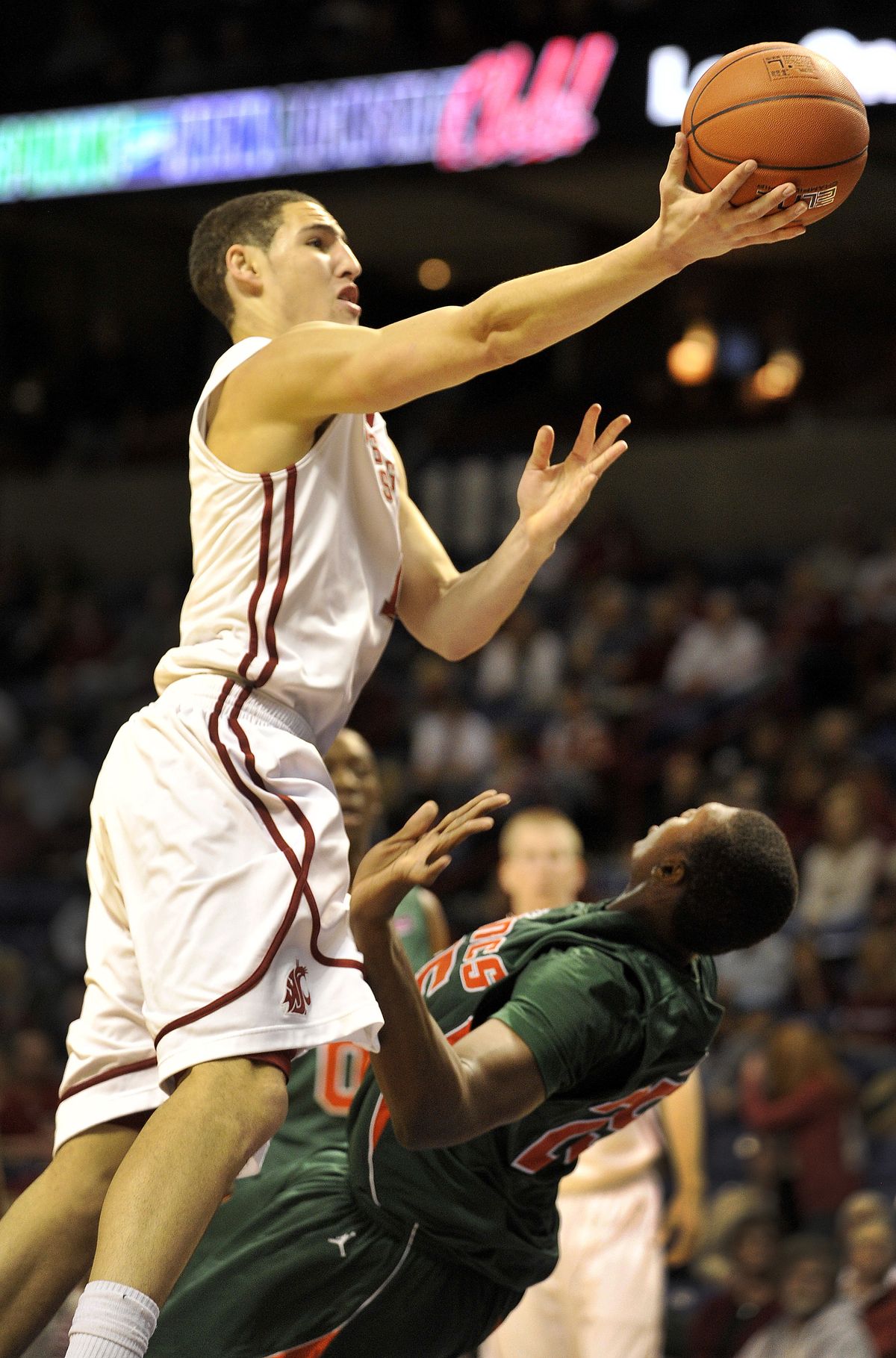 Heading for the basket, WSU's Klay Thompson goes over the top of Texas-Pan American's Josh Cleveland in the first half Friday, Dec. 10, 2010. (Colin Mulvany / The Spokesman-Review)
COUGARS
If you like your basketball not-so-pretty, you would have loved being one of the 4,382 in the Spokane Arena on Friday night. Within its friendly confines, the lackluster turnout was treated to a lackluster game. For more, read on.
••••••••••
• After the week the Cougars had, there is probably some thought they should be ranked in the next poll cycle. After this one, maybe not. Though, in some weird way, the effort they put forth Friday night might just help them earn a national ranking and even a Pac-10 title down the road. Why? Because I think they realized afterward that nothing less than their best, night-in and night-out is going to be needed for this team to beat the teams they'll play every night in Hawaii and in the Pac-10. You put the kind of effort forth the Cougars demonstrated in the first 10 minutes and there's about 11 teams in the Pac-10 that will kick their ass. ... They also learned that their offensive success has come from sharing the ball and when that doesn't happen, they are an average offensive team. Early in the game, there were times when one more pass would have led to a much better shot and the pass wasn't made. The problem was so acute that after one player was missed cutting to the basket, he shook his head, dropped his shoulders and stood for a couple seconds before getting into position again. With some 5 minutes left in the half, the light seemed to come on, the ball moved better, the offense started to click. And that was the end of Texas-Pan American's upset hopes. ... As we all know, quick shots can also be the bane of transition defense and it certainly was in the first half Friday. Out of balance offensively, WSU got beat down the court more than a few times. As the offense started to click, the shots dropped, the floor balance was better and T-SA's fastbreak opportunities melted away. As did its offense. ... WSU had nine assists in the first half on its 14 baskets, but it was the passes not made that hurt them. ... Though the Broncs weren't all that tall, they had four wide bodies that pushed, pulled and prodded the WSU bigs – other than Motum – into tough nights. DeAngelo Casto, who did have a team-high seven rebounds, didn't get a lot of touches, with seven shots and four turnovers. Abe Lodwick got shots – five – but all were from 3-point range and all missed. Patrick Simon had seven, hitting three. ... You can read my early game story here if you like.
•••
• That's all for now. We'll be back in the morning. Until then ...
---
---